Village Gallery of Arts

Cedar Mill is a great little community, but we don't have many places to shop for holiday gifts! One exception, where you can buy unique and locally-made items for nearly everyone on your list, is Village Gallery! And the purchase price supports the gallery and the local member-artists, not some vast and distant corporation.
Located in a compact but well-designed space right next to Cedar Mill Community Library, Village Gallery of Arts (VGA) is well-stocked with items that range from practical to decorative, including cards, books and journals, jewelry, ceramics, wall art, sculpture, holiday decorations for home and tree, silk scarves, and many more treasures that are certain to be loved by your family and friends. They also sell gift certificates for their popular classes. Do you know someone who could use a little more creative action in their life? A gift of a class could be the stimulus they need! Just ask at the desk. Class offerings and schedules are always available on the Gallery's website, villagegalleryarts.org.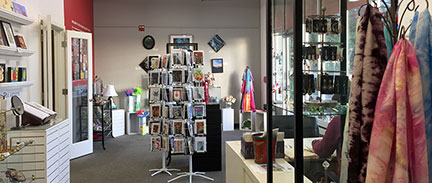 The Gallery is completely run and staffed by volunteer members. Lisa Manners, VGA Publicity Chair, says, "We have no paid staff, so the contributions of these members is vital to keeping the gallery running." VGA has been a 501c3 non-profit since 1965. Part of their expenses are covered by individual donations, and by fundraisers such as the Art Challenge and our Gently Used Art Supply sale.
There are several types of membership, depending on the level of participation. Membership offers the opportunity to show and sell your work in the Gallery, attend monthly meetings, enjoy the company and encouragement of other artists, receive mentorship from experienced artists, and get a reduced rate on most classes. Information on membership levels and fees is on the website.
The Gallery mounts a different show each month. These usually have a theme, with featured artists and crafters, and a reception that's open to the public. One of the most popular shows is the yearly Art Challenge each May. Artists are invited to create four small canvases during April that are displayed and offered for sale during May. Be sure to attend their special Holiday Party on Sunday, Dec. 10 from 2-4 pm.
VGA began when a group of art students taking an adult class at Sunset Elementary started displaying their work in the school cafeteria. In 1964, Odus Bales, founder of the Thriftway store, heard about the group and offered them space in the North Mall of the Milltowner Shopping Center, free until they made enough to pay monthly rent. By April they had 48 members and had cleaned and painted the space and held a Grand Opening.
By the end of that year they had over 100 members, and offered classes by many professional Northwest artists. Members began to show their work in local businesses including Nelson's Coffee Shop, at banks in Beaverton and Hillsboro, and at the Beaverton library.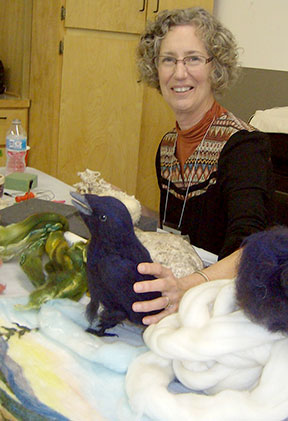 Chris Boyer demonstratee felting techniques during the recent Washington County Open Studios Event, on of 16 VGA artists who participated
Over the next two years, the organization grew rapidly. By 1967, they lost their rent-free space and needed to move, first to a space in the (now demolished) Sunset Square on Murray, and later to the A-frame building that now houses Beighley & Associates on Cornell. Eventually they moved back to the library building, first to a space at the front, and later to the space they currently occupy, just east of the library.
Members generally live in the Cedar Mill area, but some come from around the region. Several members are "snowbirds," who manage to fit their volunteer hours into the months they live here. A monthly online newsletter helps them stay in touch with each other.
Some members feel that the most valuable feature of VGA participation is the "critique groups," that meet regularly to share current work and give one another suggestions for improvement. There are five groups meeting currently, with each group focusing on a particular technique or type of art, such as the Watercolor Society.
VGA offers both classes and workshops. The classes are usually offered once a week on a monthly schedule. The workshops take place over a one, two, or three day session. Children's classes for ages 7-12 are offered after school on Mondays & Wednesdays. You do not need to be a member of the gallery to take classes but non-members pay $5 more per class session. There is no price difference for workshops. Some workshops, such as marbling on paper, offer the chance to try out different techniques and materials without investing in supplies, and to learn from someone with experience.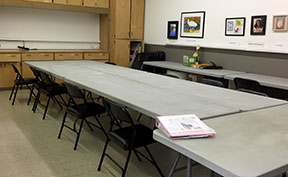 Meetings and classes are held in the studio space behind the public gallery. This large room is also available for rent for meetings and projects.
Lisa Manners notes that, "Part of VGA's mission is to foster appreciation for art in the community." Artwork from VGA members was displayed in a show at Beaverton City Hall this year, among other outside venues.
In April of 2017, the board formed an ad hoc Next 50 Years Committee to study viable options to grow the gallery into the next 50 years. Recruitment and the retention of members and Community Outreach are two of the priorities for this ambitious seven-member committee.