History in the News


Century Pharmacy


Those who have been around Cedar Mill for a while will remember this store that used to be in the shopping center at the northwest corner of Murray and Cornell. Marv and Marilyn Schlabs ran the business from 1973, when Marv bought it from the previous owners, until 1996 when Safeway converted their grocery to a superstore that included a pharmacy.

Marv graduated from the University of Montana in 1964 with a degree in Pharmacy, and worked for the US Public Health Service in New York for a few years, and then was a medical rep for E.R. Squibb Company. He heard that the Century Discount Center in west Portland was for sale, and moved from Wenatchee, Washington and negotiated the purchase.

"I was a bachelor then, and I lived in an apartment building on Cornell," he recalls. At first the store only carried over-the-counter medicines in addition to the pharmacy. The original store was inside a building that had previously housed Sprouse-Reitz, a "five-and-dime" general store, in the small shopping center that also included a much smaller Safeway. The pharmacy was separated from the other stores by a floor-to-ceiling fence with a gate. Other businesses in the center were a dry cleaners, barber shop, a dress shop, candy store and a jewelry store.

He met his wife Marilyn about a year later, and after they married, she soon got involved in the business, eventually managing the Hallmark cards, gifts, candy, cosmetics and photo processing.

In 1975, the Schlabs opened a second store in the brand new Farmington center where Bales Thriftway had just opened up. This was followed by another store in Sherwood in 1978, in the Greenway Town Center in Tigard in 1979, and another store in Murrayhill in the late '80s.

Marv eventually found managers for all the stores, and visited each one almost daily, overseeing decisions and making deliveries. "I acted as cheerleader and disciplinarian. My employees were like a part of the family, so if they needed time off for their kids or other reasons, we always found a way to get by," he recalls.

The shopping center grew as the community did. As the center grew to its current form, Century Pharmacy moved to the space where the paint store is now. WanQ opened around that time. West of the hardware store was just an open field until a bit later when the center expanded to include a bookstore, a clothing shop and other small retail.

The Schlabs started a small business organization, the Cedar Mill Merchants, to buy ads collectively and put on special events. Chuck Richards, who started with the Cornell Court Club (now the Sunset Athletic Club) was another founding member. Others including Tipton Barbers, Daisy Cleaners, and C & H Hardware.

Marv recalls that there was quite a bit of competition between the merchants at that end of Cedar Mill and those around the Bales' Thriftway end of town. Murray Road used to go through to Saltzman and there was a lot more traffic to the center at that time. When that access was closed, and Barnes was connected to Saltzman, it affected their businesses.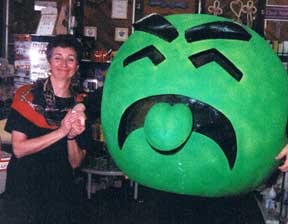 Marilyn Schlabs poses with Mr. Yuk
Marv was quite active in several pharmacy organizations, including the Portland Retail Druggists which he served as President for two years; he was also President of the Oregon State Pharmacy Association; and in 1992 he was named Independent Pharmacist of the Year by the National Association of Retail Druggists, for his service to pharmacy organizations and his civic roles in the Portland area. He has been a Royal Rosarian for 25 years, and he and Marilyn are still active in that.
By the '90s, retail companies were consolidating and getting larger. Safeway offered to buy out the Century Pharmacy in Cedar Mill because they wanted to open a superstore with its own pharmacy. The same thing happened to his other stores, as Payless, Walgreens and others expanded.
"One of the biggest reasons that I got out of the pharmacy business, in addition to the larger stores' expansions, was that I didn't like being told how to run my business by the health insurance companies," he says. He has continued his interest in health, however, and has been involved in the field of nutraceuticals.
He and Marilyn still live in The Bluffs. They travel with the Royal Rosarians, play golf, and work in their garden which they just recently re-landscaped. They are pleased to have watched the Cedar Mill Business Association become so successful in recent years.