Business News – February 2016
Business Association plans meeting, elects new board
Tuesday, February 9, noon, Cedar Mill Bible Church Chapel, 12208 NW Cornell Rd.
Michael Chase will explain "GPS Marketing," seven "almost free" DIY digital marketing tools that every small business needs to monitor and take advantage of. Chase explains, "I say almost free because they do take some time for the DIY process and time is money. On the other hand these are all free and available to everyone to use. I have over 20 years of marketing experience and have watched this process over the last seven years of doing my own marketing on the internet for my small business of website development."
The takeaway from this talk will be a self assessment tool that the audience can use to develop their own strategies for digital marketing. Chase, the founder of mfchase.com, has worked in B2B as well as B2C Sales & Marketing since 1988 and has been working with web design and marketing since 1999.
The Cedar Mill Business Association has been bringing area business people together for many years. They greet 2016 with a new roster of folks ready to lead the group to even better things for the community. The new team is excited and committed to making CMBA the best that it can be this year.
CMBA meets at noon on the second Tuesday monthly. Visit cedarmillbiz.com for more information.
Si Señor has a new location!
The Villasenor family is excited to share their news that they have found a great new location nearby, after learning late last year that they'd have to leave the building in the "triangle" center at Saltzman & Cornell.
Their last day in the current location will be February 22. The new location, originally built by the Choban family as Marika's, has seen several businesses come and go, but they are confident that their loyal customers will be happy with the new larger space. They'll open a full bar in addition to offering their delicious Mexican specialties every day.
Like them on Facebook for updates and sneak-peeks of the newly remodeled space.
We have heard that the new tenant of their old building will be Laughing Planet, but we haven't had a confirmation of that.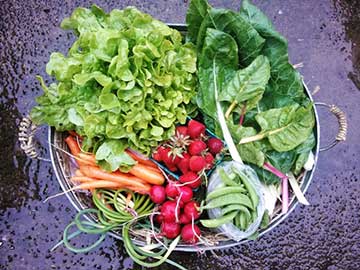 Weekly produce half share from Love Farm Organics, June 2015
Bonny Slope Neighbors, get healthy this year: sign up for organic produce CSA pick up in Bonny Slope from June to November with Love Farm Organics.
Love Farm Organics is a Forest Grove organic farm operated by Amy Love and family. The farm distributes their seasonal produce to area restaurants and over 200 CSA members in the Portland area. If you prefer avoiding the farmers' market crowds and want to support local farms growing what's in season, this is a perfect option for you. If your New Year's resolution is to GET HEALTHY, this is a great way to do that by eating the highest quality and freshest produce around.
Please consider joining other families who have already signed up and participate in an ORGANIC CSA (community supported agriculture) for the 2016 season—June through November—for 24 weeks of organic produce delivered from Love Farm in Forest Grove to a central Bonny Slope pick up site. The cost for a half share for a family of two is only about $25 per week!
Memberships are now open for full shares (family of 4) costing $975; or half shares (for 2) at $575. Additionally you can purchase berry shares for $85 and salad lover shares for $125. Produce is delivered to Bonny Slope, and you'll pick up your weekly share on a specified weekday (possibly on Wednesday)—the very same day the produce is picked between designated hours such as 4 to 7 pm.
A wonderful and unique aspect about Love Farm is their CSA method: instead of pre-assembling a box for each family, the produce is delivered and set up like a little farm store, with a blackboard list of what your share includes, and there are choices! You select your own produce, and in some cases you select among a few vegetables in the same family. So if you don't like cauliflower, for example, but you'd love to try romanesco broccoli, you got it!
Amy Love and her family are dedicated organic farmers creating abundance and health for our community. The farm sells produce at the National College of Naturopathic Medicine in Portland and are conscious of the idea that Food is Medicine.
Here's the farm website if you'd like more information or to sign up right now. Please contact Linda Sawaya (linda@lindasawaya.com) if you have questions.
Families have already signed up to make a Bonny Slope pick up site a reality. Hoping you join in and get healthy eating organically!
Leedy Artisan Market
Saturday February 6, 9 am-2 pm, Leedy Grange Hall, 835 NW Saltzman Road
Bored? Need something fun to do that's free and family friendly? Stop by our monthly Artisan Flea Market!!
Great finds, tools, jewelry, antiques, vintage, collectibles and so much more in two rooms of fun!! For more information, contact leedymarket@gmail.com or 503-626-9065
Second Edition clearance
25% off February13-15; 50% off February 16-18; 75% off February 19
It's that time of year already! Second Edition is having their twice-yearly sale, clearing everything to the walls. The sale starts Saturday, February 13th and the famous Bag Sale is Saturday, February 20. The whole bag is just $8! All sales benefit the Cedar Mill Community Library Association.
Saturday, February 13, 10 am-4 pm, Foot Traffic West, 13306 NW Cornell Rd.
Save MONEY and plan your ENTIRE 2016 in ONE LOCATION!
The tradition continues! Over 50 regional events will be represented, with exclusive offers and/or discounts, for one day only! In addition, take advantage of Foot Traffic's biggest sale of the year! Huge closeouts on apparel and footwear from last year's stock. This is an event you DO NOT want to miss.
Check out our event website for more info by going to foottraffic.us/events. RSVP now at the Facebook event page.
Celebrate with The Greek!
Saturday, February 27, 5 pm to close, The Greek Village, 301 SW Murray (just south of US 26)
Celebrate 45 years of friends and fun with "The Greek" on Friday, February 27. Owner Irene Pavlatos says, "My father bought the small tavern in 1971, opening the Greek Village in February. It has since been expanded from its original size and layout. We'd like to invite all of our old and new customers and employees to join us for complimentary food and raffles starting 5pm!"
If you've never visited The Greek, discover it now! And if you have great memories of fun times there, make sure to stop in and see what's new and what is still wonderful about this spot!
Complimentary snacks will be coming out of the kitchen from 5 pm. A free raffle ticket will be given to everyone who comes in, for cool prizes. Live music starts at 8 pm.
Farmers' new sign and new assistant
Joey Laparne, Cedar Mill's Farmer's Insurance Agent, has hired Kristina Craig as Office Manager. She has a customer service background and experience in bookkeeping. Joey says, "Our kids go to Bonny Slope together and she also has kids in Cedar Park and Sunset. Together, we're hoping to get involved in the schools more and spread awareness of the great discount Farmers gives to educators while becoming more involved in the community. To complement her addition the agency, we expanded and remodeled our office." They have also installed a new sign in front of the building on Murray, just north of Cornell.
Why get a Safe Deposit Box?
Safe deposit boxes are a smart way to save your important documents and heirlooms. If you're considering renting a safe deposit box to keep your valuables or important documents, here are a few things to consider.
It's important to make sure you can access your safe deposit box for things you may need to get before a trip or on a moment's notice. Items that take a longer time to replace such as a birth certificate or family records definitely belong in a safe deposit box.
Make sure you remember to add family members to your safe deposit box access—if you're out of town and someone in your immediate family needs to gain access to a document that is stored in the box, the financial institution needs to know that your significant other or children are allowed to view or remove items.
Here's a short list of things to keep in your safe deposit box:
A copy of your marriage certificate
A copy of your birth certificate
A copy of your passport
A copy of your college degree
A copy of your professional license(s)
A copy of your social security card
A copy of your health information (vaccinations, hospitalization records)
Any deeds, titles, or title insurance to your home or vacation property, automobile
A videotape/DVD of all valuables in your home
A copy of home improvement receipts
Coins, jewelry or other family heirlooms
A copy of original stock certificates and U.S. Savings Bonds
Will/trust and Power of Attorney Documents—*NOTE: Be sure to let a family member or attorney know where these documents are stored in case of emergency!
If you're interested in a safe deposit box, call 503-643-1335, or stop by Sunset Credit Union at 1100 NW Murray Blvd., #200.
Village Gallery
Tuesday-Saturday 10 am-4 pm; Sunday 12-4 pm; 12505 NW Cornell, next to the Cedar Mill Library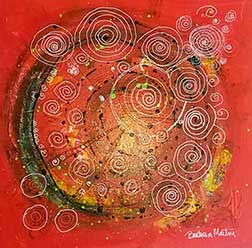 Barbara Martin's Art Challenge entry
Village Gallery is seeking artists for its 7th Annual Art Adoption (formerly Art Challenge). This annual show brings in over 1,000 patrons throughout the month of May. The show features hundreds of 6" x 6" x 1.5" canvases displayed throughout the entire gallery.
Please join us by creating pieces of art to adopt! The show is non-juried and open to all ages. Funds raised through the show help pay for general gallery expenses, like power and heating. For over 50 years, this gallery has run on 100% volunteer power.
Registration forms and rules are available at the gallery and online. For more information email artchallenge@villagegalleryarts.org
Village Gallery is a non-profit, cooperative gallery in operation since 1963. For complete details on all classes please visit villagegalleryarts.org.
Virtue of the month: Perceptiveness
"Only in quiet waters do things mirror themselves undistorted. Only in a quiet mind is adequate perception of the world." Hans Margolius.
"Perceptiveness is clarity of insight. It is being observant of what is beneath the surface, and looking for deeper meaning. When we are perceptive, our understanding is intuitive and discerning. We slow down into awareness."
The practice of Perceptiveness: I strive to have accurate insights. I observe carefully. I cultivate awareness. I nurture my intuition. I am thoughtful of the need of others. I seek to see others fully and fairly.
Affirmation: I am thankful for the gift of Perceptiveness. It helps me to see what is real.
Virtues Reflection Cards , Linda Kavelin Popov virtuesproject.com.
For more information about the Virtues Project, or to sponsor a workshop for your family, school or organization, contact Delaram Adyani at virtuesconnectionportland.com 503-267-0202.