Touchmark in the West Hills
In 2006, Touchmark LLC announced their proposed senior-living development in the Cedar Mill area, northeast of the intersection of Barnes Road and Leahy. The original 53-acre Planned Development was expanded to 76 acres by the addition of 24 acres on the southwest corner. The entire development would provide about 786 dwelling units, including a group-care community, a 75-unit mid-rise building, four-level lodges over garages, seven nine-story condo buildings, garden homes, three-story residential buildings, and resident facilities including a recreation center, dining and shopping facilities, and guest units. Bruce Dalrymple, the Development Manager for the project, died of cancer in 2008. And then the "Great Recession" hit and development in all sectors slowed drastically.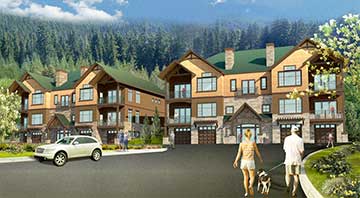 Now, after several plan revisions, work is beginning on Touchmark in the West Hills, a 14-acre development that will be accessed from an entrance on Leahy Road just north of Barnes. The company is currently working on site preparation, and construction will be under way this year with completion expected in 2017.
The community will include single-family cottages, garden homes, and independent apartment homes as well as licensed-care homes. There will be two large buildings on the site. Building 1 will be five stories with 126 independent apartment homes and four guest homes split into two wings. Building 2 will be six stories and include 138 homes (34 memory care homes, 32 supportive living homes, 69 assisted living homes, and three guest rooms). Licensed care will be provided in all Building 2 homes.
Amenities for residents living independently will be grouped in the 40,000-square-foot Clubhouse and Health & Fitness Center, located close to residents in Building 1 between the two home wings. This center will include a pool and spa, clubroom, exercise rooms, trainers, classes, and more.
The Clubhouse will offer restaurant-style dining with terrace seating on the top floor, a bistro, liquor lounge, craft room, home theater/chapel, rooftop terrace with westerly views, library, and other features and services.
Building 2 will also include amenities in close proximity to residents and those will be specific to each licensed-care option.
A majority of the overall site (including the eastern segment) will remain as open space, and will include a greenhouse, garden plots, sports courts (eg, bocce ball), courtyards, roof terrace, plazas, and water features. It will support dedicated vineyards and a winery producing pinot noir, extensive walking trails, and lakes.
Jan Bellis-Squires, Public Relations Director for Touchmark, says, "There have been a couple of reasons we delayed construction on the site. The primary reason was the economy and the Great Recession. We also took that time, though, to rethink the projects. We held focus groups with prospective residents, and talked with a wide range of groups. As a result, we decided to first build a retirement community similar to our award-winning community in Bend."
The second project, on the eastern half of the property, is still in the planning stage. Washington County has approved the Master Plan for the entire buildout, with an extension approved last year that expires in July, 2017.
Touchmark LLC develops, owns, and operates retirement communities in nine states and one Canadian province. Headquartered in Beaverton, it was founded in 1980 by CEO Werner Nistler, and is one of Oregon's top 150 privately-held companies.