It might be raining cats and dogs, but water conservation still matters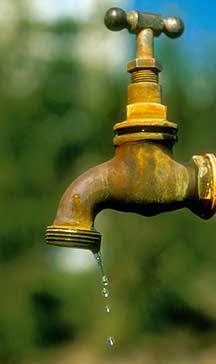 © CSIRO Land and Water
By now, it's official: the rain is back. Oregon Water Resources Department reports that as of January 4, statewide streams are flowing at 65% of average. We know by observation that here in the Tualatin Valley, some of our streams are flowing above average (indeed, above bankfull) in this consistent rainfall.
But we aren't entirely out of the woods yet. The reservoir at Hagg Lake is about 70% full right now, boding well for summer water supply. That is good because many users rely on this water to irrigate crops and provide for use in cities.
This year's El Nino should be particularly strong though, on par with that of 1982-1983 and 1997-1998, according to the Climate Impact Research Consortium. They indicate there is a lot of uncertainty about how the weather will perform this winter—it is still possible the weather will dry up sooner than usual despite the rainfall now. And the chances for a long dry summer are always a concern.
Here are three tips for indoor water conservation that make good sense in any year, wet or dry:
Fix it. Being lazy about leaks can really cost you. Don't be fooled—you won't hear every leaking toilet, and a dripping sink can soon fade into background noise. Even small leaks add up to big waste. Seek them out on a regular basis and address them quickly.
Shut it off. We all know we can save water by turning off the tap while we brush our teeth (on average, five gallons every day). Save even more by turning the tap off whenever you can. Water misers can scrub dishes with the tap off, turning it on only to rinse. Prep for the dishwasher by dry scraping dishes before loading and wiping with damp cloth where needed.
Upgrade it. Older appliance and plumbing fixtures just don't measure up to newer, ultra low flow designs. That can be especially true if your older fixtures and appliances are losing efficiency or leaking. Consider obvious water-hogs like toilets, washing machines and dishwashers, as well as more obscure things like garbage disposals (the longer they run, the more water used).
There are two great local resources online for even more tips and tricks: