February 2017 Business News
Zoann Newcomer finds new location
Zoann grew up in her father's salon at the corner of Cornell and Saltzman—remember Mr. James? She is an expert haircutter and stylist, and after the family shop closed, she worked in the Silhouette Salon in the "Triangle" center. When that shop closed recently, she was able to find a spot nearby, in Jeanne Salon, on Hall Bl. just east of Cedar Hills Bl., and next to the Hall Street Grill.
One of her areas of expertise is working with curly hair [as your editor can attest]. If you'd like to have a style that works for your face and is easy to care for, she's the one! And her rates are very reasonable. She also loves to do "up-dos" for special occasions, and is available to work onsite for weddings and other special occasions.
She's scheduling appointments any time of day from Thursday to Saturday. Call or text any time to 503-310-5668. Jeanne Salon is located at 3673 SW Hall in Beaverton.
Econe Chiropractic lands nearby
Patients of Dr. William Econe will be pleased to find that his new office is really very close to Cedar Mill! The Canyonwood Office Complex, at 8835 SW Canyon, is just minutes away if you take Walker Rd. eastbound from 217, and then turn left on Canyon and left when you see the Canyon Grill.
Several businesses' leases were not renewed by the owner of the "triangle" center, including Silhouette Salon, Barnes Road Chiropractic (now Econe Chiropractic), and Great Bones. We haven't heard what the new plans are, let us know if you have information! Great Bones has also relocated to the Canyonwood location.
For an appointment with Dr. Econe, call 503-203-6855. Your aching back will thank you!
Shoe repair shop to close
Cedar Mill's shoe repair shop, Cornell Cobbler, will be closing its doors this month. Owner Mark Ivens, who bought the business from long-time owner Clarence Buehrle in 2011, plans to close the shop by mid-February. There is a possibility, Ivens said, that a shoe repairman looking to relocate outside of downtown Portland will take over the space. Customers are advised to pick up any shoes that have been left for repair as quickly as possible.
Classes at The Wine Cellar
All events held at the Wine Cellar, 525 NW Saltzman Road. For more information on any events, call 503-643-5655.
Classes
February 4: 6-7:30 pm
Cooking Class: appetizer, entrée and dessert from Ina Garten, $85 per couple. Includes a bottle of wine and lots of interactive fun. Two people per reservation.
February 11: 5-6:30 pm
Ports in Portland, $25 per person
March 4: 6-7:30 pm
High End Wine Tasting with light appetizers, $45 per person
March 11: 6-7:30 pm
Cooking Class, GLUTEN FREE- you won't even notice! $85 per couple
Tastings at The Wine Cellar
Fridays from 5-8 pm and Saturdays from 12-5 pm.
Tastings are $10 per guest or free with a to-go purchase bottle of wine. The kitchen is open Fridays from 5-8 pm for charcuteries, fondue, salad, and melt-style sandwiches.
February 3:
Guess who's back? Garret with Owen Roe—you can't get enough of this guy!
February 10
Tim with Petit Monde (glorious French Importer with exceptional pricing).
February 17
Jackalope Wines, another micro winery that will blow your socks off- Grenache & cab franc!
February 24
Washington wines, Winery TBD
March 3
ITALY: DO NOT MISS THIS! Nicola will be there from Italy to pour Corsini wines. Corsini is The Cellar's single best-selling Italian producer in the shop. Such a treat!
Knife Sharpening Event!
February 9 and 10
50% of all proceeds going to OFOSA Pet Shelter! There are two ways to do it, the first is to drop your knives off Thursday, Feb. 9 and pick them up Saturday Feb. 11, or bring your knives Friday between 4-8 pm and Jon from Edgemaster will sharpen them while you enjoy some wine. The cost is $6 per kitchen knife or hand-held garden tool and $5 for small paring knives. Drop your knives on Thursday and pick up on Saturday and receive 10% off! The Wine Cellar will make no money off of this; they are coordinating with a talented small business owner to help raise money for OFOSA!
Winter Storm Takes a Toll on Libraries, Second Edition
Last month's snowfall and subsequent closures disrupted not only the patronage, but also the fundraising efforts of Cedar Mill and Bethany libraries. When the library closes, Second Edition Resale is also closed. So, no sales means no Second Edition profits for the library. But the positive side is that because the roads were so slippery, library patrons were housebound, and many of them did some deep cleaning of their closets, and when the roads cleared, Second Edition was happily deluged with wonderful donations. Fingers are crossed that severe winter storms are behind us, and that Second Edition and both Cedar Mill Community Libraries can stay up and running! Be sure to shop Second Edition first when you need clothing for your family, household items, toys, and more!
Pet Barn
Saturdays, Feb 4 and Feb 25, The Pet Barn, 12675A NW Cornell Rd.
Pet Barn will have K9 Dental in the store for non-anesthesia dental cleanings. The local woman, Betsy, has been providing dentals for almost 20 years. She has a way of calming the pets down, and holding them gently while she inspects the teeth and scrapes off plaque and tartar.
Dentals range from $135-$185 for the initial cleaning, and $80 for repeat clients. Cleaning usually only takes10-15 minutes, and both cats and dogs are welcome. Pet Barn is currently scheduling appointments for both days, and requesting a $40 cash or check deposit. Slots usually fill up fast, so customers are urged to come into the store to schedule as early as they are able.
They have already had her in the store for dental cleanings twice now—back in November, and just last weekend.
World of Smiles adds Yu to their staff
World Of Smiles Pediatric Dentistry is thrilled to announce the addition of a new doctor to the team! Dr. Kristen Yu is a Board Certified Pediatric Dentist who recently moved from NY with her fiancé, Ben.
Dr. Kristen was raised in Elmhurst, NY. She received her Bachelor's Degree from Stony Brook University and pursued her dental education at Stony Brook University School of Dental Medicine. It was during rotations working with children that she was inspired to continue her post-graduate education in pediatric dentistry. Dr. Kristen's Specialty Pediatric Dental hospital training was completed at Lutheran Medical Center in Brooklyn, where she gained a wide range of experiences providing care for all children including those with special needs. Dr. Kristen believes in evaluating the children's dental needs from a preventative and comprehensive perspective, ensuring that they receive quality care while still maintaining positive dental experiences.
World of Smiles is located at 11790 SW Barnes Road, Building A, Suite 280. Call them at 503-626-9700 or email to west@visitworldofsmiles.com. To learn more, visit their website.
New Heights at Foot Traffic
Saturday, February 11, 10 am-4 pm, 13306 NW Cornell Rd.
New Heights will be at the Annual Foot Traffic Event Expo! Sign-up and get discounts on all your races for the year and visit the New Heights booth for advice on keeping injury-free, win a free running evaluation and ask a PT any questions related to pain and injury!
Aromatherapy Workshop
Wed., February 8, 6:30-8 pm, Massage & Spa at Bethany, 15280 NW Central Dr. Suite 102
Got Stress? Aromatherapy for daily relaxation is Massage & Spa's most popular essential oils workshop.
Nature's bounty of essential oils, carefully distilled and extracted from plants, provides us with everything we need for good health. When we use pure essential oils, they capture the concentrated value of "plant medicine"—the ancient wisdom of plants that support health and vitality. Did you know that smelling grapefruit could help curb your appetite? That peppermint can suppress cravings? Lemons provide antioxidants and can improve both metabolism and digestion. Certain plants can support healthy blood sugar; many plants are naturally good for killing germs. Try the essential oils made from these plants and see how effective they are. Pure lavender essential oil is great for skin, but its scent is also relaxing. Try lavender at bedtime, without fear of addiction!
Join them as they demonstrate the use of many single oils and essential oil blends from the Premier Starter Essential Oils Kit from Young Living.
*Note - please avoid wearing any perfumes or scented products. Your experience with pure, natural essential oils is all you need.
Buy your FREE ticket by visitng eventbrite.com/e/aromatherapy-workshop-tickets-31305188662.
Village Gallery News
February Featured Artist - Elizabeth Higgins
Reception: Sunday, February 12, 2- 4 pm
For the February show, Elizabeth Higgins created many watercolor abstract paintings which she cut up into smaller pieces, rearranged, and glued down to create new paintings. This fun process was like working a puzzle. See more of her work on her website at www.watercolorwheel.com.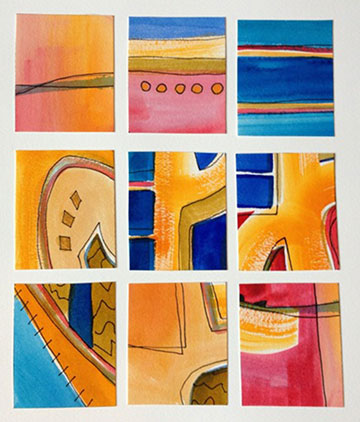 watercolor by Elizabeth Higgins
New Classes Offered This February:
For complete details on all classes please visit www.villagegalleryarts.org.
Kristi Roberts - 2017 Youth Art Classes
Mondays or Wednesdays, 3:45-4:45 pm for ages 7-11
Mondays 5-6 pm for ages 11-16
Class units include drawing, watercolor, acrylic, pastels, clay and mixed media. Each lesson teaches fine art concepts and techniques. A variety of subjects are explored including landscapes, people, faces, animals, cartooning and perspective.
Liz Walker: Suminagashi Paper Marbling Workshop
Friday February 3, 10 am-3 pm
Explore this fascinating Japanese paper marbling technique using water-based sumi inks floated on plain tap water. Suminagashi literally means spilled inks. Quick and easy, each marbled paper is one of a kind.
Chris Keylock-Williams: Being Creative…Don't Paint The Photo
Tuesdays, February 7, 21, 28 and March 7, 14, 10 am-4 pm
Art should be about finding your creative side, the magic and joy of watercolor and having fun with the process. This set of classes may take a common subject and surprise both you and the viewer into seeing things a different way.
Annie Salness: Value, Composition and Color
Morning classes: Thursdays, February 23, and March 2, 9, 16, 10 am-1 pm
or Evening classes: Thursdays, April 6, 13, 20, 27, 6 pm-9 pm
Value is so important to painting! Join Annie as she explores value through composition and color. Class time includes demonstrations, exercises, individual attention, and homework.
Maya Ceramics Studio Ceramic workshops
February 11, 10:30 am-noon, near Commonwealth Lake
Learn the wonderful way to build things with clay!! These workshops are for kids six years and older. All materials are included: 500 gm of clay approx, low fire glazes, firing , artist guidance, artist demos. Send inquiries to veroguzmandavalos@gmail.com or visit www.veronicaguzman.com.
Touchmark classes
Thursdays, 11:30 am, Touchmark Information Center, 5150 SW Griffith Drive, Beaverton
Touchmark is bringing active-adult retirement living to the Cedar Mill area! While the community is being built, they are hosting a series of events to provide education and insight for those considering a move. There is no charge to attend and lunch is provided.
February 16: Change is Inevitable
Learn to see changes as a gradual process rather than a single event and to break the process down into manageable steps.
March 2: I'm Just Looking, But for What?
March 16: The Seven Most Important Documents for Estate Planning
March 30: I Have Too Much Stuff!
April 13: Making Choices in the Downsizing Process
April 27: Staging and Prepping Your Home to Sell
May 11: Change the Way We Age
May 25: Making the Most of Your Money in Retirement
Please call 503-946-5427 to RSVP by the Thursday before each event. Visit TouchmarkPortland.com for more information.
Pharmaca Events
All events are held at the Timberland Pharmaca store, 240 NW Lost Springs Terrace
Sat., Feb. 11, 2-6 pm
Fresh Beauty Event: Naturally rejuvenate your regimen! Get expert skin care advice and a FREE mini-facial. Trade in your old nail polish for a FREE SpaRitual Mini Lacquer. Create and take home your own aromatherapy facial mist. Score free beauty samples and $20 in savings coupons! Limitations apply. See store for details. Mini-facials require a $10 service fee; participants receive a $10 gift coupon.
Wed., Feb. 15, 2-5 pm
Healthy Heart Vitality: Cordelia Apple, NTP, Karen Cureton, ND, and Karen DeVlydere, MScN will talk about simple lifestyle changes and supplements that can help strengthen and protect your heart for health and vitality. Bring your questions! Get $5 off your next $20 purchase when you attend this event! Ask a Team Member for details.
Senior Tuesdays
Are you a senior 60 and over? Shop Pharmaca every Tuesday and get 10% off your Purchase. (Excludes prescriptions, services, postage, gift cards, newspapers or in combination with any other discount.)
6 Foolproof Steps to Get You Out of Debt Fast
Is 2017 the year to speed up your debt-reduction efforts? Here's how to do so without a crash diet. Tips from the folks at Sunset Credit Union, 1100 NW Murray
1. Stop using your credit cards: If you really want to get out of debt, you will have to stop using your cards. The more you swipe, the more the balance climbs. Having a hard time letting go? Try freezing the cards in a cup of ice. By the time you are able to access them again, hopefully you've changed your mind.

And to really start saving money, transfer all your credit cards to a low-rate Sunset Visa Credit Card. This will help you track all your purchases easily. With our new 'Clickswitch' program, we make switching all your accounts as easy as a few clicks of the mouse—visit sspfcu.com to learn more.

2. Pay as much as you can afford each month: Once you have an emergency fund intact, use any residual funds you have at your disposal to put toward debt, even if it's only a few dollars. The more you pay, the faster you'll get out of debt. Did you save money at the grocery store by stacking coupons with sales? Use the savings to pay off debt. Did you work some overtime last week? And if you find spare change lying around, use that as well.

3. Make cuts to your spending: This may be tough to accomplish, as you'll have to take a good look at where your money is going and separate the necessities from the mere wants. If you can go without the daily trips to the local coffee shop or to your favorite lunch spot you'll be rewarded. Over time, these savings can add up and dig you out of the hole much more quickly than you probably expected. Plus, check out our great FREE budgeting tool—MoneyDesktop!

4. Double up on payments: So you've paid off one credit card? Congratulations! A small and reasonably priced reward for your accomplishment is OK, but you need to keep the momentum going by allocating those funds that are now freed up to the next balance in line.

5. Tackle those debts with the highest interest rates first: Some people prefer the 'debt snowball method' which suggests that you pay the debts with the lowest balances first to build momentum, while others think it's wiser to get those with the higher interest rates out of the way first. The ultimate goal is to pay off debt, however, the choice is yours - the key is to stick with it.

6. Don't sacrifice the things you love the most: Paying off debt may require you to make a few lifestyle changes, but it doesn't have to be depressing. If you have a difficult time adjusting to new circumstances, implement gradual changes so the process won't become too overwhelming.
PGE & Energy Trust offer cash back for home energy improvements
Do your home improvements for 2017 include a new washer, water heater or other energy updates? You can get cash-back incentives from Energy Trust of Oregon on qualifying improvements, including:
ENERGY STAR® front-load clothes washers; High-efficiency heat pumps; Heat pump water heaters; Insulation; Smart thermostats; Energy-efficient windows; Solar electric system.
Is a big project not in the plans this year? Energy Trust has teamed up with local retailers to bring you reduced pricing on efficient showerheads and ENERGY STAR® LEDs. Visit Energy Trust to learn more about offers and incentives available to you.