Library News and Events
All events held at the Cedar Mill Community Library, 12505 NW Cornell
Face Time: Parenting in an Age of Digital Attachment
Tues., Mar. 7, 6:30 pm.
Parent Workshop by Doreen Dodgen-Magee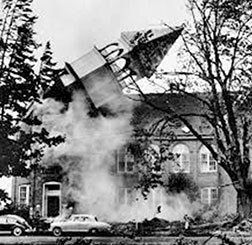 Destruction from the storm
Great Columbus Day Storm
Wed., Mar. 8, 6:30 pm.
Sig Unander explores what happened in October, 1962 to produce the "perfect storm."
Rhythm/Drum Circle
Tues., Mar/ 28, 6:30-8 pm.
Adult drummers gather to develop rhythmic abilities while strengthening the group as a whole.
Bethany Library Expansion
Wed, Mar. 22, 7 pm, Laurel Parc meeting room, Central Drive, west of Bethany Boulevard
The public is invited to a meeting to review plans for the Bethany Library expansion. The library will share current architectural plans and renderings, and listen to community ideas and questions.
The library has been working with Central Bethany Development as they plan the Plaza at Bethany Village. The library intends to lease space in this final multi-building phase of Central Bethany development. Construction schedules are dependent on factors outside the library's control and may not begin until 2018.
Since all the funds for the expansion must be raised privately, the library has been slowly reaching out to interested community members to help build a framework for a larger, concentrated campaign. If you would like to be involved in this effort or just want to keep informed about the project, please come to the meeting or join our mailing list by sending a request to cedarmill@wccls.org.