Business News for March 2017
Free gardening classes
Cornell Farm offers free sessions to help gardeners prepare for the coming growing season. All classes at the nursery, 8212 SW Barnes Rd.
Garden Cleanup & Mulching
Sat., March 11, 2 pm
Probably the least glamorous part of gardening is also one of the most important aspects to organically maintaining a healthy yard.
Intro to Edible Garden Design
Sun., March 12, 2 pm
Whether you're filling up a raised bed or a small pot of herbs, a little bit of planning goes a long way to maximize yields. We'll go over the basics of edible garden planning, answer questions, and give feedback on your spaces.
Sunset Credit Union offers scholarships
Sunset Credit Union is once again offering two, $2,000 scholarships, to any Washington-County student who will be graduating from high school in June. "We understand the burden that the expense of college can bring to a family, and as a part of this community, we're always looking to help out local students who wish to pursue further education," said Rhonda Baggarley, CEO/President of Sunset Credit Union.
To apply for one of these scholarships, visit the credit union's website at www.sspfcu.com and click on the 'Scholarship' button on their homepage. Please note, student must reside in or attend a high school in Washington County to be eligible. Membership in Sunset Credit Union will be required of the scholarship recipient.
For more information visit their website at sspfcu.com or contact them at 503-643-1335, or stop by their office at 1100 NW Murray Blvd.
OCAC Spring Break camps
Camps held March 27-31, Oregon College of Art & Craft, 8245 SW Barnes Rd.
Campers play games, make friends, sing camp songs and build fantastic relationships with our amazing staff in our fantastic art camp! At Spring Break Camp, children explore creativity in art workshops designed to strengthen their creative abilities while developing their social, communication and intellectual skills. We think with our hands!
Free wallpaper books for crafters
Miller Paint, located at 1040 NW Murray Road, is doing some spring cleaning of its collection of wallpaper books. Local artists or crafters who would like wallpaper samples for their projects are welcome to help themselves to the books. First come, first served.
Santosha Yoga has classes for a cause and moms-to-be
Santosha Yoga, located at 4876 NW Bethany Blvd. Suite L-4, is offering the following events:
Community yoga
Sundays, 9-10:15 am. $5-$10 donation.
A Dharma Yoga intern is offering Community Classes. Donations go to Living Yoga, a local organization that provides free yoga to inmates at Coffee Creek Correctional Facility and the Washington County Community Corrections in Hillsboro, and patients at rehabilitation centers, among others. Santosha is donating its studio for the classes. All are welcome. These classes will run for several months.
Prenatal yoga
Wed. evenings at 8 pm and Sun. evenings at 7 pm.
Village Gallery of Arts
March featured artist: Janice Holmes
Reception: Sun., March 12, 2-4 pm
Janice Payne Holmes, who works mainly in watercolors, is March's featured artist. A member of the Watercolor Society of Oregon, she has belonged to the Village Gallery of Arts for many years. In recent years Janice has enjoyed incorporating a variety of patterns and artist's markings into her work, including the paintings in this show.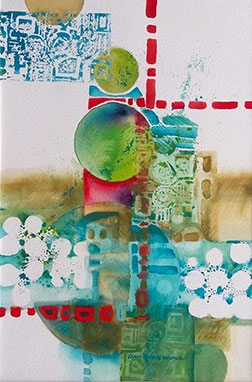 Geometrics by Janice Payne Holmes
New classes offered in March
For complete details on all classes please visit www.villagegalleryarts.org. Phone: 503-644-8001.
Kristi Roberts: 2017 children's art classes
Mon. or Wed., 3:45-4:45 pm for ages 7-11; Mon. 5-6 pm for ages 11-16
Class units include drawing, watercolor, acrylic, pastels, clay and mixed media. Each lesson teaches fine art concepts and techniques. Students will explore landscapes, people, faces, animals, cartooning and perspective.
Liz Walker: Suminagashi paper marbling workshop
Mon., March 20, 10 am-3 pm
Explore this fascinating Japanese paper marbling technique using water-based sumi inks floated on plain tap water. Suminagashi literally means spilled inks. Quick and easy to make; each marbled paper is one of a kind.
Mary Burgess: Working wet into wet in watercolor
Wed., March 22, 29, April 12, 19, 26, and May 10; mornings 9:30 am-12:30 pm or evenings 6-9 pm
Lessons will focus on wet into wet technique to create soft backgrounds and luscious subjects. Students will learn to balance water and pigment to achieve desired effects.
Annie Salness: Value, composition and color
Thursdays, April 6, 13, 20 and 27, 6-9 pm
Join Annie as she explores value through composition and color. Class time includes demonstrations, exercises, individual attention, and homework.
Village Gallery is a non-profit, cooperative gallery in operation since 1963. It is located next to the Cedar Mill Library at 12505 NW Cornell Road. Hours: Mon.-Sat., 10 am-4 pm; Sun. 12 pm-4 pm.
March into wellness at Pharmaca
Natural allergy relief
Sat., March 11, 2-6 pm
For a new approach to allergy season's sniffles and sneezes explore herbal, homeopathic and over the counter products that can offer effective relief. Product samples and a free Boiron Sabadil with $75 purchase (Limitations apply). Get up to $20 in coupons and earn Feel Better rewards before the quarter ends.
Get $5 off your next $20 purchase when you attend one of the following events:
Mini facials
Sat., March 4, 1–5pm
Join us for our monthly mini-facial event featuring a different line of natural skin care every month. In March we're featuring Sonage. Appointments are limited; please call ahead to reserve your spot with Alicia Valdez, our esthetician.
Flower power
Sat., March 18, 1–5pm
Spring into a fresh new season with healthy greens and powerful flower essences with nutritionist Karen DeVyldere. Learn how to use these aids to calm your mind, re-energize your body and prepare yourself for your best year yet.
March madness
Sat., March 25, 1–5pm
Get in on the fitness action with clean proteins and all the recovery gear and treatments you need. Bring your nutrition questions for our nutritionist Karen DeVyldere and loosen up with a fascial stretch therapy demo from Christine Mayo-Powers, CFST. Your joints and muscles will thank you the next time you hit the park or gym.
Free eye exams and glasses for needy children
Specs 20/20, a full service eye and vision care provider in the Timberland Town Center, is teaming up with 141 Eyewear, a Portland-based frame designer, to provide eye exams and glasses to children whose families can't afford them. Through its "Sight Gift" initiative, Dr. Bernard Conway, O.D., will donate a free comprehensive eye exam and 141 Eyewear will provide frames. Lenses are provided by a local Essilor lab, and glasses are made for the patient within eight days.
If you are interested in this service, please contact Merri at Specs 20/20 (503-747-0265), as spaces are limited.
Specs 20/20, which believes every child should have perfect vision for both reading and distance, is an official drop off site for the Lions Sight and Hearing Foundation. You can drop off old cell phones, hearing aids, or eyeglasses at their location. Specs 20/20 is located at 11805 NW Cedar Falls Drive in Timberland Town Center.