Kip harvesting cabbages
Featured Business
Love Farm CSA
This month's Featured Business isn't located in Cedar Mill, but thanks to a Bonny Slope resident, you can get your share of the goodness each week during the season, May-October!
Love Farm is a 39-acre parcel of land that is part of Amy Love's family land north of Forest Grove, west of Highway 47. She's the fifth generation of her family who is farming on this land. Her father and uncle are commercial berry farmers who sell their produce to processors, but Amy wanted to try tsomething different.
Although she grew up on the farm, she wasn't sure she wanted to be a farmer when she left high school. She traveled the world for a number of years, and encountered organic and sustainable farming methods working on farms in New Zealand, Hawaii and Arizona. She returned to Oregon and got her degree in botany and horticulture at Oregon State University.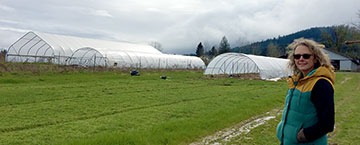 Amy Love on the farm. Cover crops like chickweed will be cultivated into the soil. Hoop houses extend their growing season.
Her first job after graduation was as head grower for a nursery. It was there that she met her husband Kip. With her father, Jim Love's support, they began using organic practices on a small plot. Then they took over the "Willis Place," a property that her father had acquired in the 70s, which had been a dairy and then was part of the family's berry operation.
They began a CSA—Community Supported Agriculture—farmers offer shares in their crops to members, who invest up-front and then receive fresh harvest during the season. It's an increasingly popular model for folks who want local produce grown by people they know and trust. They started in 2005 with just a few friends, and now they feed 250 families, distributing their food at nine locations around the Portland metro area. They also sell produce directly to some discriminating restaurants, where local produce is increasingly in demand.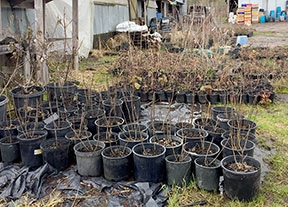 Fig tree saplings are ready to plant out
One popular pickup location is the National University of Natural Medicine (near the west end of the Ross Island Bridge), billed as RxCSA. In addition to Linda Sawaya's home in Bonny Slope, they also have pickups at the farm, and at private homes in Orenco, North Kenton, northeast and southeast Portland, Garden Home, and at Ground-Breaker Brewery in the southeast Portland industrial area.
Although they haven't yet completed the paperwork for official organic certification, they use a wide variety of organic techniques: enriching the soil through cover crops and rotation, composting, composted manures and compost teas, green manures, and natural amendments. Amy says, "We are committed to building soil tilth and supporting the life—worms, fungi and much more—of the soil."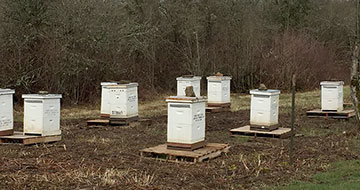 The farm hosts a neighbor's beehives to help with pollination
She continues, "We never use synthetic fertilizers, pesticides, herbicides, or fungicides. We primarily use drip irrigation, we provide habitat for wildlife and beneficial insects, we use untreated and organic seeds, often favoring the heirloom and open pollinated varieties. We cultivate the old fashioned way—with hoes and an old cultivating tractor which we are working towards converting to bio-diesel."
They encounter the usual variety of pests which they deal with by using "catch crops" that attract the bad bugs, and "insectories"—plants that attract beneficial insects—pollinators and bugs that are predators on the bad ones. They also overplant, expecting a certain amount of damage. They plant two-to-three times as many strawberries as they intend to harvest, for example.
Pigs process farm waste into rich manure!
Field mice and gophers are a constant worry, and Amy mentions that they've been considering getting a terrier or two, as they do a good job of terrorizing rodents! Their two farm dogs don't pay much attention to the little pests.
Belonging to a CSA teaches you to eat seasonally. You're not going to get sweet corn in early spring. And you'll be likely to encounter some new-to-you veggies, since Love Farm grows many heirloom varieties. In season fruits and vegetables mid May-October include all kinds of greens, radishes, turnips, berries, beets, beans, broccoli, cabbage, cauliflower, carrots, corn, cucumber, eggplant, kohlrabi, kale, melons, onions, potatoes, pumpkins, peppers, squash, tomatoes and many herbs and flowers. A large assortment of recipes is provided on the website and in the regular newsletters that members receive during the season. The farm is also on Facebook, just look for Love Farm Organics.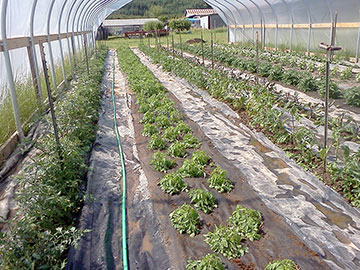 Hoop houses allow vegetables to get an early start
If you're interested in finding out more about getting some of the Love Farm bounty, visit their website and click on the "Join" button to see the various pickup option days and times. They'll also be at the CSA Share Fair on March 11, where you can browse booths of a number of area CSAs.