Business News March 2020
Village Gallery of Arts
The Gallery is located just east of the Cedar Mill Library at 12050 NW Cornell. For more details and information on any of these events, please check our website or call the Gallery: www.villagegalleryarts.org, 503-644-8001.
Second Sunday Artist Reception
Sunday, March 8, 2-4 pm
Come meet the artists and enjoy refreshments while browsing the new show! Featured 2-D Artist: Vanaja Mulagada—watercolor and acrylic artist. Featured 3-D Artist: Virginia Sumner—book arts including handbound journals, bookbinding kits, altered books, and books written and illustrated by Virginia.
Media Focus Wall: For the month of March this wall highlights photography and digital art.
Classes and Workshops
For more details and a full class list, please see our website, www.villagegalleryarts.org or call the Gallery: 503-644-8001.
Youth Classes
Children's Creative Reuse Art Class
Thursdays: February 6, 13, 20, 27, 3:45 pm-4:45 pm, Ages 7 - 11 years
Children explore their creative potential in a fun, playful and safe environment to learn various art techniques and create fun craft projects. The class will focus on the process rather than the product. This allows students of varying skill levels the opportunity to explore their creativity in a low-pressure environment. Call or visit website for class supply list and more information.
Adult Classes and Workshops
Brooke Walker-Knoblich -- Painting with Brooke
March 24 & 31, 10 am-1 pm
This class will be a general themed painting class, so students can bring in any subject matter they choose. Brooke will demonstrate in the first hour, leaving time for students to integrate techniques into their own work. Each class also includes a small group critique at the end. Appropriate for any medium; Students of all skill levels welcome. Please bring all your painting supplies and a table easel.
Mary Burgess -- Close Encounters with Juicy Fruit (Watercolor)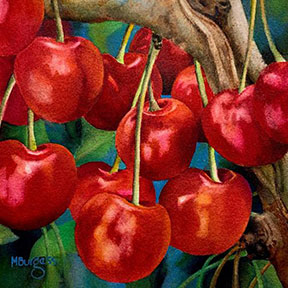 Juicy Fruit: cherries, by Mary Burgess
Wednesdays: March 11, 18, 25 and April 1, 8, 15, 9:30 am-12:30 pm or 6-9 pm
Some watercolor experience is helpful.
This six-week class will focus on fruiting elements of the landscape. Whether it is juicy berries, pinecones, rose hips or the like, we will zoom in to discover the possibilities of the plant kingdom in watercolor. Each class begins with a critique and hands-on lesson that applies to the day's concept or technique. Check website for supply list and more details.
Virginia Sumner -- Introduction to Abstract Acrylic Workshop
Saturday, March 21, 10 am-3 pm
Beginner to Intermediate Level. Please bring your lunch to maximize workshop classroom time.
The focus here is on getting paint down and tapping into your authentic, expressive, inner self. No worries. We will be keeping things lighthearted and all about fun in this fast-paced workshop. Learn the basics of creating and critiquing abstract art. Throw perfectionism out the door and step away from expectations of photorealism. Check the Gallery's website for supply list and more details.
Debbie Teeter -- Experimental Watercolor Workshop
Wednesday, April 15, 1-4 pm
Bring more play and imagination into your watercolors! This workshop is appropriate for beginners on up. Debbie has been painting since high school, explored watercolors in college and is always up for a new twist. The techniques explored can be used in both representational and non-representational work, and will utilize an eclectic array of "toys." Students will not be creating a painting in class but developing a bank of possibilities which they can then apply to theirstudio practice. Plan to be loose and have fun! Check website for supply list and more details.
Fieldstone Cornell Landing celebrates
UPDATE: All public events are canceled until further notice because of the Corona Virus outbreak.
Fieldstone Cornell Landing is celebrating our One-Year Anniversary! We invite you to join us in celebrating this milestone event. Come for lunch and a tour during the month of March and you will be entered into a drawing for an Oregon Coast Getaway! Whether you enjoy hiking the dunes, exploring lighthouses, visiting art galleries, whale watching or roasting s'mores on the beach, you can do it all to the sound of ocean waves and the glow of magnificent sunsets.
Call 503-292-9222 to schedule your visit today. Fieldstone Cornell Landing is an Assisted Living and Memory Care community nestled in the beautiful west hills of Portland. Come see how we are redefining senior living with all the comforts of home and a touch of urban feel.
Touchmark events
UPDATE: All public events are canceled until further notice because of the Corona Virus outbreak.
Touchmark in the West Hills invites the public to participate in the following complimentary events. Touchmark is located adjacent to Southwest Barnes and Leahy roads at 840 SW Touchmark Way. To attend, RSVP to 503-954-1640.
Lunch and learn: staging & prepping your home to sell
Monday, March 10, 11 am
Real estate agent Kristin Del Balzo will share a broad overview of the issues and terms you may encounter when selling your home and provide guidance on getting your home ready to sell, now or in the future. A complimentary lunch will be served.
Parkinson's support group
Wednesday, March 11, 5:30 pm
This support group meets the second Wednesday of each month and is open to those living with Parkinson's as well as family members or friends.
St. Patrick's Day pub crawl
Tuesday, March 17, 10 am-2 pm
Hop on the party bus for a festive celebration of all things Irish! Wear green and join the fun to visit several of Portland's best beer spots. The first stop is Kells Irish Brewery. Next up is Paddy's for lunch and entertainment with a visit to Jake's for Irish coffee drinks to cap off the day. Cost, which includes transportation, commemorative shirt, and cover charges: $30. Call 503-946-5412 to RSVP by March 8.
Meet the artist event
Thursday, March 19, 4 pm
Originally from Poughkeepsie, New York, Julie Perini has lived in Portland since 2007. An Associate Professor in the School of Art and Design at Portland State University, she makes experimental and documentary videos/films, installations, two-dimensional works, and events. She holds a Master of Fine Art from the Department of Media Study at the University at Buffalo and a Bachelor of Science from Cornell University.
Caregiver Dementia support group
Wednesday, March 25, 5:30 pm
This supportive group of individuals meets the fourth Wednesday of each month to share the challenges of living with and caring for someone who has dementia.
St. Patrick's weekend tasting event
March 14, 11 am-2 pm, Marion Acres and Helvetia Farm Market, 23137 NW West Union Rd,
Come celebrate St. Patrick's Day at Helvetia Farm Market and taste several Irish-themed samples, including cider and brats. The event is open to the public and free to attend and taste.
Share with a friend and come enjoy a fun afternoon event. Rain or shine, it's going to be cozy and buzzing inside, so come grab an Irish coffee in our espresso bar and enjoy the samples while you take in the view of the rolling emerald green hills out our scenic windows. It's almost like you've traveled to Ireland for the day.
Helvetia Farm Market also sells fresh old world bread, fresh organic and seasonal produce, dairy and meats, locally-made gifts and pantry staples, as well as several coolers and shelves full of delicious artisan made foods.
Ackerly public events
UPDATE: All public events are canceled until further notice because of the Corona Virus outbreak.
All events are at The Ackerly at Timberland, 11795 NW Cedar Falls Drive, and are free, but RSVP is required by calling 503-350-3400.
Weekly open house
Tuesdays, 1-3 pm
$2 espressos in Miller's Pub. Come visit the community, have a coffee, beer, or glass of wine in our Pub. This is a low-key alternative to a formal tour of the property.
Senior fitness class
Wednesdays, March 4 & 18, April 1, 2-2:45 pm
Fitness class geared toward 55+ age group. Focus is on stretch, strength and maintaining or increasing mobility and balance.
Infinity rehab wellness talk
Thursday, March 26, 1 pm
Good posture is important to our overall health. Decreased flexibility, back, neck, and shoulder pain, problems with balance, and even breathing difficulties can all be the result of poor posture. Come to the Infinity Rehab Wellness Talk and learn what you can do to improve your posture!
Cedar Mill Farmers Market
Vendor opportunities
Cedar Mill Farmers Market is currently accepting applications for vendors. The market has some availability in all areas, especially in the following - Hot Food, Wine, Kombucha, Jam/Jelly, bakery and other tasty items as well as plant starts. Vendors can apply at www.managemymarket.com.
New market partnerships
So many exciting things are happening at the market this season, including partnering with Sunset Athletic Club and Tualatin Soil & Water District—more news to follow next month. There are plenty of opportunities for businesses in our area to partner with the Farmers Market. If interested, please email ourcmfm@gmail.com.
Internship opportunities
The market is offering internship opportunities – please email ourcmfm@gmail.com if interested in the fields of teaching children or business management. The Farmers Market would love to give interns some insight and hours in their potential fields.
Local talent wanted for new Market season
The Farmers Market looks forward to seeing friends & community members at the market. Market season Saturdays are so much fun! It has been a long winter and spring/summer is sounding so good. We can't wait to see the beautiful produce from our amazing farmers and eating fresh locally grown foods! We are looking to showcase some local talent; email ourcmfm@gmail.com if you might be interested!
The Main Differences Between Traditional and Roth IRAs
An Individual Retirement Account, or IRA, is a plan for retirement provided by financial institutions with either a tax-deferred basis or tax-free growth. With an IRA you are essentially investing money and letting it grow until retirement. This year, the IRS increased the amount you can contribute to your retirement accounts up to $6,000 for IRAs.
There are two main types of IRAs: Traditional and Roth. One key difference between Roth and Traditional plans is how contributions are taxed. Here's how they compare:
Traditional plans are sometimes also referred to as "regular" plans. You can invest pre-tax income in traditional accounts. So one advantage of traditional accounts is that when you contribute money, you can generally write off the contribution as a tax deduction, thereby lowering your tax bill. One disadvantage of traditional plans is that you generally can't withdraw money without penalty until age 59-1⁄2, and you pay taxes on the money as you withdraw.
Unlike a traditional IRA, contributions to a Roth IRA are made using money that's already been taxed. Contributions to a Roth IRA are never tax-deductible. While there's no tax benefit up-front, your earnings within the account grow tax-free, and withdrawals made during retirement are also tax-free.
The money you contribute to a Roth IRA can be removed at any time for any reason but a 10% early distribution penalty tax will apply to the taxable amount unless you meet one of the IRS's early distribution penalty tax exceptions. You can keep adding to your Roth IRA well into retirement, no matter your age.
If you have questions about which IRA is best for you, or would like more information, contact Debbie at Sunset Credit Union at 503-643-1335, or visit the CU at 1100 NW Murray Blvd.
Cedar Mill Business Association
Tuesday, March 10. 11:30-1:30, The Ackerly at Timberland, 11795 NW Cedar Falls Drive
Join us for lunch to hear Susan Reingold, owner of The Reingold Gallery. She is a businesswoman who has lived and worked internationally most of her life, and is currently based in Portland. She will talk on Japanese contemporary art, why Japanese prints are loved and collected worldwide, the process of printmaking, and tips for purchasing art for home or for business.
First meeting is free to non-members More information, and a full listing of our Members and our Shop Local Directory can be found at our website www.cedarmillbiz.com.