Sewage spill response leads to better notices

A broken sewer line discharged raw sewage into North Johnson Creek last month. I was out of town, but had a voicemail from Andrea Watson, Tualatin Valley Water District (TVWD) Public Affairs, asking if I knew anything. When I got back to town, I posted a question on NextDoor and the Cedar Mill News (CMN) Facebook page.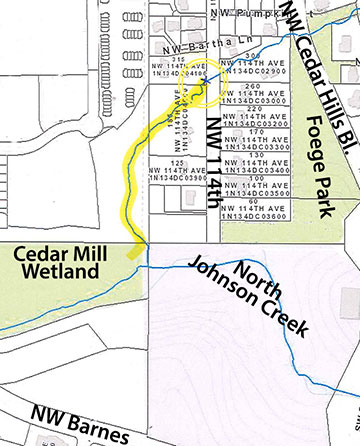 The sewer broke near NW 114th and
spilled into N. Johnson Creek
Neighbors said that KPTV had aired a news item on Friday morning, February 21 that implied that drinking water was affected, so neighbors were concerned. As it turned out, the sewer break had no effect on drinking water, and KPTV corrected their post.
I checked on the Clean Water Services (CWS) and the TVWD websites and couldn't find any information. CWS is responsible for sewers, and TVWD provides drinking water.
Mark Jockers, Public Affairs Director for Clean Water Services, sent an email on Sunday, February 23, with this information. "CWS received an odor complaint call from a neighbor near 315 114th Avenue on Saturday, February 15. Staff was dispatched to the location, but did not locate the source of the odor. On Monday, February 17, a full crew and TV inspection van returned to the site. Using the TV line inspection equipment, crews were able to locate a broken 10-inch sewer line discharging sewage into a tributary of North Johnson Creek (see attached map of impacted area).
"On Monday, crews made a temporary repair to the line; placed warning signs in the area, took water samples upstream and downstream of the overflow, and began cleanup. Crews were on site through much of the week coordinating cleanup and taking regular water samples.
"Staff coordinated on site with nearby neighbors and reached out to THPRD and The Wetlands Conservancy which own downstream property (the large Cedar Mill wetland). The cause of the break appears to be a streambank failure that uprooted a tree, which subsequently dislodged and broke the concrete sewer line.
"A reminder—the public should immediately call Clean Water Services' 24-hour response line at 503-681-3600, or their local City, if they suspect a sewage overflow in their neighborhood.
Jockers later said that the permanent fix to the sewer line would be done this summer when water levels are lower.
After the incident, both CWS and TVWD followed up with me to ask how they could have better provided public information. I recommended posting an alert message on the home page of their respective websites that linked to more complete information, in addition to posting on social media. Both agencies are implementing these recommendations. TVWD was already implementing a new website design and was able to add an alert bar near the top of the page.
If readers have more suggestions for improving public notice from our service providers, I'll be glad to pass them along! Email me!