CMBA News
The Cedar Mill Business Association has been busy behind the scenes with several projects that are now reaching completion.
New CMBA logo design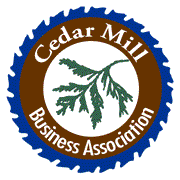 We held a logo contest and are pleased to announce that we now have a great new logo. The winning entry was from Andy Lunday, whose girlfriend lives in Cedar Mill—her parents get the News, and that's how he heard about the contest. He's 27, and is currently working in data entry but is looking for a job in graphic design. He's also an illustrator and recently self-published a coloring book. His prize is a $50 gift certificate from Safeway and $25 each from US Bank and the Sunset Credit Union.
The second place winner, Lora Szaraniec, came up with the saw blade element and graciously allowed us to incorporate that into one of Andy's designs, so the final logo is a collaborative effort. Lora will receive a $25 gift certificate from Bales Thriftway. Thanks to the contributing sponsors and to all the artists who submitted designs.
Flowers & Banners
By the time you read the News, you'll be enjoying the flower baskets on Cornell. Inspiration and the funds to purchase the flower baskets were provided by Chuck Richards, Sunset Athletic Club. They were planted for us by Cornell Farms, and installed and will be maintained by Bales|Findley Property Management. Essential assistance for the irrigation system was provided by Hal Beighley, Landscape Architect with Beighley & Associates. The CMBA provided additional funds to repair and upgrade the irrigation and banner hardware.
The new logo will go on banners that will be created by Impact Sign Company. They should be installed in a week or two. These new items will really help identify and beautify our downtown area.
Cornell cleanup
On Saturday, May 15, from 9 am-noon, we'll be out doing the weeding, pruning and other cleanup chores needed to keep our landscaped areas nice. We expect to be joined by some Key Club volunteers from Sunset High School, along with volunteers from Dinihanians and Sunset Presbyterian, as well as CMBA members and community volunteers.
Please consider joining us—many hands make light work! Tools and gloves will be provided although you're welcome to bring your own. Washington County will provide traffic control so that we can work safely in the median areas.
We'll meet up at the "overlook" area just west of A Cut Above. This is a rain-or-shine event so dress for the weather. Ages 12 and over, please. For more information, contact me at vrb@teamweb.com or 503-803-1813.