Farmers' Market opens May 8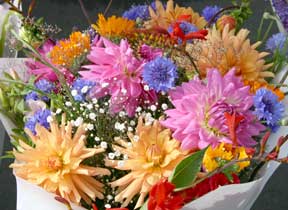 The twelfth annual Cedar Mill Farmers' Market opens on Saturday, May 8. The market, conveniently located in the parking lot of the Sunset Mall on NW Cornell Road just west of Murray (across from Sunset High School & Park), is sponsored by the Tualatin Hills Parks and Recreation District (THPRD) and managed again this year by Dina Gross.
"We're opening in early May so everyone can shop before Mother's Day," explained Dina. "In addition to beautiful, fresh floral bouquets from Vanessa's Farm, we'll have mixed color baskets, planters, and bedding plants from S & K Nursery." Locally grown produce will make its seasonal debut as soon as the weather allows. Expect to see early asparagus from Jason of Red Earth Farms in May, and Green Acres Farm of Canby will start the season with radishes, greens, and over-wintered produce including potatoes, carrots, and onions. They'll be bringing more early spring vegetables and salad greens as soon as they can coax them from the ground. As the season progresses and more crops are ready for picking, they'll be joined by other Oregon produce growers like Martinez Family Farms, Galin-Flory Farm, Efimoff Organic Berries, Baird Family Orchards, Farm 47, Duyck's Peachy Pig Farm, and Townsend Farms.
Filling out the market in May and throughout the season are a wide variety of vendors selling their handmade creations. "We have an amazing diversity of talented artisans in our community," said Dina.
And we'll have plenty of prepared foods from local vendors too: cheesecake and fresh marionberry cinnamon rolls from Sauvie Island Sweet and Savory Food Co., fresh locally-roasted fair-trade organic coffee from St. Johns Coffee Roasters, French pastries from La Provence Bakery in Lake Grove, and fresh baked goods from Great Harvest Bread. The market is also excited to welcome a new Portland vendor, Barefoot Chicken, who will be selling fresh chicken or tofu sandwiches as well as lunch plates including salad and bread, and a la carte items, too. In addition to their signature chicken dishes and vegetarian selections, they'll provide hot ginger tea and cold honey lemon tea. Barefoot Chicken uses artisan breads from local Portland bakeries, local organic vegetables whenever possible, locally produced tofu, and Oregon chicken. Note also that the CUMC Café will be back with us later in the summer with their delicious grilled lunches, and we'll also be treated to some ethnic Russian brunch food made by an aunt of organic-berry-man, Ken Efimoff.
SNAP accepted
This year, for the first time, Cedar Mill Farmers' Market will accept the Oregon Trail card (from the Supplemental Nutrition Assistance or SNAP program) to purchase tokens for eligible food items. Oregon Trail use at the market is possible thanks to the support of New Seasons Market, THPRD, and a new volunteer who will be dedicated to Oregon Trail EBT assistance. Added to the Farm-Direct Nutrition Program (Senior and WIC) coupons already accepted for the past several years, the market is really reaching out to provide good nutrition to many locals who appreciate but might not otherwise have easy access to the freshest produce around.
The Cedar Mill Farmers' Market is family-friendly and has a special "Kids' Place" booth staffed by volunteers who offer young visitors free balloons and face painting. Dogs that are leashed and well-behaved are welcome, too. And to add to the festive atmosphere, each Saturday the market features entertainment by a different local musician. On May 8, local favorite Greg Clarke plays folk tunes on fiddle, banjo, guitar, and mandolin.
For more details and information, visit the market's website www.cmfmarket.org, or contact market manager Dina Gross at cmfmarket@gmail.com or at 503-913-7733. Keep up with the Cedar Mill Farmers' Market on Facebook, too!