Library News and Events
Mother-Daughter Book Club Workshop
Join local author Cindy Hudson for this hands-on presentation to help you determine who to invite, where to meet, how to run the meeting, how to choose the books, and how to keep your mother-daughter book club vibrant for years. Cedar Mill Library upstairs meeting room, Sunday, May 2, 2:00-3:30 pm. Recommended for parents and children aged 8 and up. No registration required.
Blame it on the Bossa Nova!
It "swings so cool and sways so gentle..." That's the charm and flair of Brazilian rhythms performed by local singer-songwriter & guitarist Ronnie Robins. Known around the Portland metro area for his warm and cadenced stylings of bossa nova, samba and jazz, as well as his original vocals, Robins will perform on the Cedar Mill Library's main floor on Friday May 7. Sit and enjoy the performance or sway to the music as you browse the stacks. The music begins at 6:45 pm.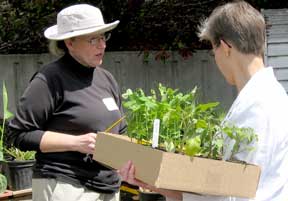 Library volunteer Cori helps a customer choose veggie plants at the 2009 Blooms for Books sale
Blooms for Books
The Cedar Mill Community Library is hosting its fifth annual "Blooms for Books" Plant Sale on May 8 in the library's parking lot. Activities include:
Plants!
Over 2,000 plants for sale, many grown organically. Large variety of high-quality, value-priced, locally-grown landscape annuals & perennials to beautify your yard or deck. Huge selection of kitchen herbs & vegetable starts for your home garden or choose something special for Mother's Day! (Sunday, May 9). Garden Supplies & Books.
Celebrate Art!
The Village Gallery of Arts is celebrating the opening of their first "Art Challenge" show. A portion of the art and craft sales will be donated to the library.
Eat!
Stop by Tilly's Gelato & More's booth for coffee, pastry or some of their scrumptious gelato! A portion of the sales will be donated to the library.
Garden Items!
Second Edition Resale Shop, the ongoing fundraiser for the library, will have fun garden-themed items, including bird feeders & ceramic pots.
The Spring Festival runs from 10 am to 3 pm on Saturday, May 8 at the library, located at 12505 NW Cornell Road, Portland, OR 97229. All purchases support library programs. For more information, contact Dawn at 503-644-0043 or visit the library's website at www.cedarmill.org/library