TriMet expands service in Cedar Mill

TriMet Bus Line #50 has been operating for a little more than six months, and has developed a steady and dependable ridership. The route connects the Sunset Transit Center (STC) to West Haven and other Cedar Mill neighborhoods.
According to TriMet, during the winter of 2009-10 there was an average of 110 rides per day. Rides per vehicle hour averaged 8.9. This is the number of riders on a bus on any given day divided by the number of hours that a bus is out of the garage, including breaks and travel to and from the starting point (the Merlo Garage in Aloha). TriMet tries to achieve 15 rides/vehicle hour system-wide. Line 50 is clearly a long way from that goal but it is a significant improvement over the ridership on the old #60 and Cedar Mill Shuttle Routes.
TriMet has calculated that the cost of individual ride is $11.85. Once again this is significantly higher than the system-wide goal, which is between $3 and $4 per ride, but the #60 Leahy Rd cost around $9 per ride but the Cedar Mill Shuttle was approximately $25 per ride.
TriMet also measures a bus' "on-time" performance by marking when the bus arrives at certain time points along the route. The performance for the 50 stands at 94%. This means that the bus has arrived at these points between one minute early and five minutes late 94% of the time.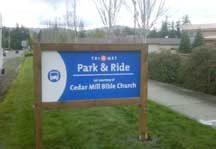 Park & Ride
For a long time, the Cedar Mill community has been asking for a park and ride lot in Cedar Mill. The Sunset Transit Center fills up very early in the morning on weekdays, and many people do not otherwise have access to public transit. TriMet and the Cedar Mill Bible Church (CMBC) held discussions recently and on April 9, TriMet announced the opening of a shared Park & Ride facility in the Cedar Mill Bible Church parking lot. Young Park, TriMet Capital Projects, said, "TriMet is appreciative of CMBC's commitment to join the shared use Park and Ride network. Special gratitude goes out to Pastor Dan Larsen and Ted Bernick of CMBC."
16 free parking spaces are available Monday-Friday in the West Lot. Your stay may not exceed 24 hours. Lines 50 (STC) and 89 (Tanasbourne) serve the lot.
Maps and schedules for TriMet service in Cedar Mill are available on their website, trimet.org