Featured Business


Village Gallery of Arts


The Village Gallery of Arts, a Cedar Mill institution since 1963, is holding their first Art Challenge at the gallery this month. 75 artists have created four pieces each on a theme of their choice, on provided 6x6-inch canvases during the 30-day period from April 1-30. Publicity Chair Judy Vatne says, "This is the first non-juried Art Challenge fundraiser for us, and the response has been tremendous. All 300 canvases are currently hanging in the gallery." The opening reception for artists and community will be on Friday, May 7th from 7-9pm. The Show & Sale will continue through June 4. Be sure to stop in and see it and consider purchasing one or a set of works. Art makes a great gift for moms, dads, grads or even yourself!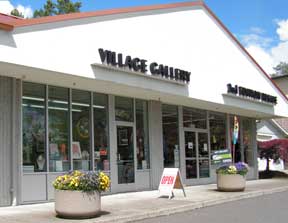 In 1963, during an oil-painting class offered through Adult Education at Sunset High School, a group of students and their instructor, Gary Mueller, decided that the Tualatin Valley amateur artist community needed a meeting place to exchange ideas and display their work. Penni Ginn, who had recently moved to the area from San Francisco, and Irene Phoenix were two of the dozen or so artists who formed the initial group. They eventually negotiated a deal with the principal of Sunset Valley Elementary (where Home Depot now stands) for use of the school cafeteria. Their objective was to form a cooperative, non-profit organization, find a building and gather membership. They came up with the name Village Gallery of Arts.
Early in 1964, Odus Bales, owner of the Thriftway store, found out about the group and offered them space in the North Mall of the Milltowner Shopping Center, free until they made enough to pay monthly rent. By April they had 48 members and had cleaned and painted the space and held a Grand Opening.
By the end of that year they had over 100 members, and offered classes by many professional Northwest artists. Members began to show their work in local businesses including Nelson's Coffee Shop (where Tilly's is now), at banks in Beaverton and Hillsboro, and at the Beaverton library.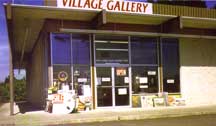 The gallery in the 70s, where the library is now
Over the next two years, the organization grew rapidly, to a maximum membership of 300. By 1967, they lost their rent-free space and needed to move, first to a space in the (now demolished) Sunset Square on Murray, and later to the A-frame building that now houses Beighley & Associates on Cornell. Eventually they moved back to the Milltowner Center, first to a space at the front, and later to the space they currently occupy, just east of the library.
The Village Gallery of Arts (VGA) continues to be a working/teaching gallery, and a place for exhibition and instruction. The mission statement reads, "The Village Gallery of Arts strives to promote knowledge of, appreciation for, and active participation in the visual arts." Membership has waxed and waned over the years, but is currently around 140. Many are from Cedar Mill but others come from all over the Portland metropolitan area to study, exhibit their art, volunteer time to keep the gallery open, and find fellowship with like-minded folks.
The front part of the space is a gallery and shop, and includes framed and unframed artwork and many types of crafts including jewelry, cards, textiles and wearable accessories like scarves, hats and hair ornaments.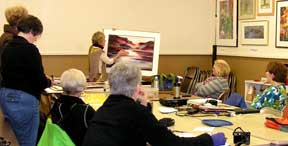 A large classroom behind the main gallery is used for all classes and most workshops. (The exception is a Garden Painting Workshop each summer held in the garden of instructor Chris Keylock Williams.) It is equipped with a small kitchen, tables, chairs and an overhead mirror for students to view the teacher's demonstrations.
Becoming a member of VGA offers many opportunities to learn and grow as an artist. Classes are available at reduced rates; experienced artist members mentor new members; and you have the opportunity to show and sell your art. Yearly memberships start at $35.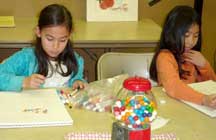 VGA offers both classes and workshops. The classes are usually offered once a week on a monthly schedule. The workshops take place over a one, two or three day session. Children's classes for ages 7-12 are offered after school on Mondays & Wednesdays. You do not need to be a member of the gallery to take classes but non-members pay $5 more per class session. There is no price difference for workshops.
Class coordinator: Shelley Lebel says, "90% of our instructors have a degree in the Fine Arts, Architecture or Design. Most instructors find us, and sometimes I'll hunt down an instructor because of a special technique they have to offer. All of our instructors have taught for a minimum of 2 years and have a curriculum they work from."
The gallery has a Patron Donation program that invites community members to become Village Gallery Patrons of the Arts. Patron Benefits include the Art Focus monthly newsletter, invitations to gallery events, your name and business listed in the newsletter and a Certificate of Appreciation. Donations are fully tax-deductible and qualify for a match with the Oregon Cultural Trust.
VGA does not jury art into the gallery. Member artists make decisions regarding what they bring into the monthly shows. They are only limited by size and number of paintings. Crafters have guidelines as to how many pieces they may display in the gallery.
The VGA is always looking for businesses to host art shows. In specific months they are featured at the Beaverton City Hall, and the Justice Center in downtown Portland. Currently they have a show at Java Mama on 185th. Any business interested in hosting an outside show should call member Otto at 503-645-3475.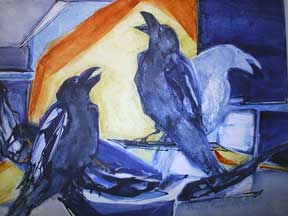 Some VGA members have gone on to be award-winning members of local and national art societies. Some also go on to gain representation from a for-profit gallery. One successful artist, Phyllis Meyer, has been a member since she first moved to the area in 1993. She began taking classes from popular watercolor teacher Chris Keylock Williams in 1994 and studied with her for five years. She says, "Since that time I have studied in workshops with a variety of instructors at the Village Gallery and other locations. If I hadn't discovered the Gallery I might not have started painting at all… It is a wonderful place for classes, to display and for support. One of my critique groups, Viewpoint, has been meeting there since its inception in 1995."
Vatne says, "We have recently updated our website, villagegalleryarts.org, to make it user friendly and to give the visitor a picture of who we are. You can view member's art on line, read our newsletters, where you will find our latest class and workshop offerings, download documents and learn about membership. The listserv is our instant communication line with members. It is used to deliver our monthly newsletter and alert members to other timely news events."
VGA has been a member of the Cedar Mill Business Association for several years. They appreciate the exposure they've received through the Cedar Mill News. Vatne mentions that, "The feature article on the local businesses is such a great way to get to know our neighbors."
Visit the Village Gallery of Arts in their space just east of the Cedar Mill library. They're open Tuesday- Saturday from 10-4 and Sunday from 12-4. Their phone number is 503-644-8001.