May Business News
Pamper yourself at Pharmaca
All events are at the Timberland Pharmaca store. For questions or more information, contact Patrick Healey (503) 596-3552.
Mini-Facials with Sonage
Sunday, May 6, 11 am-4 pm, $10 reservation fee (participants will receive a $10 coupon)
Spa while you shop! Join Sonage for a free personalized consultation and mini-facial using their luxurious non-toxic skin care. Limited spaces available: Reservations required. A $10 service fee is required for each reservation; participants will receive a $10 gift coupon.
Spring Spa Day!
Saturday, May 12, noon-6 pm, FREE!
Spa while you shop! Join us for a mini-facial* with One Love Organics and receive personalized skin care consultations. The first 50 customers get a FREE 1oz. Dr. Hauschka Cleansing Milk with any purchase. FREE full-size Dr. Hauschka Daily Hydrating Eye Cream with $125 purchase. Grab product samples and get up to $20 in savings coupons on event day!
*Limitations apply. See store for details. Mini-facials require a $10 service fee; participants receive a $10 gift coupon.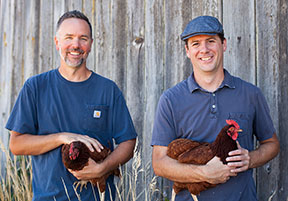 Meet the farmers! and the chickens!
Farm tours at Marion Acres
Saturdays, June 9, July 14, August 11, September 8, October 13, 10 am, Marion Acres, LLC, 23137 NW West Union Rd. Free, registration required
Join us for our "Second Saturday Stroll" through the farm! Bring a mug and we'll provide the hot coffee and a morning treat! Come see the entire farm with us as the owners John & Geoff take you on a guided tour to meet all the animals.
We will talk in depth about our sustainability, methods, and plans. You'll get to see the entire "farm-to-table" process from chick, to pasture, to processing, to packaging. We'll also visit all the animals and see how they play a major role in the sustainable cycle on our farm. Cows, pigs, laying hens, broilers, baby chicks, turkeys in the fall, the brooder, the processing facility and more! Register on the website!
Around Bethany author presentation
Tuesday, May 15, 7 pm, Washington County Museum at Rock Creek PCC, 17705 NW Springville Rd
Local historian Don Nelson has published an Arcadia book called Around Bethany. He'll be giving a talk and signing books at this event.
The book has photos collected from local families and from the archives of the Washington County History Museum. Each photo is accompanied by a caption describing events, families, and context for the photos.
Many of the photos include places in the Cedar Mill area, including several of early Cornell Road. The publisher's notes state: "For nearly 150 years, the Bethany area has undergone continued change. Families migrated here from Switzerland, Germany, and other places in the 1870s. Trees were felled to clear fields for farming. Some families made their houses from logs, as only a few could afford wood-frame houses."

Village Gallery May events
Village Gallery is a non-profit educational art gallery in operation since 1963. Located at 12505 NW Cornell, next to the Cedar Mill Library. Hours: Monday-Saturday 10 am-4 pm; Sunday noon-4 pm; www.villagegalleryarts.org; 503-644-8001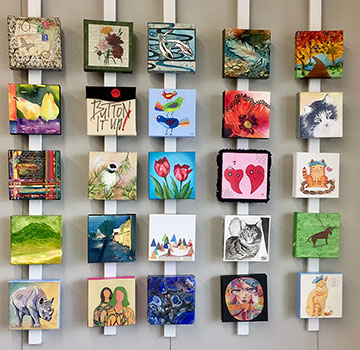 Amazing art in the Challenge
May show -art challenge
Show opens Monday April 30, 10 am; Reception: Sunday May 13, noon to 4 pm. Free Event.
Join us for refreshments, music, and support our Annual Fundraising show. Hundreds of unique 6" x 6" artistic creations are on sale for $40 each. Your purchase helps our non-profit, volunteer-run gallery pay its rent and utilities. And what better time than Mother's Day to pick up a unique piece of jewelry, hand-painted silk scarf, or hand-crafted journal for Mom?
Beaverton City Hall Show
Stop by Beaverton City Hall during May and June to see an exhibit by 20+ Village Gallery artists. Artwork will be displayed on the first, fourth and fifth floors.
Evening Presentation - Liz Walker
Tuesday, May 15 from 7 pm to 9:00pm. Free Event.
Are you struggling with how to promote your art - on your website or on the Village Gallery website? Liz is back for another of her amazing presentations on just how to get your art out there. Come share your concerns and together we will find solutions.
Spring and summer classes:
Please see our website for information on our complete Class lineup at www.villagegalleryarts.org To register, visit or call the gallery at 503-644-8001
Kristi Roberts—Children's Art Classes
Mondays, May 7, 14, 21; June 4, 11, 18, 25, 3:45-4:45 pm for ages 7-11; 5-6 pm for ages 11-16
Children have an opportunity to try out different media including drawing, watercolor, acrylic, pastels, clay and mixed media. Fine art concepts and techniques are taught with each lesson. Varied subjects include landscapes, people, faces, animals, cartooning and perspective.
Adult classes
Susan Pfahl—Italic Calligraphy
Saturdays, May 5, 12, and 19, 1-3 pm
Write your thoughts beautifully! We will learn the Italic Script, starting from the beginning. Whether you have never held a calligraphy pen, or if you have done calligraphy in the past and need a refresher, this is an excellent opportunity to hone your skills
Rebecca Benoit - Cell Phonography: From So-So To Fabulous
Sunday June 24, 1-4 pm
Explore tools in your cell phone camera that you probably didn't even know it had, such as adjusting focus, exposure, burst mode, white balance and using HDR. We will also cover fundamentals such as composition, exposure, focus and lighting, and play with fun accessories such as magnetic wide angle, macro and telephoto lenses.
Cedar Mill Christ Preschool: A Hidden Gem for Generations
To experience Cedar Mill Christ Preschool, you need to close your eyes and hear the wind whispering through the evergreens and oaks planted decades ago on the playground. Next, imagine learning with all of your senses, and you'll know why Cedar Mill Christ Preschool has offered a wondrous environment for generations.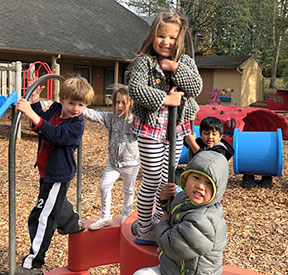 Picture the difference between looking at a photograph of a kiwi as you're learning letter K, and actually holding the fuzzy brown fruit in your hand, opening it, counting the seeds, and tasting the juice as it drips through your fingers. That's the advantage of hands-on-learning at Cedar Mill Christ Preschool. Not only would you find out about letter K, but your teacher might take the globe down to show you where kiwis grow, and you could talk about the people who live there, read about kiwis, and even make up a story about the fruit as you practice writing letter K. Next, you could take some green and black watercolors and make a painting. In that one little kiwi, you would have learned something about geography, social studies, literature, numbers, letters, writing, and art. That's the hands-on difference children have experienced at Cedar Mill Christ Preschool for over fifty years, and why families who went to Christ United Methodist Preschool (now CMC Preschool) send their own children to the school.
Brent Buell's memories of Cedar Mill Christ Preschool came flooding over him when he arrived at CMC Preschool to send his son Braxton to the 3's class last year. Buell attended preschool and kindergarten at CMC Preschool in the late seventies/early eighties. The first thing that struck him was the playground, and the slant of the roof beyond the swings. His earliest memories of the school include swinging up, up, up towards the school roof—that, and learning to tie his shoes. "Not much has changed," said, Buell, a business teacher at Sunset High School.
"We decided to send Braxton here, because of the great location and we'd heard good things about (CMC Preschool)," said Buell. "Braxton's loved it here since Day One."
Located at 12755 NW Dogwood Street, Cedar Mill Christ Preschool is part of Christ United Methodist Church. Tucked just behind Bales Thriftway, CMC Preschool can be hard to find at first, but once you do, you'll never forget its beautiful playground, which is Braxton's favorite part of the school.
Summer Camps
Sign your children up to experience Cedar Mill Christ Preschool firsthand. CMC Preschool runs four summer camps: Wild Wild West, May 29–31; Young Scientists, June 5–7; Around the World, June 12–14; and Water World, June 19–21.
Fall Classes include the Tots and Twos class for children and their caregivers and tots turning two by December 31st. The 3's class runs Tuesdays and Thursdays from 9-11:30 am, and the 4's class is on Mondays, Wednesdays, and Fridays from 8:30-11:30 am. For more information, visit the Cedar Mill Christ Preschool website at www.CedarMillChristPreschool.org. To schedule a tour call 503-646-2265.
Pets Honoring Patriots
Sunday, May 27, noon-4 pm, Skyline Memorial Gardens, 4101 NW Skyline Blvd, free and open to the public.
Have you wondered what happens with the pets of patients in hospice? Have you known someone who was on hospice and struggled to keep their pet by their side due to their illness? Skyline Memorial Gardens is hosting a fun, family-friendly free event, "Pets Honoring Patriots," where you can learn more and find the best way to support Legacy Hospice's Pet Pals program.
Bring a picnic and a blanket along with your pet, costumes encouraged! Enjoy pet-related fun, and food and music for all. This year the event will be held Memorial Day weekend. Both Legacy Hospice and Dignity Memorial work together in the We Honor Veterans program. This event will include veteran-related support services, including groups that provide pet therapy to veterans who suffer from the effects of war.
RSVP at 503-292-6611 or www.skylinememorialgardens.com
Legacy Hospice, in partnership with Banfield Charitable Trust, has a great program which supports pets of hospice patients. This ground-breaking national program enables hospice patients to keep their pets at home with them throughout their end of life journey.
For many in hospice care, changes in their physical condition lead to a decrease of previously enjoyed social opportunities and relationships. Their pets offer unconditional love, acceptance, comfort and companionship when it's needed most, when friends and family aren't seen as frequently or when words are too hard to say.
Through the Banfield Charitable Trust, Legacy Hospice is able to extend care to even the non-human members of the family. Knowing the unconditional love the pets provide to their owners is priceless medicine for both patients and families living with a terminal illness.
Pet Pals is designed to help provide many services that are necessary to keep patients and their pets together throughout the end of life journey. Legacy Hospice trains volunteers to assist with the needs of the pet and provides financial assistance to meet the pets' needs.
Pets Honoring Patriots at Skyline Memorial Gardens is one way for the community to learn about and support this wonderful program that keeps pets and hospice patients together. "We believe in hosting events at Skyline Memorial for programs that serve our community," says Rachel Fox, manager of Skyline Memorial Gardens and Funeral Home, a member of the Dignity Memorial® network. "This is our third year hosting a program like this for Legacy Hospice, last year was fun and provided much needed exposure for Pet Pals as well as financial assistance."
Established in 1952, Skyline Memorial Gardens and Funeral Home has one of the most outstanding vistas in Portland and is a proud member of the Dignity Memorial network of more than 2,000 funeral, cremation and cemetery service providers in North America. Skyline Memorial offers advanced funeral and memorialization planning, customized celebrations of life, cremation choices, catering, receptions and much more. This community event is a natural complement of their company vision and elevates the level of service they provide to local families and the community. For more information, visit www.skylinememorialgardens.com, stop by 4101 NW Skyline Blvd., Portland or call 503-292-6611.
Cedar Hills Kindergarten & Preschool Open House
Saturday, May 19, 10 am-12 pm, 11695 SW Park Way
Come learn about our Threes Preschool Program and meet Teacher Julie of our Threes Class. The classrooms and playground will be open and we'll have activities for the kiddos as parents learn about our amazing program! We have openings for the Threes Class and are now enrolling for Fall 2018. Teacher Julie, as well as members of our school, will be on hand to answer questions. Come see what makes CHKP so special!
Since 1951, CHKP offers an affordable Cooperative Preschool and Kindergarten, with highly regarded teachers, play-based learning, and a deep sense of community. Our cooperative model enables a high adult-to-student ratio of 4:1 with parents volunteering in the classroom. Academics are presented in the way children learn best—through play! We emphasize the whole child and foster emotional development through teaching conflict resolution, empathy, and kindness. Come see our Natural Playground with garden, log scramble, sand & water features. Students play outside every day, rain or shine!
To learn more, visit us on the website at cedarhillskp.org.
Boost your credit score fast with these five moves
Like it or not, your credit score dictates everything from whether you're approved for a credit card to what rate you're offered on a mortgage. According to FICO (the Fair Isaac Corporation which calculates your credit score) 20% of consumers have "bad" scores—meaning less than 600. If you are one of them, it's time to give that score a boost. Here are some of the fastest ways to increase your credit score.
1. Clean up your credit report
Before you do anything else, go to: AnnualCreditReport.com and request a credit report from each of the three big nationwide credit reporting companies: Equifax; Experian; and TransUnion. By law, you're entitled to one free report each year. When you request it, be ready to print or save it to your computer.
Once you have the reports, examine everything. In particular, look for any accounts that show late payments or unpaid bills. If that information is inaccurate, the report should tell you where to send a dispute.
2. Pay down your balance
According to FICO, 30% of your FICO score is based on the amount you owe. However, it's not simply how much you owe that's important. It's how much you owe compared with how much credit you have, a ratio known as your credit utilization. For example, if you have a $10,000 credit limit and a $5,000 balance, your credit utilization is 50%. If you've maxed out that $10,000 limit, your utilization is 100%.
Experian suggests it's best to have a rate of less than 30%. In other words, you should never have more than $3,000 charged at any time if you have a $10,000 limit. If you owe more than that amount, paying down your balances is a quick way to boost your score. Live lean for a few months, hold a garage sale or pick up a temporary second job to find the cash needed to drop your credit card balances.
3. Pay twice a month
You might think you're doing great because you pay off your card every month, even if it's maxed out. The problem is that your creditors are only reporting balances to the credit bureaus once a month. If you run up a big balance each month, it could look like you're overusing your credit.
For example, assume you have a credit card with a $1,000 limit. It's a rewards card, so you use it for everything. In fact, every month, you hit your limit. The statement arrives, you owe $1,000, and you send in a check to pay it off. But the credit card company is likely reporting the statement balance each month. So, it looks like you have a $1,000 limit and a $1,000 balance. That's a 100% credit utilization rate.
You can help alleviate the problem by breaking up your credit card payments. Try regularly sending in payments at least twice a month to keep your running balance lower. In addition, if you make a large purchase on your card and have the cash handy, pay it off immediately.
4. Increase your credit limit
Maybe you're not in a position to pay down your balances. You could take a different approach to improving your credit utilization rate: Call your creditor and ask for a credit limit increase. If you've maxed out your $1,000 card and get a limit increase to $2,000, you've instantly cut your credit utilization rate in half. The key is to not spend any of your new credit. It defeats the purpose of getting a limit increase if you immediately charge the card up to $2,000.
5. Open a new account
If your current credit card issuer balks at the idea of increasing your credit limit, apply for a card from a different issuer. It will still help your credit utilization rate, since your utilization rate is based on all your open lines of credit and balances. So, an individual with $10,000 in credit who owes $5,000 will have a 50% credit utilization rate regardless of whether that $5,000 is on one card or spread out over multiple cards. Be aware, though, that opening multiple accounts at once is not good either. Too many new accounts can make you look like you desperately want to go on a spending spree.
Sunset Credit Union is open to anyone who lives, works or worships in Washington County. If you have more questions about your credit score or would like additional solutions to improve your credit score, contact them at 503.643.1335 or visit their website at www.sspfcu.com.
Serious vandalism at Skyline Memorial Cemetery
Rachel Fox, General Manager at Skyline Memorial, says, "Whenever the weather is nice we get flooded with dozens of cars full of young adults. It's gotten progressively worse in 2017-2018.
"Most recently a woman was visiting her Dad's grave, she had just laid him to rest a few days before and she was harassed by the teens and they blocked her exit of the cemetery after she saw their behavior and took photos to call the Police. She was very shaken by this incident.
"The cemetery is littered with condom's and gas cartridges and empty bottles of alcohol. Our grounds are torn up from reckless driving and we've had issues during graveside services with such behavior and even services in the funeral home, where we were bombarded by cars and trucks peeling around the parking lot while mourners were coming and going from the funeral home.
We have started Security Patrols, but we also need help from the community. My past experience with more urban cemeteries is that situations like this require the help from the public. We need eyes and ears and positive behavior occurring in the cemetery to turn this around. Also it would be nice if parents would talk to their children.
I have contacted the principals and secretaries at Lincoln HS, Sunset HS and Westview HS.
Thanks to everyone who has shared our plea! We've had neighbors call and come in and offer to walk, bike or drive through the cemetery in the evening. Please help continue to get the word out."