Development roundup
Large sports complex proposed for NE corner of Barnes and Cedar Hills Bl.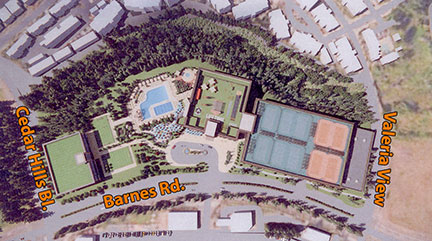 Proposed layout for the Life Time complex
A neighborhood meeting was held at the Cedar Hills Rec Center last month for a Life Time Fitness facility to be built on a 100-acre parcel of the Peterkort property. The main entrance on Barnes Rd. will be right-in right-out and will align with the existing, signalized entrance to the Peterkort shopping center. A multi-story parking garage will be accessed from Valeria View.
The private facility expects to have about 4000 members, who will pay month-to-month. Outdoor facilities will include soccer fields, swimming pools, and tennis courts that will be atop the parking garage. Indoor fitness and spa areas will be in the main building, and the building at the corner of Barnes and Cedar Hills will be an athletic center with basketball and other facilities.
Ten-foot-wide sidewalks will be built along each road frontage. The redesign of the eastbound offramp of Highway 26 is in the design phase, and is expected to be finished in 2019, prior to the completion of this property.
Peterkort annexed all their properties into Beaverton, which is handling the approval process. The land will be sold to the company. The developers, David Evans and Associates, anticipate submitting the application this month.
Unlike Washington County, Beaverton doesn't send updates to those who signed in during the neighborhood meeting. Normally, only the Central Beaverton NAC receives updates, but the area is in CPO 1 and the developer has agreed to send information so we'll keep you informed.
More Bonny Slope West residential developments proposed
Neighborhood meeting: Thursday, May 17, 6:30-7:30 pm, TVFR Station 60, 8585 NW Johnson St.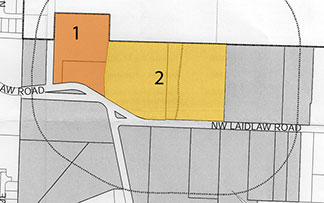 The developments will be coordinated.
Two adjacent properties on the north side of Laidlaw and just a little east of the intersection with Saltzman are being proposed for residential development. According to Matt Newman, Planning Manager with NW Engineers, the two subdivisions are adjacent to each other with different developers and consultants (environmental/survey) but are being designed together. They will be submitted to Washington County as separate applications. Both are zoned R-6—six homes per acre.
Site 1 will have 21 single-family residential detached homes with access from NW 124th Avenue, to be improved. The existing structure will be demolished. The site is approximately 4.2 acres. A portion of the site has wetlands, Significant Natural Resources, and a Clean Water Services vegetative corridor.
Site 2 will have 20 homes, also with access from an extension of NW 124th. The existing houses will remain either on a lot in the subdivision, or outside the subdivision with a property line adjustment. It has similar wetland, natural resources, and CWS corridor.
Both proposals will be presented together at the Neighborhood Meeting. The public is welcome to attend and comment on any issues they have concerns about.
Public comment period for Payne property development
The public is invited to comment through May 8 on the proposed development of the nearly ten acre proposed subdivision off 119th that we wrote about in April. Comments can be submitted online at https://www.co.washington.or.us/devnotice. Click on the "Submit a Comment" link and select L1800082, or mail your comments to Senior Planner Paul Schaefer, Current Planning Section, 155 N 1st Ave., Hillsboro, OR 97124.
Saltzman lot up for auction
A small lot that was purchased by the county in 2008 for the widening of Saltzman is finally going up for auction on May 16. The 0.14-acre lot, zoned R-5, is valued at $160,410, and the minimum bid is set at $115,000. The land can't be subdivided so it's likely only suitable for a single home.
The auction will be oral. Registration begins at 9 am in the Hillsboro Civic Center, 150 East Main Street, Hillsboro, and the auction will begin promptly at 10 am. More info on county website.
Remaining Timberland project on hold
The final segment of the Timberland development at 118th and Barnes, which is slated to include office, retail, and a hotel, is on hold, according to Greta Holmstrom of Standridge Design. We have no further information.