Community Gardens grow in Bonny Slope

Locally-grown food and community gardens are a hot topic around the country, bringing together people from a wide variety of interests—health, environment, social justice, food security—as well as those who simply find locally-sourced food an appealing idea and an aesthetic pleasure.
Close to home, an amazing adventure in community agriculture is unfolding in Bonny Slope. This neighborhood northeast of downtown Cedar Mill consists of a mix of two-acre lots with smaller, older houses, and five-to-seven-houses-per-acre developments of mostly large homes on small lots.
The Bonny Slope Community Garden Network evolved over the last several years, beginning when Ellen & Paul Saunders decided to clear the half acre of weeds in their backyard. In 2008, Ellen's brother Mark Hall—who designs and builds chicken coops (creativecoops.com)—came up from California to help out and build a shelter with a cob bench. He contacted Michael Cook of City Repair (cityrepair.org) who agreed to help with cobbing the bench. A team of workers, including volunteers, friends, and kids from a local Montessori School helped Mark, Michael and the Saunders build the cob bench under the shelter that Mark built.
Cook and the Saunders discussed the idea of creating a neighborhood garden on the site and perhaps planting a community pumpkin patch. In 2009, Cook returned with a handful of City Repair interns to do some more work on the bench. By this time he had met Amanda Tripp, an Americorps member working as the Resource Conservation Outreach Coordinator for the Beaverton School District. Her main interest is community-building, and she saw this effort as a way to put her ideals into practice as her Community Action Project. Cook introduced Amanda to the Saunders and she came out to learn more and join the work party. They all brainstormed ideas about getting a community garden going, and then Ellen, Donna, and Amanda set out to meet people in the neighborhood to see what could materialize.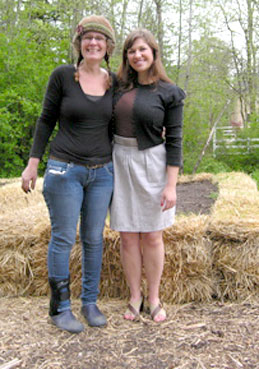 For seven years, "Slopers" Kym & Tim Miller have hosted an informal neighborhood potluck every Tuesday evening. When Ellen & Amanda attended, they connected with some neighbors who could not wait to help with the garden. Among them was CPO 1 Chair Bruce Bartlett, who had already been considering community gardens as a more natural way for neighbors to work together on common interests. Donna Prock, a trained Permaculture expert, was enthusiastic about helping. Chuck Gatchell, who works for Nike in sustainability, also joined the effort.
They scheduled a get-together and started canvassing the neighborhood, inviting everybody within walking distance to join them for dinner, discussions and tours of the new garden. On April 23 around 70 adults plus gangs of children attended the Bonny Slope Community Garden Network Eat & Greet at the Saunders' place. A photo documentary of the entire demonstration garden project can be seen on Flickr.
Permaculture and sustainable gardening practices are being used to transform the half-acre of weeds and blackberries into a productive and beautiful garden space. Local families are growing fruits and vegetables organically in straw bale planting beds—for themselves and for the Sunshine Pantry food bank. A community pumpkin, squash and melon patch has been planted. Educational fieldtrips for local elementary school students are being planned.
During City Repair's 2010 Village Building Convergence (VBC), the demonstration garden was improved by troops of volunteers from around the country, who finished the cob bench and planted companion plantings around the fruit trees. The VBC event is described on their website.
In addition to the Saunders' plot, two additional Bonny Slope families have offered empty space in their yards for neighbors to grow food. Some cite lack of space or sun exposure in their yards, and everyone is excited about getting to know each other and engaging in healthy and satisfying labor. A "food-shed" map is being prepared to make neighbors aware of additional sources of local food, including Bonny Slope Blueberries and the Wickham's goat, chicken and blueberry patch at Blueberry Hollow. Prock (permadonna.com) is helping to supervise the efforts while teaching everyone about permaculture and other sustainable gardening methods.
At the beginning of this adventure, there was a lot of skepticism as to whether anyone would want to participate. We hear about how insulated we are, with our busy lives, commuting hours, and mistrust of strangers. Would anyone show up for the Eat and Greet? Would many of the neighbors be interested in food gardening? The answer is a resounding YES. Even those who aren't participating are watching with interest, and many families are glad for the chance to show their kids where food really comes from. The rest of us are digging in and hoping for more sunshine to reward our efforts with produce!