CMBA Member News
Dinihanian's Farm Market opens
If you run out of fresh produce from the Farmers' Market, or just didn't make it by on a Saturday, you can still eat farm-fresh local produce by stopping at Dinihanian's Farm Market on Cornell just east of the Sunset overpass. They also have local free-range eggs.
The Dinihanian family grows many varieties of veggies on their own plot, and has also arranged with farmers throughout the area to bring a wonderful variety of fresh fruits and veggies to Cedar Mill. Much of the produce goes to supply the members of their Community Supported Agriculture (CSA) program, but there's still a lot for sale every day (10 am – 6 pm) at the Farm Store.
Members of the CSA pay at the beginning of the season for a full or half box of produce weekly for 18 weeks from June through September. If you're interested in finding out more about the CSA, visit their website for details: www.YOURCSA.com. Or just stop in and talk to them at the Farm Market, 15005 NW Cornell.
Veggies for all!
The Cedar Mill Farmer's Market (CMFM) will soon be accepting SNAP cards (formerly Oregon Trail, or food stamps) as payment for food. This program is provided with the assistance of the Oregon Farmers' Market Association (oregonfarmersmarkets.org).
Market coordinator Dina Gross says that the system should be up and running by the last market in June, if not sooner. The procedure will be similar to those already in place at other area markets—customers will be able to use Electronic Benefit Transfer (EBT) cards at the CMFM booth in exchange for $1 tokens. The tokens can be exchanged for fruits, vegetables, and starts of edible plants but not prepared foods.
US Bank offers reward
The Cedar Mill Branch of US Bank is offering rewards for referrals! If you refer a friend, family member, or employee to the Cedar Mill Branch to open a checking account, both of you will receive a $5 gift card of your choice as a thank you. Please call the Cedar Mill Branch at: (503) 643-8365 or stop by for details.
Cheryl Jerome retires from Bales Post Office
After 11 ½ years at the Bales Thriftway Post Office, Cheryl Jerome will retire to do some traveling with her husband to visit families in North Dakota and Minnesota, and then begin to tackle a lot of projects around her Cedar Mill-area home, and "just enjoy life."
She started working as a clerk in 1998, and became Manager in 2002. She's made a lot of friends along the way, and she says she'll miss seeing people, but will continue to shop at the store as she's been doing for over 30 years. "It's been a great experience," she says. "It's a wonderful community here, but I'll be glad not to have the responsibilities that go with the job."
Thanks for your conscientious service, Cheryl, we'll miss you too!
Impact Sign Co. is moving!
On July 1, Impact Sign Co. will be moved into our NEW space, still right off Sunset Highway and even easier to find. The new space has more (and safer) parking, is DOUBLE the size and we will have a bay to do all-weather vehicle installations.
They will still be Cedar Mill's sign company, just a little way down the road at 23602 NW Clara Lane, Hillsboro, OR 97124, in the Sunset Highway Business Park @ Helvetia Rd. & Hwy 26 – Exit 61.
They're keeping their phone number—503-439-8347. Visit them on the web at impactsign.com
Burnt Ends wins again!
Burnt Ends BBQ competed in the Pacific Northwest BBQ Championships on May 22-23 in Bellevue, WA. The highlight of a very cold and rainy weekend was winning the first place prize for the extra category; Mystery Meat. The meat (which turned out to be Tri-Tip) was provided by a sponsor and revealed to all cooks at the same time on Saturday.
Our next event will be the Pacific Northwest BBQ Championships at the Rose Festival. We invite all of our BBQ friends to come and see us. We will be vending our BBQ from June 2-6 from 11 AM to 11 PM in Waterfront Park as well as competing in the contest on Saturday and Sunday. [After that we assume they'll be collapsing for a while…]
For more information about their catering business and their summer plans, visit them on the web at burntendsbbq.blogspot.com, or call (503) 641-6680 or email John Roberts at burntendsbbq@msn.com
Cedar Mill Vet retains accreditation
Cedar Mill Veterinary Hospital just once again passed the American Animal Hospital Association (AAHA) accreditation process. Only 15% of veterinary hospitals pass the rigorous assessment to become AAHA members. AAHA, along with a group of veterinary experts, developed the AAHA Standards of Accreditation as benchmarks of excellence.
Cedar Mill Veterinary Hospital is located at the corner of Cornell and Old Barnes Rd., cedarmillvet.com
Pars Market is grilling kebabs
Starting June 2, Pars Market will be grilling up fresh kebabs from 11:30-2 pm to eat in their sidewalk café or to take out. Choose from the marinated chicken or seasoned beef kebab sandwich, which includes fresh basil and yogurt-cucumber sauce in pita bread. While you're there, be sure to check out their selection of fresh salads and dips that can round out an easy summer meal.
They're now located right up front at 12923 NW Cornell. Call for more info, or visit them online at www.pars-market.com
Conquering Clutter class offered
Beth Giles, professional organizer with NW Organizing Solutions, will be teaching a class about the many ways to overcome the clutter that so often invades our lives and living spaces. This class will be taking place at OASIS, an educational program for adults age 50 plus who want to continue to grow, learn and be productive. She will also be offering a downsizing class during the month of August. To learn more contact Beth at 503-709-0791, beth@nworganizingsolutions.com or sign up at Oasis.
Hanlon joins Peninsula Insurance
Peninsula Insurance welcomes veteran insurance professional, Kim Hanlon, to its staff. Kim joined Peninsula Insurance on May 1st. She has over 15 years experience in the insurance industry, working for Safeco Insurance and then as an insurance agent since 1997. Kim brings her extensive personal and business insurance experience to the firm. She joins current staff members Debbie Baxter, Kim Thomas, Bob Rosson and Andy Rosson in assisting Peninsula customers with their personal and business insurance needs.
Leedy Grange Flea Market a sellout!
All tables were reserved by a week before the first Flea Market held at the Grange Hall, and despite the outbreak of sunshine, a good-sized crowd of shoppers pleased the vendors, who offered everything from household goods and other garage sale items to collectibles, tools and crafts.
Some tables are still available for the next two Markets on Saturdays July 3 and August 7. Tables are only $10, with no percentage of sales taken. Table fees go into Leedy's fund to renovate the main hall.
Admission to the sale is free, and the Grange provides coffee and donuts in the dining hall. The Flea Market is planned to continue year-round on the first Saturday of every month from 9 am to 2 pm at the hall, 835 NW Saltzman. For more information, visit leedygrange.org
Health Care Reform brings Small Business Tax Credits
If you are a small employer that provides health insurance coverage to your employees, you may qualify in 2010 for the Small Business Health Care Tax Credit. The maximum credit is 35% of the premiums paid by eligible small business employers. To qualify:
• You must pay at least half the cost of single coverage for employees in 2010.
• You must have 10 or fewer full-time equivalent employees. There is a phase-out if you have more than 10, but fewer than 25 employees.
• You must pay an average wage of $25,000 or less for these employees (the $25,000 average does not include owner wage). The credit is reduced if the average annual wage per full-time equivalent is over $25,000 with no credit at $50,000 or more.
Because the eligibility rule is based on the number of full-time equivalent employees, not the number of employees, businesses that use part-time help may qualify even if they employ more than 25 individuals. Note: business owners and family members are not considered employees in determining the 25-employee limit.
To recap: the full 35% benefit goes to businesses that have fewer than 10 workers with average salaries of $25,000 or less. There is a phase-down of the credit for business with 10 or more employees, or average wages of $25,000 and above.
Bryan E. Justrom, CPA/ABV, CVA's practice focuses on tax preparation and planning for individuals, businesses, estates and trusts. Bryan also prepares business valuations for buying or selling a business, business planning, gifting, estates, divorce, and other litigation support. Contact him at 503-445-9904, bryan@justromcpa.com or visit his website: www.justromcpa.com
Village Gallery News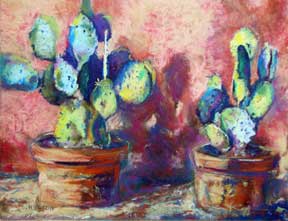 "Here Comes the Sun" is the theme of our June Show at The Village Gallery of Arts. Our featured artist member is Christine Helton. Her work is represented at Amato Gallery in Beaverton and Sunrose Gallery in Seaside, OR. This showing will feature her work in acrylics. Please come by to see and purchase this exceptional artist's work as well as arts and crafts from all of our member artists.
Have you always wanted to learn to draw? We have a class for you! Portrait Drawing with Sofia Chimaras is Tuesdays from 10:30 am until 1:30 pm. How about drawing with pastels? Pastel Landscape Elements with Eve Kenyon is offered on Thursdays from 1 pm to 3:30 pm.
The gallery is open Tuesday through Saturday from 10:00am until 4:00 pm and Sunday from noon until 4:00pm. We are closed on Mondays. We are located next to the Cedar Mill Library at 12505 NW Cornell Rd. You may call (503) 644-8001 or stop by to register for classes. Visit us online for more info and a full class schedule at villagegalleryarts.org.
Martinez wins "Do the Right Thing" Award
Amanda Martinez, Branch Manager for the Beaverton Cedar Hills Branch of Banner Bank, was presented with the 2010 1st Quarter award for "Doing the Right Thing" as a result of her involvement with Meals on Wheels, and the West Columbia Gorge Humane Society.
Amanda became involved with Meals on Wheels after transferring from the East Vancouver branch to the Cedar Hills branch. In looking for a local organization with which to become involved, she spoke with the program director, and a short time later, had an assigned monthly route and was a member of their steering committee.
In the past year, she has become more involved in fundraising and with the Beaverton Meals on Wheels organization. The program is important, Martinez says, not just because it provides hot, nutritious meals to homebound seniors, but because "often times the person delivering the meal is the only human contact the senior may have in a given day. I truly enjoy getting to know the seniors and hearing about their families and life experiences."
In recognition of her community involvement, Banner Bank has presented Amanda with a plaque, a day off with pay, and a $1,000 donation to the charity of her choice.
The UPS Store celebrates Small Businesses
May was National Small Business Month, and as a fellow small-business owner, I want to extend my thanks – for your business, and for helping to perpetuate the entrepreneurial spirit in our community.
It seems that many people dream of having their own business, but few take that leap of faith to make those dreams realities. As someone who has taken that leap, I understand firsthand the thrills, fears, challenges and victories that accompany such a venture.
Congratulations for daring to take your career into your own hands and setting an example for future entrepreneurs. Whether you've had your business for 10 years or 10 months, use this opportunity to reflect on your accomplishments and take pride in your small-business ownership.
I, too, pride myself on being a small-business owner and delivering personal, professional customer service. If there is anything I can do to make your job a little easier or your life a little less hectic, please let me know. You can think of The UPS Store as your business assistant— Tim Kimble, The UPS Store, 10940 SW Barnes Road (in Peterkort Town Square), 503-646-9999, theupsstorelocal.com/3379
Virtue of the Month: Tact
"Tact is telling the truth kindly. We think before we speak, aware of how deeply our words affect others." Linda Kavelin Popov (Virtues Reflection Cards).
Join our growing 'Virtuous' Community at www.virtuesconnectionportland.com Face Book Page~ and enter to win a deck of 52 Virtues Cards! Also available at the Cedar Mill Farmer's Market! Come and meet us at the CMBA booth on June 12 & 26. Delaram says "I'll be there from 10:30-1 pm."