Bales welcomes new Deli Manager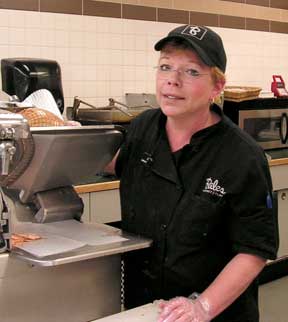 After working as a pastry chef for ten years, and managing a bakery and espresso department for 15 years, Cindy Braden took the opportunity to switch to managing a deli when her old associate, Bales Store Director Vince Lucibello, called her to offer the job. She realized it would be a good chance to use the culinary skills she'd learned at the Western Culinary Institute, where she was a member of one of the first graduating classes from that now-nationally-recognized institution.
Cindy, who grew up in this area, headed for a job as a pastry chef at a restaurant in Key West, Florida after graduation, and then returned to this area and managed a bakery and Peet's coffee shop. Now she has some interesting plans for Bales' deli, including more "grab-n-go" items—main courses and sides that are freshly prepared daily for you to take home.
Since beginning the job in February, she has changed the look of the salad case, and added new items including cedar-plank-grilled salmon, pulled pork (braised in apple cider), and Strata, a savory main course made with bread from the scratch bakery mixed with egg, cheese and an assortment of deli meats.
Bales deli is happy to do catering and they regularly supply food for all kinds of events. With a few days notice they can feed up to 150 people with salads, sandwiches or other items, from the regular deli menu and/or by special request.
Cindy and her husband Ron live in the Scholls area, where they have a small farm and raise produce. She has become much more health conscious in recent years, and last year lost 65 pounds and feels better than ever. She's happy to incorporate her understanding of healthy eating into the grab-n-go line and the other prepared foods in the deli, including a shrimp salad with olive oil, lemon, dill and garlic in place of the usual mayo. Say hi the next time you're at the deli counter, and see what new items they have for quick summer meals and parties.