History in the News


Help us make history!

The Cedar Mill Historical Society wants to give the community a voice in how we bring our history to you. We have a short survey—ten minutes or less—to find out what and how you'd like to learn about our past.

As a bit of incentive for sharing your thoughts, we're giving one survey respondent 20 tickets for the gift basket raffle we'll have for the July 21-22 Museum Opening—a $25 value. But wait, there's more! Another survey respondent will win a high-quality print of the original Cedar Mill!

If you prefer to do the survey on paper, let us know and we'll provide a copy. Call 503-803-1813 to request that.

https://www.surveymonkey.com/r/2018CedarMillHistoricalSociety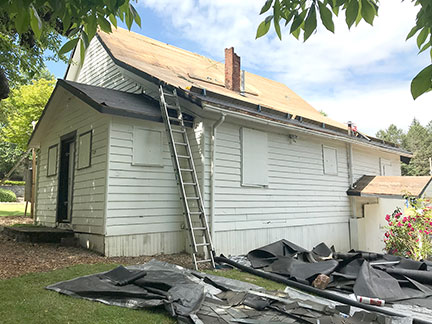 The new roof is going on to the JQA Young House. Soon the 1860's building will also get a new coat of paint and new windows and doors!
Cider Festival 2018
Planning meeting, Thursday, June 14, 4:30 pm, Cedar Mill History Museum, 12505 NW Cornell
We're moving the Cider Festival to September 16 this year. We hope this will mean less anxiety over the weather for this wonderful outdoor event. Anyone who wants to help is invited to a planning meeting.
Museum Volunteer Orientation
Thursday, June 14, 5:30 pm, Cedar Mill History Museum
If you are interested in being a Museum guide, or being involved in any other way, we're having an orientation session in the Museum.