Road news
Offramp from Hell schedule announced
Information on the Cedar Hills Boulevard eastbound offramp from Highway 26 was presented to the public at an Open House on June 6 (too late to get the details in this issue, we'll provide more information next month if necessary). The project will improve safety and efficiency at this location.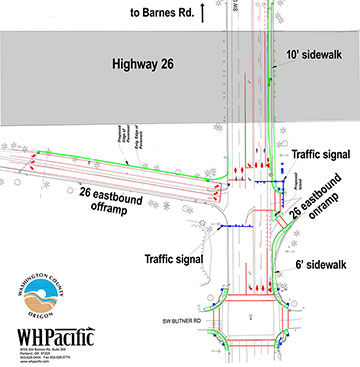 Click to see a larger image
A traffic signal will be placed at the intersection. A new sidewalk will be built along the east side of Cedar Hills Boulevard, under the U.S. 26 overpass. The west exit ramp will be widened to three lanes—two left turns (northbound) and one straight/right-turn lane.
This $1.5 million project is a partnership between Washington County, Beaverton, The Peterkort Co., and ODOT. About $600,000 is funded by the County's Transportation Development Tax. Beaverton, Oregon Department of Transportation (ODOT), and the Peterkort Co. will each invest $200,000 to build improvements.
Melissa DeLyser, Public Affairs and Communications Manager for Land Use and Transportation of Washington County, gave us this preview: "WH Pacific is doing the engineering work. Washington County is managing the project. Beaverton is reviewing all drainage plans/design. ODOT is reviewing everything. Peterkort is not doing a formal review, but their comments will be incorporated into the final design. If everything proceeds as planned, the bid opening is anticipated to be September 19."
That means that the project will be published so that contractors can bid on it. Once the contractor is selected, the current plan is to begin construction at the beginning of October this year. The estimated completion date is May 31, 2019.
According to the project page on the county website: Base paving for a three-lane off-ramp, temporary striping, traffic signals, street lighting, signing and work on sidewalks/ramps is expected to be completed by December 31. Top lift paving and final striping is expected to be completed by May 15, 2019. Note: Project dates are estimates and subject to change.
Working out the funding and other details among all the parties has contributed to the delay. Improvements to the intersection were first proposed as part of the roadwork that would have occurred if Walmart had built their proposed superstore at the southwest corner of Barnes and CHB. Beaverton denied the application in August 2006, and because the Peterkort Co. hasn't put forth any development plans for their property until recently, progress stalled. Finally an agreement was reached among the four parties to move forward. More background on the agreement is here.
Walker/Murray intersection expansion moves forward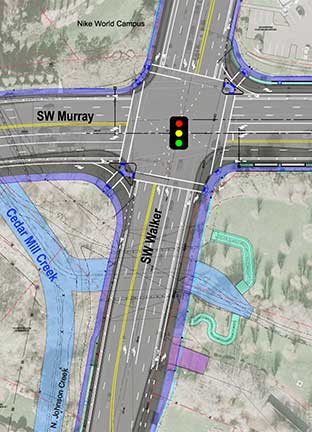 Extra lanes and other changes are designed to make this a safer and more efficient intersection.
Click the image to see a larger version.
An Open House was held on May 30 to present plans for the intersection to the public. Construction is scheduled to begin in 2019. The estimated completion date is the end of 2020.
The intersection of Murray and Walker will be widened to include dual left turn lanes and dedicated right turn lanes on all four approaches at the intersection. A third southbound through lane will also be added to Murray Boulevard from south of Butner Road through the Walker Road intersection. The additional through lane will become a dedicated right turn lane into the Nike campus at Bowerman Drive, south of the intersection.
Other improvements include replacing two bridges over Cedar Mill Creek that are adjacent to the intersection of Walker Road and Murray Boulevard. One bridge is located on Murray, south of Walker and the second bridge is located on Walker, east of Murray. Two culverts located on Walker Road between Far Vista and Park Way will also be replaced as part of this project.
The $14 million project cost includes the estimated cost of design, right-of-way and construction and is subject to change. Project is funded through the Major Streets Transportation Improvement Program (MSTIP).
"All new development pays Transportation Development Tax (TDT) assessments based on the development's estimated traffic impact on the road system, as defined in the TDT ordinance," LUT Director Andrew Singelakis noted, in our May 2016 article. "Based on the buildings approved in Nike's 2014 land use approval, Nike's TDT obligation was $10.1 million. Per an agreement between Nike and the County, Nike prepaid its TDT assessment for their expansion, and those funds will be applied to the Nike-area road projects."
Several houses will have to be demolished as part of this project. The county is currently negotiating with homeowners to acquire the needed right-of-way. The project page includes a document with some of the comments from the Open House, along with LUT answers. There are also detailed diagrams of the various segments of the project.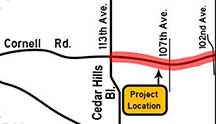 A stop light should make the intersection much safer.
Cornell Rd (102nd to 113th) open house June 28
Thursday, June 28, 5-7 pm, Leedy Grange Hall, 835 NW Saltzman
The public is invited to comment on improvements planned for Cornell Rd. This project will widen Cornell—between 102nd and 113th avenues—to three lanes (one travel lane in each direction and a center turn lane) and signalize the intersection of Cornell and 107h Ave. The project also includes sidewalks, raised cycle tracks, street lighting, and storm drainage upgrades.
This project is in the design phase. Construction is anticipated for 2019. Project dates are estimates and subject to change.
For more information, visit the project webpage or contact Engineering and Construction Services at lutproj@co.washington.or.us or 503-846-7800.