Farmers' Market welcomes Adelante Agricultura
The Cedar Mill Farmers' Market is bursting at the seams, with more vendors than ever bringing their crops, crafts, and cuisine to the heart of Cedar Mill on Saturdays. A notable newcomer to the fold this month is Adelante Agricultura, the sustainable farming project of the Adelante Mujeres Micro-Enterprise program, based in Forest Grove. Farmers from this project are looking forward to selling their produce to the Cedar Mill community beginning on Saturday, July 17th, and continuing through the October market dates.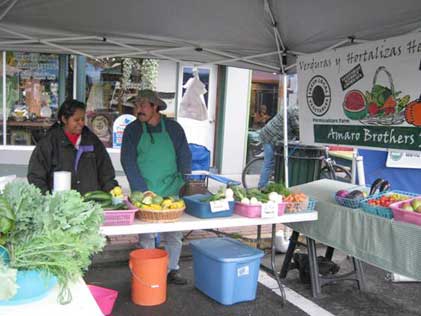 Adelante Mujeres is a community-based, non-profit organization established in 2002 to provide Latino immigrants a forum in which to learn and discuss the root causes of social ills, and to plan collective action for change. In English, it is challenging to capture the spirit of the word "adelante", but it can be interpreted as to move forward, go ahead, rise up, flourish. Put "adelante" together with "mujeres", which means women, and you arrive at the inspiring moniker, Adelante Mujeres, for an organization whose goals are to encourage Latina women to believe in themselves and to empower them to pursue their goals.
Adelante Mujeres saw the need and the opportunity for Adelante Agricultura, and created this branch organization with the overall goal of providing resource-limited, aspiring Latino immigrant farmers and farm workers with the training and skills necessary to farm using organic methods and to successfully market their own produce. The first sustainable farming course began in the spring of 2005 while Adelante Mujeres partnered with Pacific University to give participants access to grow vegetables first on a half-acre plot of land on B Street in Forest Grove, and now at the La Esperanza Farm on 12 acres of land. Adelante Agricultura is currently expanding outreach efforts to both Washington and Yamhill Counties. The Adelante Agricultura project, with its mission of achieving social justice and equity through ecological land management and economic viability, is the 2010 recipient of the Washington County Public Health Award for their contributions to the viability and ongoing success of public health in Washington County.
The history of Adelante Agricultura, formerly known as The Sustainable Agriculture Project, is intertwined with Adelante Mujeres' management of the well-attended farmers' market on Wednesday evenings on Forest Grove's Main Street. In 2004, the Forest Grove Farmers' Market found itself in need of a manager; Adelante Mujeres' staff accepted the challenge of running the market, recognizing the opportunity to involve local Latino families from the Forest Grove community as well as the opportunity for these families to derive income from their small-scale, sustainable farming.
Adelante Mujeres was awarded a three year grant totaling $300,000 from the USDA's Outreach and Assistance for Socially Disadvantaged Farmers and Ranchers (OASDFR) grant program, administered by USDA's National Institute of Food and Agriculture (NIFA). The Sustainable Agriculture Project of Adelante Mujeres was rechristened as Adelante Agricultura, and has expanded its services to include classes and one-on-one training for Latino farmers who are interested in switching from conventional to organic methods, as well as direct marketing and business counseling opportunities, and access to alternative sources of capital.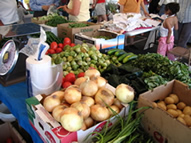 Dina Gross, manager of the Cedar Mill Farmers' Market, has been in contact with Adelante Agricultura's manager Gina Bell, and their outreach coordinator, Annie Morse, as their organization has evolved in recent years, mostly through the collaborative connections encouraged state-wide by the Oregon Farmers' Market Association. Gross thought that Adelante Agricultura farmers might like a Saturday outlet for their goods, so she offered them space the Cedar Mill Farmers' Market, knowing that the Cedar Mill community would be very supportive of the program and their nascent farmers. The space at the market was offered free of charge as a gesture of support for their program by Cedar Mill's market and its sponsor, Tualatin Hill Park & Recreation District (THPRD). Gross then approached New Seasons Market, always very supportive of local, sustainable agriculture, and applied for a mini-grant. In March, she received word that New Seasons market would also help sponsor Adelante Agricultura's participation at the Cedar Mill Farmers' Market as needed.
Morse, Adelante Agricultura's marketing and outreach director, recently indicated that they've had a very busy and "interesting" spring, and all involved have learned a great deal. As all farmers know, spring planting often does not go as planned and Mother Nature dictates the schedule; the new farmers of Adelante Agricultura definitely learned that with 2010's exceptionally cool and wet spring. Annie called Gross in May and again in June to say that their produce was a little slow, a little behind what they'd hoped, but will be able to provide lettuce, cucumbers, cilantro, carrots, beans, potatoes, tomatoes, squash, and more at the Cedar Mill Farmers' Market, beginning in July.
Gross says the market is excited to welcome the new farmers to the market, especially knowing that some of the produce has been grown with the involvement of entire Latino families. "What a great way to get young people interested in agriculture – they can help their parents with the family's small, sustainable plot, and perhaps become farmers, agronomists, or agricultural engineers themselves someday. In this day and age when real farming seems to be an occupation falling by the wayside, Adelante Agricultura has found a way to connect a new generation to the land. Family farmers are responsible stewards of the land, unlike industrial-ag corporations, yet we live in an age when only about one quarter of remaining farms are family operations, with hundreds across the U.S. leaving the profession every week. Do we want to live in a world where a giant industrial agriculture complex provides our food or do we want to support family farmers with smaller, sustainable operations? I think Cedar Mill and other Oregon communities appreciate their local family farmers and one way they show it is by shopping at their neighborhood farmers' markets."
For Latinos interested in acquiring the skills necessary to grow vegetables, or otherwise eager to contribute to our community's economy, and working towards becoming proficient English speakers, the Adelante Mujeres programs can be extremely valuable. For more information please contact Alejandro Tecum, Coordinator of the Micro Enterprise Program at 503-992-2041 or atecum@adelantemujeres.org, 2420 19th Avenue, Forest Grove, OR 97116.
For members of the community interested in supporting the new farmers of the Adelante Agricultura program as well as many other local family farmers, action is simple. Get out to the Cedar Mill Farmers' Market on Saturdays through October, just west of Murray on NW Cornell, in the Sunset Mall across from Sunset Park. Hours are 8 a.m. – 1 p.m. with great live music each week beginning at 9:30. Dozens of fantastic vendors, including several family farmers – some no-spray and certified organic – as well as local artisans, local bakers and other creative food artists fill the market this season. Fun and affordable family lunch food is available this season from Dunnelly's Food Stand and, for four weeks June 17 – August 7, Burnt Ends, Cedar Mill's own national-award-winning BBQ team will provide their incomparable pulled pork and more. They all hope to see you there every Saturday!