Community Announcements
Cedar Mill Park Concert August 5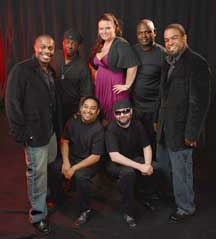 GrüVbox: their repertoire includes the funky grooves of the Bar Kays and Kool and The Gang; the kitschy show tunes of Donna Summer; classic Motown favorites like Marvin Gaye; '80s dance hits by Madonna and much more.
Bring your family, a lawn chair or blanket, and meet your neighbors and friends for a summer evening of fun and music. This year, Tualatin Hills Park & Recreation District has selected Seattle funk band GrüVbox to provide the rhythm. Food and beverages are available for purchase, or bring your own picnic.
The Cedar Mill Business Association is once again sponsoring the Passport Contest. Pick up a Passport card, and visit each of the Community Partner booths to get it stamped. Put your completed Passport into the box in the CMBA booth, and at the end of the concert, two lucky adults and one child will win a huge gift basket stuffed with goodies.
Get acquainted with some of the Community Partners who provide services in our area including the Cedar Mill Library, CPO 1, The Cedar Mill Farmer's Market, the Washington County Sheriffs, and more. THPRD's Rec Mobile and the Nature Mobile will be on site to engage kids with face painting, games and activities.
The concert begins at 6 pm and ends at 8. Lots of free parking is available at the Cedar Mill Bible Church, 12208 NW Cornell Rd with a free shuttle to the concert. Limited and handicapped parking at the Cedar Mill School lot, enter at 10385 Cornell Rd.
Sunset TC gets TriMet's first Bike & Ride
How can you get 74 commuters on the train or bus where only eight were able to park before?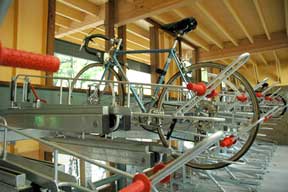 This bike shelter at Portland State is similar to the one going into the Sunset Transit Center
TriMet Bike & Rides are secure, enclosed bike parking facilities with keycard access. The Sunset TC Bike & Ride will provide space for 74 bikes to meet the demand for secure bike parking, giving riders a better option than bringing a bike on a crowded train. The Bike & Ride takes the place of eight of the 630 parking spaces in the garage. A second Bike & Ride will open this fall at Beaverton Transit Center, where riders can connect to WES commuter rail and 11 bus lines.
A $1.1 million American Recovery and Reinvestment Act (stimulus) grant funded several bike parking improvements throughout the region including three Bike & Rides and the replacement or refurbishment of 166 bike lockers.
Although riding a bike to Sunset TC may sound difficult, it's actually an easy, pleasant ride. Barnes Road has bike lanes, and from Cedar Hills, just use Park Way and follow the signs to cross Highway 26 on the pedestrian bridge.
To use the Bike & Ride, you will need to purchase a BikeLink keycard for $20 (see trimet.org/bikes for details). This is a smart card that deducts the value of the time you use, just like at a parking meter. Bike parking only costs three cents per hour on weekdays and one cent per hour at other times.
Visit trimet.org/bikes to find out more and to enter a contest to win a BikeLink card!
TriMet's first Bike & Ride opens at Sunset transit center on July 29th. The community is invited to a ribbon-cutting ceremony at noon.
Bethany Boulevard group to meet
The 3not5 Group is having a community meeting on July 15 at 7 pm at the Oak Hills Church, 2815 NW Forest Avenue, Beaverton. The 3not5 Group is a volunteer group of interested homeowners from the nine neighborhoods that border Bethany Boulevard and others in the immediate area that are opposed to making Bethany five lanes wide for the one-mile stretch from Bronson Road to West Union. There are no plans to widen the Bethany overpass on Highway 26.
Come to the meeting to hear what is going on with the project and what you can do to convince the Washington County Board of Commissioners to re-evaluate the county's plan. For more information go to the website www.3not5.org
Chess Camp at the Grange Hall
Would your child enjoy a chance to learn chess or improve their skills? Kirk Hedlund is running his Chess Camp again this summer at Cedar Mill's Leedy Grange Hall. There are still openings for the July 26-30 session, and the August 23-27 session. The camp runs Monday-Friday from 9 am - 3 pm, but parents can drop kids off anytime after 8:30 and pick them up anytime before 4 pm.
For more information, contact Kirk at 503-939-1672 or visit his website at rookiechamps.com/
What to do when skies are blue

Welcome aboard, your tour guide will take you around Portland pointing out activities for the family to enjoy over the summer.
First stop is the Oregon Zoo. Feast your eyes upon animals from Asian elephants to Arctic polar bears. However, the animals aren't the only reason to visit the zoo. Summer concerts are a great way to get the family together and the music is "as diverse as the animals." oregonzoo.org/Concerts/index.htm
Next stop on the tour is the Oregon Museum of Science and Industry (OMSI). Take a plunge into the Willamette on the U.S Navy's last non-nuclear submarine, or hitch a wet and wild ride on a tour by Willamette Jet boat Tours. omsi.org
Last on the tour is Pioneer Square, in the heart of downtown Portland. "Flicks on the Bricks," are outdoor movies for the whole family that start at dusk, but bring something to sit on unless you like sitting on bricks. July 23rd features "Ferris Bueller's Day Off," which is a good laugh for all ages. pioneercourthousesquare.org/calendar.shtm