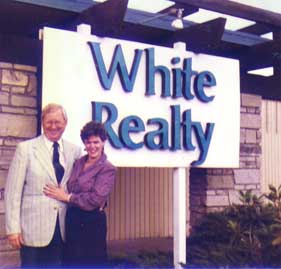 Norman and Olivia White in front of their office on Cornell near Murray
Featured Business


Norman White, Home-Sellers/White Realty


Realtor Norman White has been buying and selling property in Cedar Mill since the mid-50s and has seen the area grow and change. He was one of the founding members of the Cedar Mill Business Association and still attends most of the monthly meetings, except during his regular three-month stay in Hawaii during the winter.

As a young man, he worked for the Wabash and later the Norfolk & Western Railroad companies, a job that involved a lot of traveling. His wife Olivia worked full time as a realtor, and when their first daughter was born, she had heart and other health problems. So Norman decided to cut back on the railroad so he could stay home to help care for the baby. He got his real estate license in 1955. He's the third-longest-licensed agent in the Portland metro area.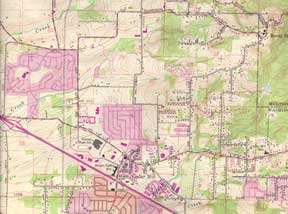 This 1961 map shows that Saltzman didn't connect to Barnes, and most of the development north of Cornell occurred after this. Terra Linda, Oak Hills, Marlene Village and West Haven were the only subdivisions. Click to enlarge.
In 1963, he and Olivia started White Realty. Their office was on Cornell, just east of what is now the Shell gas station. Odus Bales had just opened his grocery store in what is now the Walgreen's building in 1961, and the 7-11 store was new. Olivia was the broker, and Norman, who was still working with the railroad part-time, did the "sign work," installing the for-sale signs and other tasks.
They weren't able to buy that building, and eventually it was incorporated into the parking lot for the newer Thriftway store. They owned a couple of properties that were being used for day-care businesses, one at Cornell and 107th, and one on Cornell just east of Murray (what's now Pacific NW Tax & Cedar Mill Home Theater). The day-care provider decided to consolidate the centers to the NW 107th location, so White Realty moved into the Cornell/Murray location.
After Olivia passed away in 2001, Norman joined with broker Clif Kemp to form Home-Sellers White Realty, and the business moved to Lake Oswego. Now 84, Norman remains active, recently completing an 18-year project of consolidating 60,000 sq. ft. of properties in the downtown Portland area for a condominium project, and was involved in several large warehouse sales, including one at Terminal 6.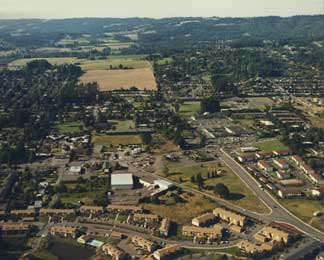 A 1983 aerial shot of downtown Cedar Mill. No Bauer developments, not much in the triangle… click to enlarge
He thinks that the real estate market will pick up again by 2011. He knows that there are a lot of people who would like to upgrade to newer or larger homes but they aren't able to sell in this market. He says that home prices in Oregon are still a bargain for those moving from out-of-state. He feels that Oregon's Land Use laws create scarcity and high prices, and result in row houses without enough room for children to play.
Norman and Olivia had three children and two of them were involved in real estate at some point. His oldest daughter succumbed to her health problems in 2005. Rebecca is a real estate agent in San Francisco, and his son Paul worked with Norman for over 15 years, and then went on to start CompView Medical, a firm that makes imaging equipment for surgery.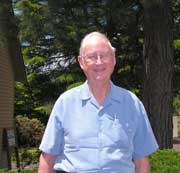 Norman attends the "old guys" group at Christ United Methodist Church to keep up with Cedar Mill events.
In 1973, they built a home on Sunningdale (off 119th) based on plans from the Scholz Design firm in Toledo. "There isn't another house like it in the area," he says. Later they moved to a house on Marshall, which he sold in 2002 when he remarried and moved into his wife's home in King City.
He'd like to see some of the "old guys" come back to the Cedar Mill Business Association meetings, and is planning on contacting them to try to get them involved.
If you're buying or selling any kind of property and you'd like the benefit of Norman White's experience, contact him at the office at 503-624-1819 or on his mobile phone at 503-789-4051. The website is home-sellers.com.