History in the News


The Hall Family in Cedar Mill


The second in a series about pioneers buried in our Union Cemetery on 143rd.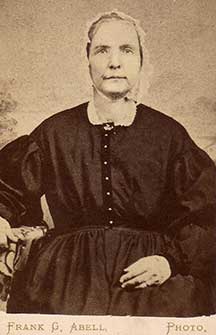 Lucy Hall. Photo courtesy of Beaverton Historical Society
A boulder with the name "Hall" chiseled on it rests under the spreading oak tree in the Union Cemetery. This primitive grave marker is believed to be that of Captain Lawrence Hall, who came to Oregon in 1845. In 1850 he claimed acreage near Walker and Butner Roads through the Donation Land Claim procedure.
Lawrence and his family first came to Oregon, as the story goes, along with over 400,000 other settlers, traveling from Independence, Missouri with oxen along the 2,000-mile Oregon Trail to the Stephen Meek cutoff route. Their group suffered from thirst and scarce provisions and many of the group died of Mountain Fever. They arrived at "John Day's River" and traveled up to The Dalles. There, sighting the Columbia River, they built a raft and traveled down through the upper Cascades with three other families. That leg of the trip took them three weeks in the rain, after which they portaged all of their provisions and household goods on their backs to the lower Cascades.
Lucy Hall Bennett, one of Hall's daughters, wrote in the 1895 "Annals of the Oregon Pioneer Association," "My father [Lawrence Hall] gave Dan Clark (who had preceded us down the river by trail on foot to Vancouver, and got a bateau of Dr. McLoughlin's and came to the Cascades to help the immigrants down the river) an ax to bring his family to Linnton, as Portland was a thing in the distant future. We went from Linnton to Hillsboro, Washington county."
Upon arriving in Washington County, Lawrence, his wife Lucy and their nine children set up a primitive log cabin comprised of logs hewn from the abundant trees in the Cedar Mill area. They cleared land for a garden while surviving on the many deer, grouse and pheasants that inhabited the forest.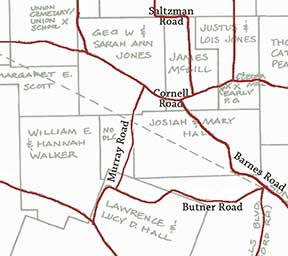 From the Cedar Mill Land Grant map
Shortly after they built their cabin, in December 1847, George Abernathy, then provisional governor of Oregon, called for volunteers to muster into the service of the Territory. Lawrence answered that call and earned the title of "Captain Hall" when he led a troop of Oregon Mounted Volunteers to fight against the Cayuse Indians. His company was formed to chastise the Cayuse Indians for the massacre of Dr. Marcus Whitman and his wife Narcissa, along with eleven others. The Cayuse blamed Dr. Whitman, a physician, for failing to stop the spread of measles among the Native Americans. Members of the John Quincy Adams Young family, who also subsequently settled in Cedar Mill, were amongst those taken prisoner by the Cayuse and freed by Captain Hall's Company.
After serving in the Cayuse War, Captain Hall returned to Cedar Mill so that he could provide a life for his wife and nine children. One more child, Joseph, was born, making a total of ten children to their credit. One can only imagine what it was like for that family with ten children—ranging from newborn Joseph to 22 year old John—living together in a one-room cabin with only the basic essentials.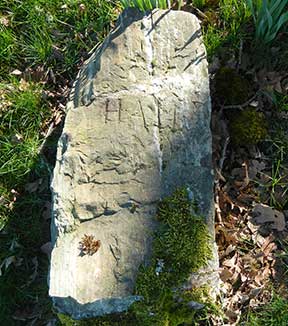 A large stone with the name HALL engraved in it lies under the large oak tree in Union Cemetery.
Like many settlers, Lawrence no doubt planted a small orchard, and continued to improve the land for farming, not an easy task when large old growth trees stood abundantly throughout the area. Timber was so plentiful that it was of no value and acres and acres of trees were burned down to clear the land.
By 1850 Lawrence and his brother Josiah had purchased a total of 640 acres in Beaverdam (now Beaverton) and built a grist mill near present-day Walker Road. His was the first Donation Land Claim in the area. Their son John B. Hall lived with his parents until he married his wife Mary and established their 327-acre claim along NW 143rd and Thompson Road, beginning just across the road from the Union Cemetery. It is not now known where the other children lived and died. Josiah Hall, Lawrence's brother, established a 319-acre claim within the boundaries of what is now Butner, Murray and Cornell Roads.
Proud pioneers, Lawrence and Lucy Hall cleared the way for generations to live and prosper here in Cedar Mill. Lucy died at the age of 62 in 1865, and Lawrence died at 67 in 1867. They are believed to be buried under that beautiful oak tree in our Union Cemetery.
This article is a compilation of accounts depicting Captain Lawrence Hall's life, gleaned from the following sources:
http://guesswhoto.com/cayuse.html
Transactions of the ... Annual Reunion of the Oregon Pioneer Association, Volumes 20-23 (Google eBook)
https://familysearch.org/pal:/MM9.2.1/S54G-8GC
http://cedarmill.org/history/index.html
http://www.princeton.edu/~achaney/tmve/wiki100k/docs/Beaverton,_Oregon.html