July 2018 Business News
Handel's Ice Cream is open
Open daily 11 am-10 pm, 13539 NW Cornell Rd., 503-268-1306
Just in time for summer, Tim Joyce has opened his second Handel's Ice Cream location in Oregon in the former Dotty's space next to Safeway. The enthusiastic crew is ready to serve up dozens of flavors in cones and dishes, and a variety of ice cream treats like sundaes, splits, and shakes, and there's even Frosty Paws ice cream for dogs!
Tim grew up in Youngstown, Ohio, where Handel's originated, and he's been enjoying their delicious recipes for 60 years. He opened his first Oregon store in Sherwood last summer, and started looking for his second location last year. He is looking forward to serving us for many years to come.
To learn more about Handel's history, visit the website.
Touchmark opens on Swede Hill
In late June, Touchmark in the West Hills welcomed the first residents to its full-service retirement community. The long-planned development now occupies over 70 acres northeast of Barnes and Leahy, and includes a variety of home styles and services for seniors, from active and independent to those in need of more support. Two stone and stucco lodges on a forested slope offer a beautiful natural setting with an adjacent private vineyard and commanding views of the valley all the way to the Coast Range.
The Clubhouse Lodge includes 126 condo-style one- and two-bedroom homes for independent living. Several restaurants offer fine dining with a view in The Sterling Room, Charley's Bistro for lighter fare and terrace dining, and the Swede Hill Public House with seasonal entrees, salads, burgers and sandwiches. An included flexible meal plan lets residents decide when and where they want to use their monthly meal credit.
The Terrace Lodge offers 139 homes providing health services and support for daily living including meals, early dementia support, memory care, and home care services.
A health and fitness club offers membership to residents and the public (55+) with a pool and spa, fitness equipment and classes, and a program and equipment to increase balance. A full calendar of activities including games and outings encourages residents to make friends and stay engaged.
Other amenities include a community garden and greenhouse, outdoor sports courts, valet parking, salon, lounges, and plenty of spaces for casual and formal gatherings, including a private dining room for residents to host their own events. Original northwest art covers the walls and is incorporated into many of the architectural features.
Staff is well-trained and friendly. The acronym "ETHIC" embodies Touchmark's values: Excellence, Teamwork, Hospitality, Integrity, and Compassion.
For more information and to schedule a visit, visit the website or call 503-389-5320.
Bales Marketplace news
Summer Food & Wine Show
Saturday, July 28, 3-7 pm
Be sure to stop in and enjoy samples of delicious summer treats and wines from our area and around the world. You're sure to run into some friends and neighbors at this fun event. Take advantage of special show prices on many items.
Pub food now available!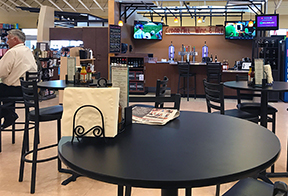 The new seating area at Bales
Monday-Saturday, noon-7 pm except Wednesday, 3-7 pm; Sunday, noon-4 pm
Stop in for a glass of wine or beer from Bales' new bar area (next to Starbucks) and stay for lunch or dinner! Order from Steve at the counter, and the deli will bring you one of their new Pub-style food items, including appetizers, burgers and fries, pulled BBQ pork on Wednesdays, Tacos on Thursdays, Tri-Tip sandwiches on Fridays, and baby back pork ribs on Saturday!
The new seating area across from the wine bar is great for meeting friends and associates for lunch, grabbing a quick family meal, or just taking a break from shopping.
Pharmaca events
All events are at the Timberland Pharmaca, 240 NW Lost Springs Terrace
Healthy Kids, Happy Family
Saturday, July 14, 1–5 pm,
Explore the latest safe, effective, natural remedies for little ones. Enter to win a giant Melissa & Doug plush giraffe. Get up to $20 in coupons on event day!
Monthly Mini-Facials are here!
Saturday, July 28, 12-4 pm
Come in for a pampering mini-facial featuring Trilogy Skincare. The licensed estheticians will complete a custom skin consultation and provide a treatment plan tailored to your skin type. Sign-ups are free and required to reserve your spot. Mini-facials require a $10 service fee, and you receive a $10 off coupon valid on event day.
If you have any questions, contact Patrick Healey at 503-596-3552
Sunset Credit Union's 'ClickSWITCH' service makes changing financial institutions EASY
We've all been there—your current financial institution is making mistake after mistake on your account (or simply has poor service) and you're tired of it. You want to leave it, but the hassle of switching everything over to a new financial institution seems daunting and too much work.
To address these problems and concerns, Sunset Credit Union has introduced ClickSWITCH. Now you can easily move recurring payments and direct deposits to a new account—all with the click of a mouse.
"We know switching financial institutions can be a burden," said Sunset Credit Union CEO, Rhonda Baggarley, "which is why we searched for a company that could make the process of leaving one financial institution and joining ours so easy.
"With our ClickSWITCH program your account information is transferred instantly and takes less than 10 minutes to do. Since we now serve all of Washington County, we hope people will try out our 'ClickSWITCH' program and see what a true 'local' financial institution is like."
Sunset Credit Union serves anyone who lives, works or attends school in Washington County. They are located at 1100 NW Murray Blvd. #200. To learn more about Sunset Credit Union and their 'ClickSWITCH' service, visit their website at sspfcu.com or call them at 503-643-1335.
Watercolor techniques is one of the current class offerings.
Village Gallery of Arts
July Show opening reception
Sunday, July 8, 2-4 pm, 12505 NW Cornell Rd, free
The July show "Creating Flags" is the first annual fundraiser to support local artists and the Village Gallery of Arts. Join us for refreshments, shop for homemade flags, and meet our featured artist and crafter: Kathie Henderson and Marcia Wingert! Marcia will showcase her handcrafted jewelry.
Are you interested in learning some new art techniques? Summer art classes are now available! You can learn about cell phone photography, painting with watercolor, as well as a class focused on copperplate calligraphy. We offer classes for both children and adults. Find more information and a full class lineup on our webpage.
Village Gallery is a non-profit educational art gallery in operation since 1963, next to the Cedar Mill Library. Hours: Monday-Saturday 10-4; Sunday 12-4. For more information, visit villagegalleryarts.org or call 503-644-8001.
Patio Summer Concert Series at MOC
Every other Friday, June 8-August 31, 6-8 pm, Cedar Mill Market of Choice, 118th & Barnes
Market of Choice presents its 4th Annual Music on the Patio series. Guests can enjoy food and beverage tastings throughout the store from 5:30-7 pm, and then relax and listen to live, local music on the outside patio.
July 6: Anna Gilbert; July 20: Evan Churchill; August 3: Fox and Bones.