Japanese Beetle update

The Oregon Department of Agriculture has completed treatment for Japanese beetle for 2018. From April 2 to June 1, ODA and General Tree Service, ODA's contracted pesticide applicator, treated approximately 5,800 residences, five schools and four parks for Japanese beetle (JB). This number was increased from the 2,100 homes treated in 2017 due to a larger area where beetles were detected in Washington County in 2017.
Beetle adults, eggs, and larvae can be transported in yard debris. If you live in the JB treatment area, you may be part of a yard debris quarantine designed to limit the spread of the pest in Washington County. Yard debris generated from this area, such as grass clippings, removed sod, any removed plants with roots or soil attached, and tubers and bulbs, should be placed in the curbside yard debris bins as normal. Debris from landscapers or any debris loads that are too large to fit in curbside bins should be taken to Northwest Landscape Services in Hillsboro between 6 am to 6 pm Monday through Friday. In the Fall, loads of fallen leaves are not subject to the quarantine if they do not contain any of the previously mentioned material.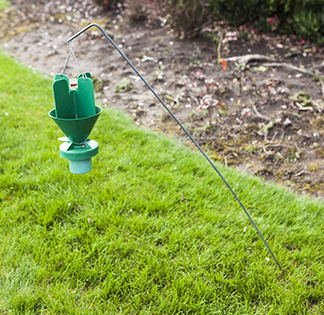 You have probably noticed these traps around the area. The scent of roses attracts the beetles.
The project has entered the trapping and detection phase for 2018. Seasonal survey staff is in the process of deploying 5,900 traps to detect Japanese beetle throughout the greater Portland metro area and the northern Willamette Valley. In addition to placing traps to detect Japanese beetles, ODA is also deploying traps for Gypsy moth, Oriental beetle, and other pests that could be harmful to agriculture in the state.
The Oregon Department of Agriculture would like to express its sincere appreciation to the residents in the Japanese beetle treatment area for their cooperation. The project is one of the largest ever undertaken by the department and would not be possible without the help of the community. This is a multi year project, and is proposed to continue until 2021. As soon as details for next year's operations are known, we will begin reaching out to residents with information.
For the latest on the project, please visit www.japanesebeetlepdx.info.
To learn more about the affected area, visit the interactive map on the project website. Each colored dot is a trap that had beetles in it last year. Click on the dots to see how many were found.