Swede Hill—a story of family, community, and land

Today's story of Swede Hill began in 1884 with the arrival of the Nelson family in Portland, Oregon. It's the story of people in search of a better life, and it's a story about the building of legacies.
The Nelsons' journey had started seven years earlier with Nels Nelson's solo voyage from Sweden to America, paving the way one year later for his wife Hannah and their six children.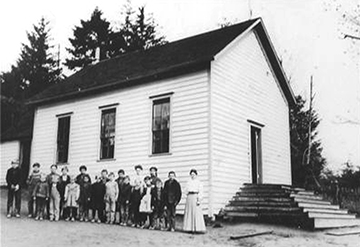 The second Swedeville School on Barnes
Following Hannah's arrival, six years of frontier life in Minnesota, and two more births, the family of eight traveled to Oregon. Here, they unpacked their trunks for the last time and established a 10-acre farm on Swede Hill—then called Swedeville—north of Barnes Road.
With the arrival of the Nelsons and other families, Swedeville needed a place to educate its children. The first school in the area was an old log cabin, built on land owned by John and Louisa Johnson, located on what is now 83rd Avenue, just past Leahy. It wasn't long, however, before the community outgrew it.
In 1888, Swedeville School was built on Barnes Road, across from today's entrance to Sylvan Heights, on land donated by the Johnsons. This was a proper white-framed school with a bell in its belfry that rang mornings at 8:30 am sharp, beckoning students for the 9 am class. The one-room, one-teacher school served grades one through eight and featured such comforts as a community water bucket for hydration and outdoor restrooms.
In 1886, Peter H. Peterson—usually referred to by his middle name, Henning—boarded a ship alone from Sweden, following a similar path as the Nelsons. After arriving in New York, Henning traveled to Gooseberry, Oregon, where his brother lived. In 1893, Henning was granted U.S. citizenship, and in 1894, he received a 160-acre land grant from the U.S. government for a wheat farm. Two years later, he moved to Portland, where he joined the Swedish Lutheran Church and soon met his future wife, Nels and Hannah's daughter Annie.
In 1900, Annie and Henning married and purchased 29½ acres on Swede Hill, just south of the Nelsons' farm. It was in these rolling, pastured hills that the Petersons established a successful dairy farm—a wise decision for a family that quickly grew to nine. As Swedeville's families continued to bloom, still more space was needed to educate its children. In 1926, a new two-room stucco schoolhouse called Tualatin View was built closer to the site of the old log cabin school. The original belfry was relocated from the Swedeville School to this one, which featured indoor plumbing. The school building still stands today, at the corner of Barnes Road and Leahy Road, on the Oregon College of Art and Craft campus.
A legacy of stewardship
To the east of the Petersons lived George Teufel, whose father Gustav had founded the family's long-successful Teufel Holly Farm in 1890. Annie and Henning's son Harold went to work for George, as did many of the men on the Hill, including their daughter Emily's husband Al Thompson.
In the early 1940s, Harold established his own nursery on six acres directly across the street from the Teufels' farm, growing flowers for the market and holly for wreaths that he sold to the Boy Scouts, Fred Meyer, and other area stores. Emily and Al followed suit a few years later, opening a nursery adjacent to Harold's.
While the two nurseries were large enough to support the Peterson and Thompson families, they never competed with the Teufels' success, and George Teufel never treated either business as a threat. They were neighbors, after all, and just as the Petersons' dairy products had helped carry people on the Hill through tough times during the Great Depression, the holly business could provide for everyone's future.
In 1942, Harold Peterson married a young woman named Dorothy Rasmusen and they had two children. These young Petersons and the three Thompson children grew up together, helping in the family greenhouses and playing on the forested hill.
As the children grew into adulthood, they chose different paths. The Thompsons continued the nursery business for many years, both in their Swedeville greenhouses and with their wholesale business, Oliver & Thompson.
Harold and Dorothy's children followed their passions elsewhere, and when Harold retired from the nursery business, the Peterson land became something simply to enjoy.
In 2002, Touchmark began assembling what is now 76 acres of land. Today, Touchmark in the West Hills honors this legacy of the Nelsons, Petersons, Teufels, and Thompsons as well as the Caldwells, Carders, Clarks, Dinihanians, Mays, Swansons, Thomases—and all the other Swedeville families for their hard work, respect for the land, and love of community.