Road News
Cornell improvement project will bring a stoplight to 107th intersection
An Open House was held on June 28 at Leedy Grange Hall to share details of a project to widen Cornell to three lanes—two travel lanes and a center turn lane—from the intersection with 113th/Cedar Hills Bl. to 102nd, where Cedar Mill Elementary is. The project will also install a stoplight at 107th, which leads to Leahy Rd.
Washington County will need to acquire additional right-of-way (ROW) from a number of residents in the project area. The county has a well-defined process to work with owners to value the acquisitions and manage the land transactions. For the most part, structures will not be impacted. Tara Heesacker, Capital Project Management ROW Section Supervisor, was at the meeting explaining the process to those who attended. Most of the time, the county and the landowner can come to an agreement, but there is a condemnation option to ensure that the project will be completed.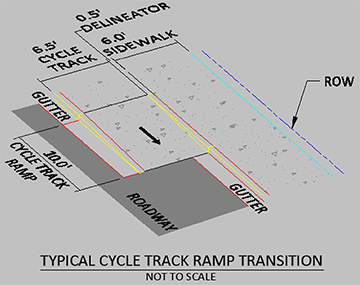 A relatively new style of bike path is being used for this development. Called a cycle track, it features a raised 6.5' segment separated from the road by a gutter. 10' sloped ramps allow cyclists to enter and exit the track. Another curb separates the cycle track from the sidewalk. The county has selected this segment of Cornell for the cycle track in anticipation of eventually connecting to similar facilities on Portland's portion of Cornell, allowing for safer bike commuting to Portland.
The project is currently in the design phase. Final designs should be complete in Spring 2019, and construction should begin Summer 2019 for completion in early 2020. As always, subject to change!
This $6.8 million project is funded through the County's Major Streets Transportation Improvement Program (MSTIP). The total project cost includes the estimated cost of design, right-of-way acquisition, and construction, and is subject to change.
More information and project documents are available on the County website.