July is an exciting time at the
Cedar Mill Farmers Market!
Saturdays, 9 am-2 pm, Safeway parking lot at Cornell & Murray
The produce is in! Visit all of our farming vendors this month! Each farm represented is unique in their own way. Each one specializes in different items and every one of them are awesome to get to know! Come meet them and enjoy the bounty!
Bairds Family Orchards, Duyck's Peachy Pig Farm & Produce, ELA Farms, Flamingo Ridge, Garden City, N & N Amaro Produce, Martinez Family Farms, Sweet Oregon Berry & Wilco Strawberry Farms.
We have several new food vendors that you really must check out. Artemisia Bakery has baked donuts—beautiful and super delicious. Frozen Fresh Ice Cream offers delicious creamy ice cream rolls made fresh to order right before your eyes—their vegan option is SO good! How Sweet It Is—small batch candy—check out their Rosemary Pecan Brittle and other specialties. Bliss Nut Butters—seriously the best nut-butters around, hint of sea salt, touch of honey…yummy and lots of choices. Hakuna Murata—our first food truck. They serve traditional Japanese & Filipino food – delish! Meet the owner, Arielle, she's amazing!
And that is just a taste of what is at the market this summer. We'd love for you to come on over and check out ALL our wonderful vendors. We have more food, arts & craft vendors, cut flowers, music, Power of Produce kids program and more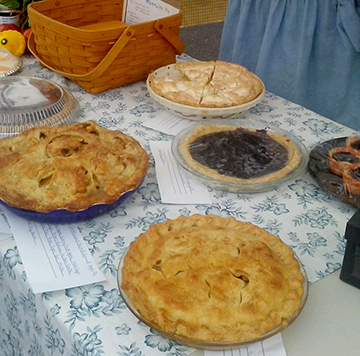 Calling all bakers! Pie in July will showcase your talents.
Saturday, July 14
Third Annual Pie in July—Stop by the information booth at the market before the event for more information or to register. You can enter one, two, or three pies. Each pie must be home-made by you, and each pie must contain something fresh from our market. After the winner is decided, pies will be sold by the slice and proceeds will go to our Power Of Produce Program!!
Saturday, July 21
Annie Salness offers her two-part painting class starting at the Market and then moving to Village Gallery. To register call Village Gallery 503-644-8001, or to ask questions, please email her: annie@anniesalness.com.
Saturday, July 28
Blueberry Day! We will celebrate the "beauty of the blueberry" and IMA Blueberry will come by for a visit.
Want to be in on all the fun stuff? Contact Karen at ourcmfm@gmail.com and ask to receive our weekly email newsletter. It will keep you "up to date" on the happenings at Cedar Mill Farmers Market. We hope to see you there!!