Featured Business
Tesla Electric Company
Igor Zelen took a long route to get to this area. He was born in the former Yugoslavia, in a Serbian Eastern Orthodox family living in Bosnia. During the "ethnic cleansing" that took place in the early '90s, he and his brothers were captured and taken to a Muslim prison camp. "I was one of the youngest guys in the camp, and also the camp was pretty far away from our home town, so I wasn't treated too badly. The regional animosities that affected a lot of people weren't so much of a problem for us," he recalls. But the family lost their home and had to leave their town.
Eventually he and some others were traded in a prisoner exchange and he went to Belgrade through the UN program for immigration. He was interviewed four times by the Red Cross about his experiences in the camp. When he was finally approved to immigrate to the US, he was asked if he had family anywhere. "I told them no, that I just wanted to go as far away as possible. So they sent me to Portland!"
A Lutheran church found him a sponsor family. One of their sons was a student in the Russian program at Portland State. Through him, he met his future wife, Jennifer. "She was the first girl I met when I arrived in Portland in 1994. We knew each other several years before getting married in 1998. We have four kids now, ages three through 11," he says. Eventually his brothers and other family members followed him to Portland. "We are very close, and everyone lives nearby now."
He studied to be an electrician in Bosnia, and continued classes once he got to Portland. "I always enjoyed fixing things. My first job in Portland was building machinery for manufacturing companies, including Boeing." His intelligence and skill let him move up quickly, and he became Production Manager for that company. He then worked for Fedex Ground at their Swan Island facility, maintaining the conveyers and doing other electrical installations.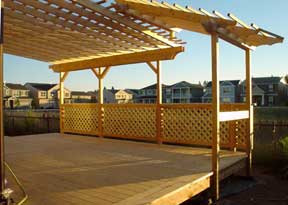 Igor can do many types of building, including this beautiful deck.
In 2006 he began working as a general contractor. Last year he opened Tesla Electric Company to provide primarily electrical contracting work. He is licensed as both a general and electrical contractor.
Tesla Electric offers services from appliance installation to electrical repair, to design-and-build for any type of electrical work. His work is meticulous and his general contracting skills allow him to do everything needed to finish a job. For example, he can not only install a ceiling fan, but also do any needed drywall or carpentry work to complete the installation.
He can take a job from concept to finish. Whether it's updating the wiring in an older home or adding amenities to a newer one, he's happy to accept any challenge. "I can help you select lighting and other electrical fixtures and appliances from online catalogs, and paint and other finishes, and pass along my contractors discount to save you money," he says.
"Customer service and fast response is our highest priority," he says "Often I can schedule an estimate the same day you call, because my schedule is flexible." He does a lot of the work himself, but also has a couple of helpers he can call on for larger jobs.
He and his family live on a quiet street in Cedar Hills across from a park. They love that the kids can play in the neighborhood, and the neighbors all watch out for each other and celebrate holidays and have potlucks together. He has started re-doing the electrical panels for several of his neighbors. "Once I saw the job that the original builders had done on our house, I knew that all of them needed better panels." That's the kind of person he is!
His wife Jennifer also runs her own business, Jen's Small Business Solutions. She worked in finance for many years for her father's large company, and also did bookkeeping and office management for smaller companies. She works from her home office doing payroll and other financial and office management tasks for several local companies, and will be looking for new clients in the fall.
If you've been thinking about upgrading your appliances, or if the thought of what's going on behind your electrical panel gives you the shakes, or if you need more outlets or new lighting, Igor Zelen is happy to come and take a look. "Every time I am called to give an estimate, it's a chance to meet a new person and see their project, and it never gets boring. And I enjoy the feeling of being able to fix something and help the customer at the same time."
He is also an expert in energy-saving upgrades, including solar lighting, programmable thermostats, and installation of the newer energy-efficient appliances.
You can see examples of Tesla Electric's work, and also learn something about the company's namesake, inventor Nikola Tesla, who was born about 100 miles from where Igor grew up. Visit them online at teslaelectric.info, or call 503-724-1175, or email him at info@teslaelectic.info.