Where's the Cedar Mill Falls boardwalk?

Ever since early 2005, after Polygon Homes began to develop the former Teufel Nursery acreage, residents have been anticipating improved access to Cedar Mill Falls. The portion of Cedar Mill Creek adjacent to the development, including the falls, was part of the land purchase. Instead of paying a System Development Charge (SDC) to Tualatin Hills Park & Recreation District (THPRD), Polygon proposed developing an overlook boardwalk, a trail system and park improvements and then donating them to the park district. (SDCs help pay service providers for the impact to their systems brought about by new residents.)
When the recession hit, Polygon suffered along with everyone else. The planned commercial development along Barnes has yet to materialize. But plans for the boardwalk seemed to be coming along. In early 2010, boardwalk development was promised for the fall. The design was completed and a manufacturer was selected. We anticipated celebrating the opening at the 2010 Cider Festival in October.
However, because the boardwalk will cross a wetland, apparently there were delays in getting approval from Clean Water Services, the agency that protects our water resources. According to Matt Kilmartin, THPRD's Park Planner in charge of the project, the Service Provider Letter from CWS was finally available in March 2011. But for some reason, Polygon's consultant MGH Associates didn't receive that notice until June.
The former Teufel property was annexed into Beaverton when the property was bought. So now MGH is submitting plans to the city for design review. By the time that process is complete, it will be too late to begin building this year, because grading can't be done near a stream in wet weather.
So if all goes well, the boardwalk and overlook will be built beginning next spring. We can only hope!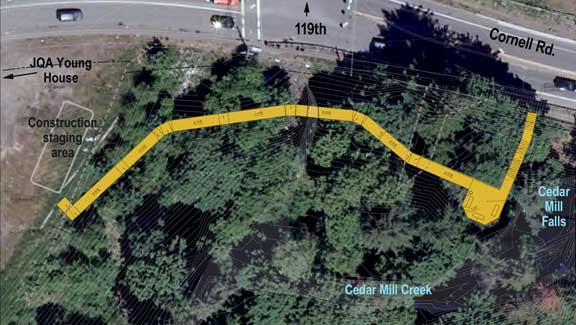 When it's completed, the boardwalk will include a staircase leading down from Cornell. A viewpoint deck, or overlook, will provide a great view of the falls, and then an accessible boardwalk will connect with the JQA Young House property.