Featured Business
Summit Dental LLC

As with almost everything else in the 21st Century, computer technology is radically changing the practice of dentistry. One of our newest local dentists is right on the forefront of this change. Dr. Brad Hagedorn offers the CEREC system of "one-visit dentistry," that employs digital 3D imaging and CAD/CAM technology to create crowns literally while you wait!
I was fortunate to receive this care last month for a cracked molar, and it is truly an effective, efficient and affordable alternative to the old method that uses the icky tray of goop for taking the before-and-after impressions (which often needs to be redone, in my experience) and then waiting weeks with a temporary filler while a lab makes the new crown. This whole operation took about two hours, start to finish, and I walked out with a new tooth that is beautiful and durable.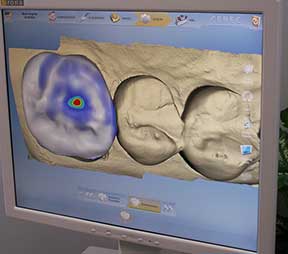 Dr. Hagedorn learned to use the equipment during his dental training at OHSU School of Dentistry. He explains, "I was involved in a research program for CEREC at OHSU during dental school, and I was also exposed to it during my time working at a dental clinic prior to dental school. Patterson Dental, the company who markets CEREC, also provides training at their center near Bridgeport Village. Julie, my assistant, took part in that training as well." Dr. Hagedorn was the first OHSU student to perform a CEREC restoration on a patient.
Here's how he explains the system: "The CAD/CAM system we use for porcelain crowns/caps and onlays* is called CEREC (which is an acronym for Chair-side Economic Restorations of Esthetic Ceramic). We still prepare the tooth the same as we would for a traditional crown, except we make digital impressions before and after. We upload those in to our CEREC program and design the crown digitally. That information is then sent to a milling unit that cuts the crown out of a pressed block of porcelain. In your case, we used a material called lithium metasilicate that we then placed in our glazing oven to convert it to a much stronger and more fracture-resistant material called lithium disilicate, which has a trade name of 'eMax'. We then used our standard bonding protocol to cement the crown into place. Using the CEREC system, we get laboratory quality restorations without the need for temporaries or messy impression material."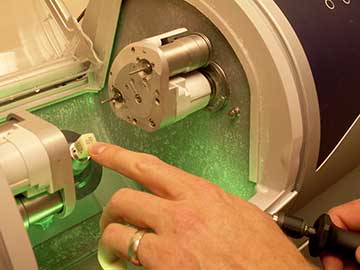 The CEREC system was a significant investment. "It costs a little more than an Audi A8L, I'll put it that way!" says Dr. Hagedorn. But, he adds, "This type of technology will be considered traditional dentistry in a few years, and I wanted to stay ahead of the curve." Banks consider dentists a good investment, so he didn't have any trouble getting financing.
The practice also offers the Invisalign and Six-month Smiles adult orthodontic systems. Dr. Hagedorn explains, "Invisalign is a cool system that uses a series of clear 'plastic' aligner trays to provide orthodontic movement. They move teeth into not only a more esthetically pleasing position, but also a more functional and hygienic position. Composite 'attachments' are bonded on selected teeth, prescribed by Invisalign, and the aligner trays use those attachments as points of leverage to move the teeth. I only do simple cases and I leave the more challenging cases to the orthodontists!" His wife Jessica was treated with Invisalign and kept a diary/blog on their website.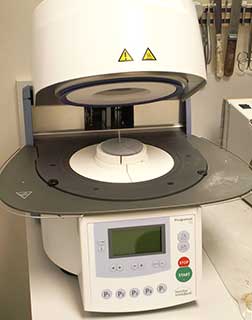 "Six-month Smiles is an orthodontic system that uses clear brackets and white nickel-titanium wires to move teeth with an average of six months treatment time, thus the name. We use it to move the front teeth using light forces to achieve better esthetics and hygiene. Because we are not moving molars, usually treatment time is reduced. I like this system because I have direct control over teeth movements, due to not having to wait for Invisalign to develop a treatment prescription. It is also a little less expensive for patients," he says.
The office is offering discounts on both these treatments for patients through September 15. The consultation—to find out if one of these treatments is right for you—is free.
Cosmetic dentistry is rapidly gaining in popularity, and besides orthodontic treatments, the practice offers several types of whitening, and veneers that can repair chipped, stained or uneven teeth while protecting most of your natural tooth. Composite bonded restorations (fillings, inlays, onlays, and crowns) are invisible ways to repair damaged teeth.
It isn't all new technology at Summit Dental, though. The practice emphasizes preventive care—regular checkups and x-rays, cleaning, sealants, and custom guards for people who grind their teeth. Everyone in the office is concerned with patient comfort and overall health. They have a pleasant waiting room with plenty of interesting reading material, and they don't overbook so there's rarely much time to get comfortable there!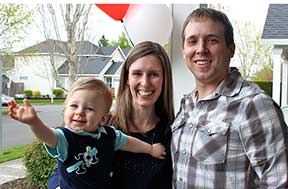 Brad and Jessica Hagedorn grew up together in LaGrande, a small town in northeastern Oregon. They started dating after they graduated from high school. Brad attended Eastern Oregon University for his first two years of undergrad and then went to Oregon State for to finish his BS.
Jessica attended Linfield College, and received a BA in Early Childhood and Elementary Education. She completed a Masters degree and then taught third grade in McMinnville, until she left to raise their son, Colton, who is now 14 months old. She currently takes care of the accounting and business-related tasks for the office as well as HR and marketing. She says, "Brad's passion is dentistry and running the office has become a family effort." Colton comes along while she works, and is a favorite of everyone in the office.
The family lives nearby in Bethany. They both enjoy living so near their work and not having to deal with commuting. They love the outdoors and get away to go hiking, camping and fishing when they can.
Just before he graduated from OHSU, Dr. Hagedorn started looking for a practice. He heard that Dr. Steve Layne was looking for someone to take over his practice so he could retire. Dr. Layne was already using digital x-ray technology and intra-oral cameras, and had a great staff of seasoned professionals.
Natalie and Kathy are the hygienists. They both worked with Dr. Layne— Natalie for 11 years, and Kathy for 24 years! Julie is an Expanded Function Dental Assistant who works chairside with the dentist, and also takes x-rays and performs many other functions. She too has been in this office for 11 years. Dr. Hagedorn worked alongside Dr. Layne for a couple of months before he retired in May, 2012.
The office is located in the building just north of Bales Thriftway, at 973 NW Saltzman. They have an excellent website (summitdentalhealth.com) with plenty of information about their services and staff, and you can also make your appointments online. Or call them at 503-644-7202.
*an onlay is used to restore a tooth that has too much damage for a filling, but that doesn't need a crown.