Cedar Mill Park Concert August 22
The Patrick Lamb Band will entertain at our Cedar Mill Park Concert, August 22, from 6-8 pm. Patrick Lamb paid his dues playing roadhouse music in the rural south, where his influences included James Brown, Stevie Wonder and Ray Charles. Today he fuses funk, soul, R&B, and jazz to create a unique, crowd-pleasing sound. patricklamb.com; facebook.com/patricklambmusic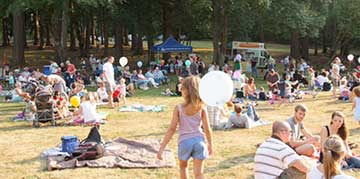 Bring your family, grab lawn chairs or blankets, and meet your neighbors and friends for a summer evening of fun and music. Seating is on the grass. Beach/sand chairs or blankets for seating are recommended. Regular height lawn chairs will be permitted only at the side and rear of the seating area.
Food and beverages will be available for purchase, or you may bring your own picnic. Whole Foods Market will be providing a variety of vegetarian and meat sandwiches, salad platters, wraps and barbecue. Funtime Enterprise will offer burgers and dogs. Beverages will be available from both vendors. No alcohol is allowed. Leashed dogs are welcome to attend with their owners.
Community Partners will be on hand with information and prizes. These include The Cedar Mill News, The Cedar Mill Community Library, CPO1, and the Cedar Mill Business Association. Participating businesses include SendOutCards, Whisker Wise Animal Care, Take Shape for Life, and the Sunset Credit Union.
Parking is very limited at the park, so a shuttle bus will run every 15 minutes from 5-9 pm. Park in the Cedar Mill Bible Church lot, 12208 NW Cornell, and the bus will bring you and your group, plus picnic baskets etc., to the park and then back again after the concert. Thanks to CMBC for their continued support.
The concert series is sponsored and produced by Tualatin Hills Park & Recreation District. Cedar Mill Park was one of the first parks to have a concert back in 2004. It's a fun tradition and it seems to get better every year!
More information is available on the THPRD website.