History in the News
Young Family artifacts

I was surprised one day last month to receive a call from Kathy Young. She is the daughter of the late Bernie Young, who had been the avid historian of the John Quincy Adams Young family. JQA, of course, was the second owner of the mill that gave our community its name, and a pioneer who, as a young man, followed the Oregon Trail with his family.
Kathy had inherited some items from Bernie's estate and now she was moving out of the area. She wanted to know if I'd like to keep a couple of the items so they could stay in the community. Of course!
Along with a packet of images and newspaper clippings, the treasures were a spinning wheel that belonged to the family, and a Bible that belonged to JQA Young himself. I was thrilled and humbled that she trusted these items to me, and grateful that I'll be able to share them with you.
JQA Young Bible
Bound in leather, it was undoubtedly made for the pioneers who couldn't carry bulky items. This one is unfortunately missing the first few pages, so I don't know the publisher or date of publication. But the inscription tells the story.
(In ink): John Q A Young

His book price 55¢

Bought Dec 21th 1849

(Below in pencil):

Earned money in 1849 on Tualatin plains by making combs out of horns to buy this book from Reverend J.S. Griffin*.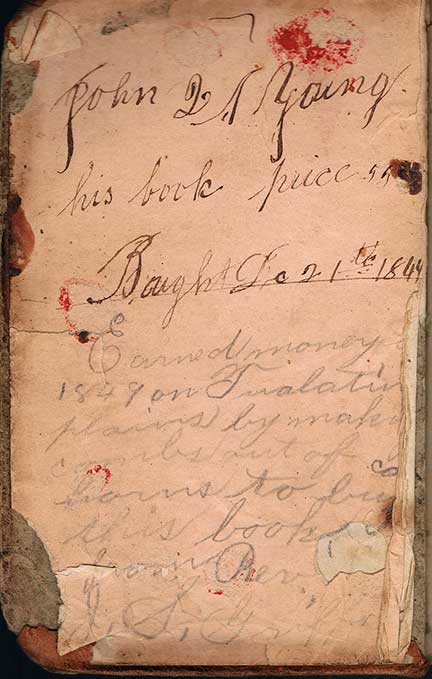 Wow! In 1849, JQA would have been 21 years old. His family had survived the "Whitman massacre" on their way west from Ohio in 1847. (One of John's brothers was killed in that event.) They made their way, virtually without any goods or money, down the Columbia and up theWillamette to Oregon City. The family earned enough to get by and acquire some necessities.
In 1848, the family settled in Orenco. In 1856, John married Elizabeth Constable, a neighbor on "the plains." In 1869, he purchased the mill and 160 acres of timber from Justus Jones and his family, who had acquired it in a Donation Land Claim. There may have been a small cabin on the property, but he shortly built the house that we see at 119th and Cornell.
In the back of the book, we find his name written a couple more times, along with some numbers that look like an account record (paper must have been very scarce). On the facing page is what seems to be a map, or a sketch. I'd like to think it was something to do with the mill, but who can say?
Award-winning spinning wheel
The spinning wheel, as pictured in Cedar Mill History is incorrectly captioned as belonging to Elizabeth Young. Four documents that accompany the wheel say that it was built on Sauvie Island, by the same person who built the parental home of Paul Reeder. It won First Prize in the spinning wheel division at the first Washington County Fair in 1867.
It was first purchased by Mrs. Josiah Hall (Mary Fischer Hall) "in the 1860s." She gave it to her daughter, Mrs. George H. Reeves (Mary Hall Reeves) in 1866. Mrs. Reeves gave it to her daughter, Mrs. A. Lincoln Young (Rose Reeves Young, pictured as a girl in the iconic JQA Young House photo) in 1927. Rose gave it to her son's wife, Mrs. Frank R. Young (Hazel P. Young, one of our enthusiastic historians) in 1952. Hazel gave it to her son and daughter-in-law, Bernard and Shirley Young, in 1973. Shirley, Bernie's first wife, is Kathy's mother.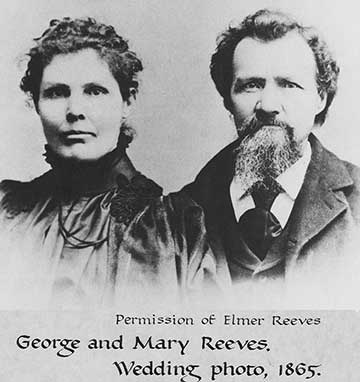 The wheel is in excellent condition. It came to me in pieces, and is now packed carefully, thanks to The UPS Store, and in storage at the Fanno Creek Service Center building of Tualatin Hills Park and Recreation District. When the JQAY house is renovated, it will become part of the display. We hope to offer spinning demonstrations as part of the interpretive programs at the house—someday!
I'm taking care of the Bible. It sits on a shelf next to my family Bible that belonged to my fifth-great-grandfather, Thomas White, a member of the original Boston Tea Party. Thank goodness for people who hang onto stuff!
*Reverend John Smith Griffin (1807-1899) was sent by his Connecticut congregation to minister to the natives in the Oregon Territory. Like many others, he abandoned that effort. After spending some time at the Whitman Mission in Washington, he made his way to the Tualatin Plains and built a home he called "Rocky Mountain Retreat." He organized the first Congregational Church in Oregon. He was active in setting up Oregon's Provisional Government, and is buried in Hillsboro.