Cell towers in Washington County

Luke Leifeld showed up at the March 2018 CPO 1 meeting to let his neighbors know about his concern with a Verizon cell antenna that was being installed to replace an existing utility pole just beyond his back fence in the right-of-way on Leahy Rd. "A co-worker suggested the organization since the purpose is to advocate for citizens regarding development projects. I attended the March meeting and brought up the issue during the Public Comments segment."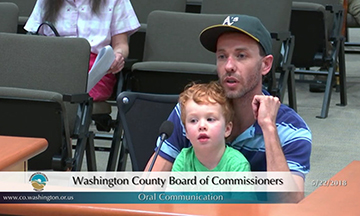 Luke Leifeld brought his three-year-old son along to testify to the Commissioners
His initial concern was that the taller pole and attached equipment would be right in the middle of his view off his back deck, affecting his enjoyment of the view and the value of his property. As he began to search for information, he found that the installation seemed to violate sections of the county code requiring such facilities to minimize visual impact. He took his concerns to staff at Washington County Land Use & Transportation (LUT) when he felt that he wasn't getting any traction with the CPO.
Initially he was told that the project met the county requirements under an agreement with utilities that allowed such installations in the public right-of-way without separate development permits.
An additional concern for Leifeld and his wife Anna, along with several of their neighbors in the Torreyview neighborhood, was that the work to replace the pole and install the antenna would disrupt the sidewalk that had been constructed along Leahy, partly to improve access to West TV Elementary, for several days. There was no alternate pedestrian route because the opposite side of Leahy is only a gravel shoulder. Leifeld says, "A dozen or more neighbors sent emails to LUT expressing concerns with disruptions to our only neighborhood sidewalk that would be obstructed by the project."
He attended a May meeting of the Board of Commissioners (BCC) to testify during the Public Comment period. He testified again in early June. (Anyone can testify on any topic during a period at the beginning and end of the regular meetings.)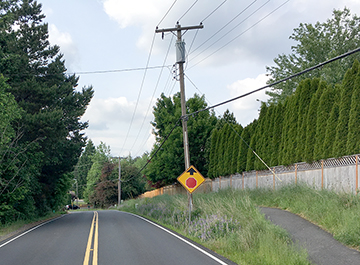 The pole in question on Leahy Road is very close to the sidewalk. Leifeld's house is behind the row of junipers.
Leifeld returned to CPO 1 at it's June 11 meeting. The CPO members approved a letter to be sent to the BCC requesting that they follow their own rules and require a cell facility that "minimizes visual impact" which was one of the basic requirements embodied in the 2017 Ordinance 826A that addressed cell facilities.
He returned to the June 19 meeting of the Board of Commissioners (BCC) and again testified. LUT Director Andrew Singelakis agreed to follow up, when Commissioner Malinowski asked for staff to respond to his comments. The resulting memo to the Commissioners said that staff would not recommend any of his proposed changes to the Community Development Code.
However, on June 29, the CPO received a letter from Singelakis stating that the Verizon permit for the tower was put on hold for 30 days until the company could resubmit a proposal that would comply with Community Development Code (CDC) requirements. "If they do not resubmit an application by July 16, then the permit will expire," the letter said. That time has now passed and no further work has been done on the installation.
The letter went on to say that, "staff is drafting an issue paper on wireless telecommunications facility regulations specific to installations in the public right-of-way." The paper will be presented to the Board later this year. It goes on to say, "We encourage anyone interested in this topic to subscribe to our "Ordinance: Wireless Facilities and Cell Tower Standards," and our "Weekly Update," and to submit comments on the Cell Tower Standards - Ordinance page.
Commissioner Malinowski, who represents our area, said, "Luke did a wonderful job. He kept up the pressure. Every time he spoke up, I would privately talk to staff about the logic of his message. Eventually a letter went out with the definition of "flush," and now I understand the facility is on hold. Not out of the woods yet, but headed that way."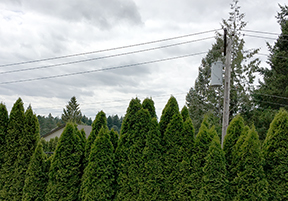 The view from Luke Leifeld's deck with the existing pole. The new pole would have been much higher with a large antenna attached.
We asked Leifeld what he has learned from this experience. He said, "Those who work in the government are fallible just like all people and can make mistakes. Do your homework and you might find a mistake they made if you don't like something." He continued, "First I have to say everyone has been super nice and willing to help. Even those at LUT who I was 'arguing' against were still very cordial and responsive. As I was warned, the wheels of government (and liaison organizations) churn slowly and it was confirmed correct. It took several months of trying to be heard just at my local CPO level before I decided to take the time and raise the issue at the Board of Commissioners Meetings. Even that took me going to three different meetings to present my case and respond to counter arguments."
"I think this is an issue most people are not aware of, but they will be soon. It is my understanding that hundreds if not thousand of towers are going in; on existing utility poles, street lights, even the possibility of stand-alone towers will be up in the right of way and public utility easements, in our roadways and even our front and back-yards."
We all want good cell service. We asked Leifeld about the larger issue of how facilities should be handled.
He said, "I am not opposed to cell towers, however the proximity to homes and the effect zthey can have on property value is of great concern to me. They have means of concealment where it is very hard to even know it is a cell tower now, and ignorance is bliss. I know of four other instances in the county where cell towers were installed in the right of way that do not meet the rules and ordinances. Other surrounding counties require a planner to review cell phone tower applications, Washington County has permit technicians perform the review in a very short time frame (10 days vs 90 days). The cell companies probably were not aware they were not conforming to the rules, and the permit technicians maybe didn't even know these rules existed. And landowners are compensated when the towers are on their land, but when it is in an easement or the right of way there is no compensation because of the current state law."
Leifeld also learned to choose his argument carefully. "One thing I have learned in all my research, if you note health concerns it makes your argument invalid. The FCC has ruled health concerns as a non-starter and it will basically invalidate any other points you make. So the concern was in regards to the view and effect on property value. The FCC has stated that the RF emissions are safe and that restricting their installation is prohibited. They no longer allow study on this topic given their determination."
We hope Leifeld will stay involved in CPO 1 and help us better respond to neighbor concerns. And we hope that everyone will remember his story and be encouraged to stand up to the "powers that be" when you feel you have a good case!