August 2018 Business News
Second Edition clearance
August 18-25, Second Edition, next to the Cedar Mill Library, 12505 NW Cornell
Second Edition's Semi Annual Clearance Sale is happening this month. We call it "Change Over," as we give big discounts to clear the shop of everything in order to restock with fresh merchandise. The discounts get deeper as the sale continues. Get there early for the best selection, or head over on the last day for huge savings!
The sale starts August 18, and through the 20th, everything is 25% off. August 21-23, everything is 50% off. On Friday, August 24th, the discount is 75%. On Saturday, August 25th, it's our Summer Clearance Bag Sale. From 10 am to 2 pm, it's just $8 for everything you can fit into the bag! We'll be closed Sunday for restocking, and reopen at "high noon" on Monday, Aug. 27th showcasing one of our favorite themes: Western!
Second Edition is an ongoing fundraiser for both Cedar Mill and Bethany Libraries.
Holistic Pet appreciates their customers!
Saturday, August 25, Holistic Pet, 13567 NW Cornell (Safeway center)
Customer Appreciation Day! Born Again Pit Bull Rescue volunteers will be on site from 11-3 doing dog washes for donations. We will have raffle baskets for people to bid on containing $75 worth of food, treats and toys in each basket. 100% of the proceeds of the baskets and dog wash goes to the rescue group.
As well, we will have a huge sale with most brands offering $$ off for one day only.
Call the store for questions, 503-626-7387.
Coffee Club
Every Saturday Morning, July-August, Peterkort Shopping Center
Come join us! We will not only be enjoying coffee, but also discussing current events, the economy, and investing, in a relaxed, informal setting. This is a great way to meet new neighbors and financial advisor Eugen Trifan.
To RSVP call 503-646-7100. Exact location and time will be given upon your RSVP.
Beautiful Skin event at Pharmaca
Tuesday, August 7, 3-7 pm, Cedar Mill Pharmaca, 240 NW Lost Springs Terrace, free
Discover your inner beauty by rejuvenating, nourishing, and revitalizing your skin with clean, pure products. Come learn about the various supplements to support and establish radiant beauty! 20% off sale for event day only on select beauty products. Time to unlock your glow!
If you have any questions, contact Patrick Healey at 503-596-3552
Patio Summer Concert Series at MOC
Every other Friday through August 31, 6-8 pm, Cedar Mill Market of Choice, 118th & Barnes
Market of Choice presents its 4th Annual Music on the Patio series. People can enjoy food and beverage tastings throughout the store from 5:30-7 pm, and then relax and listen to live, local music on the outside patio.
August 17: Whiskey Darlings; August 31: John Eric Kaiser
Sunset Credit Union holds School Supply Drive
Although classes won't begin for a couple of months, Sunset Credit Union is once again conducting a supply drive for local schools and would like your help. The credit union is collecting new school supplies (ie: paper, pens, pencils, folders etc.) and donating them to the Beaverton School District.
"Now that we serve all of Washington County, we've begun teaching financial literacy classes in a number of these local schools," said Sunset Credit Union's President/CEO Rhonda Baggarley, "We've seen each of these school's need for basic supplies and we'd like to help them out. The most requested items are pencils, pens, paper, folders and backpacks."
If you'd like to help, you can drop off donated school supplies throughout August at their office located at 1100 NW Murray Blvd., during their business hours, Monday through Friday from 9am to 5pm.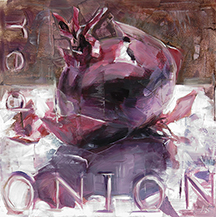 Annie Salness leads her painting class by starting at the Farmers Market
Sunset Credit Union serves anyone who lives, works or attends school in Washington County. Join the credit union by visiting https://sspfcu.com/join.html, and learn more about Sunset Credit Union by going to their website at http://sspfcu.com or call them at 503-643-1335.
Village Gallery of Arts
Sunday, August 12, 2-4pm, 12505 NW Cornell Rd, free
This month's show theme is Horsing Around, so come join the Village Gallery at their reception! Enjoy refreshments and meet the featured artist, Jung S. Pak, and the featured crafter, Sharon Dunham. Jung has studied and worked in a variety of different forms of art, and his beautiful paintings will be on display. Sharon will be showing her beautiful glass pieces, inspired by the simple boldness of geometric patterns, the contrast of black and white images, and the remarkable beauty of our colorful environment. Stop by to see their artworks from Monday, July 30th at 10am, until the end of August.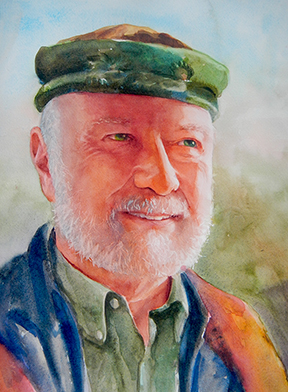 Summer and fall classes are open for sign ups! Whether for adults or kids, there is always a class that will expand an artist's skill and knowledge of technique and creativity. Mondays, Kristy Roberts holds classes for kids between seven and sixteen years old. She introduces various mediums of art to help find the style each child will most enjoy. For adults, classes are offered to spark inspiration, such as Annie Salness' Farmer's Market and Painting class; or beginners can learn their basics, especially in Leslie Boyce's Water Elements class. For the complete class line-up, go to their webpage; and register by visiting or calling the Gallery.
Mark your calendar, September 28, 29, and 30, for the Gently-used Art Supply Sale! If you're a beginner looking for a place to start your supply set, or simply want to add to what you already have, stop on by at the Gallery to take a look.
Village Gallery is a non-profit educational art gallery in operation since 1963, next to the Cedar Mill Library. Hours: Monday-Saturday 10-4; Sunday 12-4. For more information, visit www.villagegalleryarts.org or call 503-644-8001.
Nationally known researcher to speak on brain health
Tuesday, August 21. 11 am and 3 pm, Touchmark, 840 SW Touchmark Way, (adjacent to Southwest Barnes and Leahy), free and open to the public, RSVP required.
Can you train your brain to delay memory problems associated with aging? What can you do if someone in your family is already experiencing memory issues or living with dementia? Rob Winningham, Ph.D., a professor in the Psychological Sciences and Gerontology departments at Western Oregon University (WOU), will answer these questions during two presentations at Touchmark in the West Hills.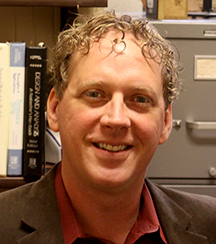 Rob Winningham, Ph.D.
Winningham's first presentation will be at 11 am. He will discuss mounting evidence that lifestyle factors, including staying mentally active, can delay memory problems. He will also highlight recent research related to the "use it or lose it" theory of memory and aging as well as share cognitive stimulation interventions that can be used to exercise targeted regions of the brain. Finally, he will present the latest research on the effects of physical exercise, nutrition, and social support on the likelihood of developing memory problems.
Winningham's second presentation will be at 3 pm. In addition to providing brain-health ideas similar to those in the first presentation, he will offer practical tips for families who have a loved one living with dementia. "The take-home message is optimistic and motivating," says Winningham. "There are many practical things all of us can do to maximize our memory abilities."
Winningham has over 20 years of experience researching human memory, mostly focusing on older adults and ways to enhance mental functioning and quality of life. At WOU, he has served as Dean of the College of Liberal Arts and Sciences and Chair of the Behavioral Sciences Divisions. He has trained thousands of professionals, published many peer-reviewed articles about human memory and given more than 1,000 presentations at conferences and workshops. His books include "Train Your Brain: How to Maximize Memory Ability in Older Adulthood" and "Cranium Crunches."
The presentations are open to the public, and there is no charge, but seating is limited. To RSVP, call 503-954-1640 by August 16.
Touchmark in the West Hills is located on a wooded hillside near Forest Heights. The new full-service retirement community offers unparalleled services, commanding views and a range of active-adult living and award-winning wellness offerings. More information is available at TouchmarkPortland.com.
Touchmark Market
Thursday, August 14, 10 am- noon. Touchmark in the West Hills, 840 SW Touchmark Way
Vendors include Oregon College of Art and Craft, Cornell Farm, Rose City Pepperheads, and others. Chihuahua Desert performs.
Free sample music classes
Saturday, August 18, Westside Music School, 1800 NW 167th Place, Suite #110,
Westside Music invites you and your child to sample one of our music classes at no charge and no obligation. Course offerings include Toddler Tunes (ages 11/2 - 3), Music in Me (ages 3-5), Harmony Road (ages 5-7), Young Musician (ages 6-8), Keyboard Prep (ages 9-12), as well as group piano classes for Teens and Adults. In addition, Westside Music School offers violin, guitar, ukelele, flute, clarinet, saxophone, trumpet, and voice lessons.
For more information, check the website WestsideMusicSchool.org or email info@WestsideMusicSchool.org Call 503-533-5100 to reserve a spot for you and your child in one of our free sessions.