Cedar Mill Business Association Member News
New store in Cedar Mill
Pars International Market, a middle eastern grocery and deli, will celebrate its Grand Opening September 15, from 6-8 pm in the new building at 12923 NW Cornell. Owner Azar Tavakoli is very excited to bring a wide variety of middle-eastern foods to the area. "This has been my dream for a long time," she says. The opening celebration will feature samples and entertainment. The shop will be open from 9 am to 8 pm Monday through Friday, 10-6 Saturday and 10-5 Sunday.
The shop will carry fresh breads, herbs and vegetables for a variety of middle-eastern cuisines, along with spices, canned and packaged foods, frozen meats, teas and coffees, and beer and wine. The deli will feature homemade hummous, tabouli, and salads along with several kinds of olives, yogurt, labneh, cheeses and baklava and other pastries.
Italian espresso from Caffee Umbria will be served and also will be for sale. Hookahs and tobacco supplies plus other regional gift items should make for a very full store!
Tavakoli, who used to own a salon in the area, says she has spent several years finding the right location and lining up suppliers. "Everything will be top quality," she says, "but also affordable." Come and check it out!
Bales Thriftway gets an outside facelift

Now that the interior of the store is all spiffed up, Bales Findley Property Management is doing some work on the exterior of the Bales shopping center. New paint and other exterior surfaces, a new sign, and new treatments on the pillars holding up the breezeway roofs will all add to an updated image for the 70s-era center.
The Harmony School goes Hollywood!
The Harmony School is so excited to announce its first ever full-length Motion Picture! The debut of Alice in Wonderland will be on September 26 at The Harmony School. The premier will be shown in digital HD on a huge 10'x20' screen. Actors will be available for autographs and photographs.
There will be two shows, a 3 pm matinee as well as a 5 pm evening presentation. The evening show will be followed by a cast party for crew, cast and audience alike. General Admission tickets are available at The Harmony School for $5.00 per seat.
The Harmony School is located at 12849 NW Cornell Rd. Call 503.626.0166 for more information. Directions to The Harmony School can be found on our web-site www.theharmonyschool.org
Capture your kids' stages with Sandy Sahagian
New!! Baby Steps program and Ages of Youth program, just $199 for a series of three portrait sessions, spaced at least 3 months apart depending on the age of the child. Parents get a beautiful leatherette folio with one 5x7 photo from each session. Plus if parents want other poses from any session they will enjoy a 20% discount on the already discounted children's price list. A grand savings!
All photographs done by a Master Photographer! Ask how it can include a FREE DVD of the sessions set to your favorite music! Can be used at any age under 16. Call soon for details—503-297-2343—because they are booking fast. Call before September 15th to start your sessions this fall. A great gift for (or from) grandparents, too!
Village Gallery News
"RED" is the theme of The Village Gallery group show for September. The show opens on Tuesday, September 8. Featured artist for the month is John Mohney. John began painting after retiring from 32 years as a civil engineer. One of his first watercolor classes was with Village Gallery instructor Chris Williams. John was hooked! John paints his landscapes using bold shapes and bright colors. "Bright colors inspire me and I think it brightens up rooms in our gray Northwest winters."
The new fall catalog of classes is out so drop in or visit the website to view our newest offerings. We have classes in drawing, oil painting, pastels, acrylic, mixed media and watercolor. Make your own jewelry or create a beautiful mosaic. Children's classes are on Mondays after school with gallery artist Terri Gonzalez. "Outside the Box Series" are one-day workshops taught by our gallery artists on weekends or evenings. Organize a group of your friends or co-workers for a fun time creating "some really cool stuff".
Gallery hours are Tuesday-Saturday from 10 am to 4:00 pm. Sundays we are open from noon to 4:00 pm. We are located next to the Cedar Mill Library at 12505 NW Cornell. Call us at 503 644-8001 or find us online at www.villagegalleryarts.org
It's a Wrap...a Vehicle Wrap!
It must be Christmas in August because here at Impact Sign we have been wrapping a ton of things lately. Did you know that lettering on your vehicle—or even a full vehicle wrap—provides more exposure to your business than any other form of advertising?
Check out some of our favorite vehicle wraps and vehicle lettering to see what IMPACT you could be making with your vehicle! Come visit us in our shop next to the Goodwill at Cornell and Bethany, call us at 503.439.8347, or visit our website at impactsign.com
Cedar Mill Chiropractic adds staff and direct insurance billing
Cedar Mill Chiropractic Clinic is now a preferred provider for two of the largest health insurance plans in Oregon. (Our contract will not allow us to use their names for advertising so I can't be more specific). We are now able to bill these insurance plans directly for chiropractic services, if they are covered as part of your plan. If you have chiropractic coverage, your cost in our office will now be your copay or coinsurance as defined by your plan, which could significantly reduce your out-of-pocket healthcare expenses.
We have a new staff member. Acupuncturist Alexis Goldstein, LAc, is joining our team on Wednesdays by appointment only. She specializes in musculoskeletal complaints and has had the opportunity to work with patients in such diverse places as the hematology/oncology ward of Rady's Children's Hospital, UCSD's Pacific Beach Free Clinic, Vietnam Veteran's Stand Down for homeless veterans, and UCSD's RIMAC athletic training facility. She also spent two years apprenticing with a well-known orthopedic acupuncturist learning sports medicine and injury rehabilitation protocols. For further information about Alexis, please contact Cedar Mill Chiropractic Clinic at 503-646-3393. To schedule an appointment with Alexis, please contact her directly at 503-520-8743.
Walk Now for Autism

Michelle Stafford, World of Smiles Pediatric Dentistry, reminds us to support the Walk Now for Autism fundraiser on Saturday September 26, 2009 in the South Park Blocks of Downtown Portland. World of Smiles, Pediatric Dentistry is proudly fundraising for this great event with our own team. Integrative Pediatrics is also supporting their patients by fundraising through their own team.. Learn more on the World of Smiles website: www.visitworldofsmiles.com—click on Events and go to September. Local families with Autistic children appreciate your support!
New Store Manager for Bales
Starting September 9, Bales Thriftway Cedar Mill will have a new Store Manager. Vince Lucibello was most recently the manager of the Zupan's Market on Belmont in southeast Portland. Current Manager Greg Garcia is moving to the Farmington store to replace the manager there who is retiring.
"I'll still be around here quite a lot," says Garcia, "to help him with the transition and to help out on special events." Garcia says this move has been planned for a long time, and is being implemented now because of the retirement. Stop in and welcome Vince to the neighborhood.
Mythscapes and Music: Ceramic Tile Works by George Johanson
Oregon College of Art and Craft (OCAC) is pleased to present "Mythscapes and Music: Ceramic Tile Works," an exhibition featuring new work by George Johanson. A distinguished painter, printmaker and teacher, Johanson has been a major force in the Portland art scene for nearly 60 years.
In addition to his paintings, Johanson has created numerous public tile murals in Oregon and Washington over the last twenty years. His newest tile wall pieces are now portable in nature. Influenced by his interest in printmaking, the pieces are similar to woodcuts in both method and appearance in their principally black and white compositions.
These new works reflect Johanson's ongoing love of jazz, abstract expressionism, cubism, surrealism and the streets of Portland. In "Music," he captures the expressive mood of the sound of musical rhythms and tempos. In "Mythscapes" the artist portrays a Portland cityscape combined with subjective, invented elements to reflect his sentiment about our environment.
The public is invited to the opening reception for the artist on Thursday, September 10 from 4-7 pm in the Hoffman Gallery, located on the OCAC campus at 8245 SW Barnes Road. The exhibition runs September 3-September 24, 2009. Hoffman Gallery Hours: 10 am-5 pm daily. Visit the OCAC website for more information: www.ocac.edu
New owners for Peninsula Insurance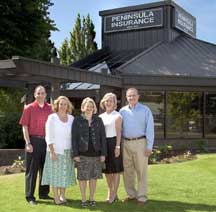 Peninsula Insurance, a fixture in Cedar Mill since 1992, welcomes Andy Rosson and Bob Rosson to its staff. On July 1st, Cherie Boyce, who with her mother Eula Wells had run the business for many years, retired and sold Peninsula Insurance to Timmco Insurance, Inc. Peninsula's Cedar Mill office is now Timmco's third location in the Portland area.
Andy and Bob, with 29 and 15 years of insurance agency experience respectively, enjoy the opportunity to live and work in Cedar Mill. Personal insurance staff Debbie Baxter, Kim Thomas, and Karin Watts join Andy and Bob in providing superior insurance products and service to its customers.
As an independent agent, Peninsula offers coverage from companies such as Safeco, Oregon Mutual, Travelers, Mutual of Enumclaw, Chubb and Progressive. Call (503.644.5333), click (www.peninsure.com) or visit (12700 NW Cornell Road) to welcome Andy and Bob to the neighborhood!
Lee Davies Real Estate opens city office
August 3rd marked the opening of our new Uptown office catering to Portland's urban market. Our new boutique branch at 25 NW 23rd Place in the Uptown Shopping Center is beautiful and contemporary with signs up, fresh flowers in place and excitement in the air. This location is perfect for us to build on the success we've already achieved in Portland Heights, Forest Heights, the Alphabet District and the Pearl and provides a perfect location for our broker experts in these areas to conveniently connect with their clientele.
Carlos Adamy and Vahan Dinahanian say, "We are very pleased and proud of the produce season so far this year, and we are getting ready for next season with customers already signing up to ensure their shares are reserved." Next season they will allow customers to sign up for a share by paying half now and half in March. A full share is $450, half now is $225, balance paid by March of 2010; a half share is $250, half now is $125, balance paid by March of 2010
The customer can pay up front for the entire share if they choose. They will also have a package that includes any Christmas tree and a 20" wreath as part of the farm share for an additional $60. This can be added onto either the half or the full share.
Vahan also wants to let you know about produce available at the Farm Market, open every day from 10 am-6 pm at 15005 NW Cornell. "It's salsa-making season and we have BK red tomatoes, which are very meaty with very few seeds and have a spicy rich flavor with a very thin skin. Deeeeeelicious."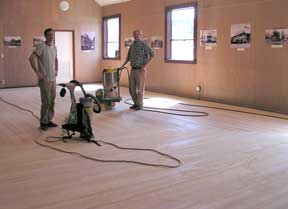 Leedy Grange floor refinished
Lynch Brothers Hardwood Floors recently took on the big task of refinishing the floor in the main hall of Leedy Grange. The old-growth fir floor hadn't been worked on in about 30 years, and stains and holes made it a tricky job. They're still putting on the finishing touches, but the Grange is looking forward to welcoming dancers and parties to our spiffed-up hall. Information about Leedy, including rental policies and rates, is on the website at leedygrange.org
St. Pius X kicks off Capital Campaign at Round-Up Parish Picnic
This year's annual St. Pius X Catholic Church Parish Picnic will be especially exciting with the launch of the Capital Campaign Phase One. The result of over three years of study and planning, a comprehensive Campus Master Plan details the expansion projects to be completed in a three-phase effort. The Phase One projects include improvements to the sound quality in the church, building a new Athletic & Multipurpose Center and adding three additional classrooms in the Education Center.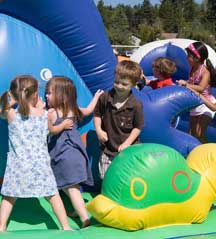 St. Pius X Parish continues to grow as the surrounding Cedar Mill community grows. This year the St. Pius X School has expanded enrollment for the kindergarten classes. Morning Star Preschool has opened its doors on campus, currently housed in the St. Pius X Community Center. The Youth and Young Adult programs, ESL Program and many other faith-based, community oriented and outreach programs continue to thrive and grow. The parish recognized that the current facilities are not adequate for this growing, vibrant community and developed the Campus Master Plan to meet the current and future needs of the parish. There will be a Capital Campaign Tent at the parish picnic with information on the Campus Master Plan and the Phase One projects.
The St. Pius X Round-Up Parish Picnic on September 13 begins with the celebration of the Mass at 11 am followed by a picnic (all food provided) and games from noon to 3 pm. There will be something for everyone, including mechanical bull riding, Hoppy Horse Bouncy House, Tug o' War, sack races and much more. Open to the community!
Pirate Day at Poppa's Haven

Ahoy, me hearties! The Pirates arrrrr coming to port at Poppa's Haven Coffee House! Swashbucklin' buccaneer lads and lassies are invited to join the crew at Poppa's Haven on Saturday, September 12th, from 1-3 pm. Alright, you landlubbers won't be keelhauled if you show up, too.
Dress like a pirate (only if you dare) and join the fun! Two female pirates, Cap'n Sprinkles and Sassmouth Doubloons, will bring some games, spin stories, and share some pirate history on the poopdeck, for kids elementary school age and younger. There'll surely be some scurvy grog for the kiddos and perhaps some booty and treasure as well.
Show up in pirate gear for a 10% discount on your favorite drink item. The afternoon will wrap up with a drawing. The winner will receive a free ticket to the Portland Pirate Festival for the weekend of September 19-20. Poppa's Haven is located at 800 NW Murray Blvd, near the intersection of Science Park Drive.
Diabetic Neuropathy treatment news
Kay Bridges, an Independent Nikken Wellness Consultant, shares the following news item aired in August. Kay says, "This news is representative of the cutting edge technology research and development of Nikken available to all of us. I'm proud to be associated with a company dedicated to bringing renewed hope and health to millions through their network in 40 countries." Kay may be contacted at 503-671-0218.
One of the most feared complications from diabetes is the amputation of toes and feet. Diabetics suffer from something called neuropathy, which leads to loss of feeling in the feet, which can result in these amputations. There is an exciting new way to treat this nerve problem, using magnets.
Dr. Michael Weintraub of New York Medical College has been experimenting with a device that utilizes spinning magnets to produce a pulsed electromagnetic field that stimulates the feet. The results were just published in a study of diabetics who suffered from painful neuropathy.
Biopsies of the skin of the feet showed that the group treated with magnetism actually regrew some of the nerves fibers they had lost due to neuropathy. "It opens up a whole new idea that we might be able to help regeneration of damaged nerves in the spinal cord. And there's a lot of possibilities here," said Dr. Weintraub.
Read the full story online at wcbstv.com/health/healthwatch.neuropathy.magnets.2.1132259.html