CMBA Meeting Notes
The Cedar Mill Business Association skipped its August meeting to attend the Cedar Mill Park Concert. Ten member companies had displays in the CMBA booth, and also helped out around the park in various ways, including Sandy Sahagian Portraiture; Lauren McCabe, Cedar Mill Chiropractic (CMBA President); Jeanne Liberty, Giftique Affordable Gift Baskets; Rebecca Guyot, The Harmony School; Geoff Creighton, Edward Jones; Jim Craig, Westside Martial Arts; Michelle Stafford, World of Smiles Pediatric Dentistry; Julia Eiden, Huntington School; Jolene Stegmann-Walters, Aloha Costco; Kay Bridges, Nikken.
The popular Passport Contest brought people into all the "Community Partner" booths to get their passports stamped. Giftique created two elegant Gourmet Food & Wine Baskets for adults, and a Pirate Treasure Chest full of goodies for kids.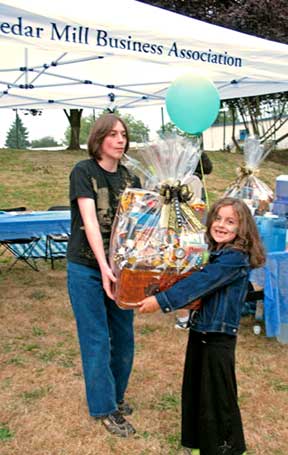 CMBA members contributed cash toward the baskets and also put valuable gift items into the baskets (see below).
At our September 8 meeting, we'll be hearing from Karen Lewis, an Independent Associate of Prepaid Legal Services, on "Protecting Personal Information – A Guide for Businesses."
And as a special treat, instead of our usual pizza for lunch, we'll have barbecue sandwiches from "Burnt Ends" BBQ team. They just took home a rack of awards from the Barbecue Contest at the Oregon State Fair, winning a ribbon in every event they entered, and in the overall contest they were Second Reserve Champion (Third Place) finishing only two points behind the Grand Champion winner.
Where else can you get a winning barbecue sandwich and some valuable business education for free? Be sure to attend the September 8 meeting—details on home page.
Cash donations
Cedar Mill Chiropractic Clinic
Costco – Aloha
Electronics Unlimited
Giftique Gift Baskets
Harmony School
Kopp Construction
Mountain Man Nut & Fruit Company
Sandy Sahagian Portraiture
Sunset Animal Clinic
The UPS Store
Westside Music School
Gifts
Cedar Mill Chiropractic Clinic
Giftique Gift Baskets
Kopp Construction
Mountain Man Fruit & Nut Co.
Sandy Sahagian Portraiture
Electronics Unlimited
The UPS Store
The Harmony School
Sunset Animal Clinic
Westside Music School