Featured Business
Poppa's Haven Coffee House

Jerry Bennett, the "Poppa" of Poppa's Haven Coffee House, is a very friendly guy who loves to see people relax and have a little fun in their lives. Jane Bennett "is addicted to coffee" (but is fond of telling people that coffee isn't a drug, it's a vitamin!). So it isn't surprising that they've had a shared dream for years to have their own coffee place.
They opened Poppa's Haven on Murray Boulevard in early 2009 after searching for a location in the Cedar Mill area for a couple of years. Building owners Dan and Mai Tran had been running a coffee shop in the location for about a year, but were considering selling the business. A friend of Jerry's heard a chance comment about that and passed it along, and they jumped at the opportunity.
They had been researching the coffee business for years prior to that. Attending the CoffeeFest tradeshows in Seattle, talking to coffee roasters and tea providers, creating a business plan and filling in all the numbers gave them confidence that although they'd never done this before, they could make a go of it.
Jerry says, "Owning my own business is in my DNA. I've been an independent contractor and had several businesses in my life." Prior to opening Poppa's Haven, and up until last month, they had been property managers for Princeton Property Management. They just left that position to devote all their time and effort to the coffee shop so things must be on track!
Before they opened, they worked on the space for several months to create the warm and inviting atmosphere. With the help of family and friends, Jerry installed the bamboo-covered drop ceiling, which not only looks cool but also helps absorb the noise of the espresso equipment, making the shop a better place for conversation. The classy wood cabinetry was installed by the previous owners, but the Bennett's added a warm-tone paint treatment and many little touches of their own.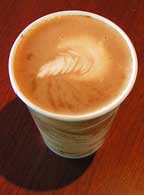 After tasting numerous coffee samples from local and long distance suppliers, they decided the best was roasted right here in Oregon at Sleepy Monk Coffee Roasters (sleepymonkcoffee.com), located in Cannon Beach. The espresso as well as the house coffee is certified organic and fair trade. "They're so quality-conscious, we had to interview with them before they'd agree to sell us their coffee," Jerry told us. "I went through extensive training with them to learn all about making a great espresso. Then I trained my son Matt, who basically ran the business for the first few months."
In fact, the focus on quality coffee gave them one of their first surprises. "One thing we didn't figure into our business plan was the waste involved. Temperature, humidity, barometric pressure, even turning the air conditioner on or off affects how the espresso comes out. So you set the grind in the morning, but then later in the day you get a bad cup that you have to throw out. Then you readjust. We're not doing that as much now, but it's unavoidable to some extent," says Jerry. There's no meter to test the quality of a cup and they were trained to use their senses of hearing, sight, smell, and taste rather than use thermometers, etc., to create the best espresso they possibly can.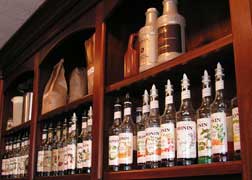 For some people, it's that perfect espresso that keeps them coming back. Others just enjoy the friendly atmosphere, the delicious fresh bagels from Kettleman (kettlemanbagels.com) or the yummy pastries from Sweet Pea Baking Co (sweetpeabaking.com—shhh, don't tell anyone but they're vegan, too!) or the lovely assortment of flavor syrups from Monin (us.monin.com). They also sell organic and fair trade teas provided by Foxfire Teas in Southeast Portland (foxfireteas.com). Notice a theme here? High quality, organic, local whenever possible…it was all in the business plan and it's paying off in dedicated customers.
Another hard-to-find and locally-produced product they carry is Living Harvest hemp milk (livingharvest.com). As a non-dairy alternative, it has a much richer flavor than either rice or soy milk and it is more compatible with coffee drinks and also better for you. "We have a customer whose baby is allergic to milk products. He wouldn't drink soy or rice milk, and he had eczema from dairy products. He tried a little hemp milk and loved it, and his eczema cleared up in a couple of weeks," recalls Jerry. (And did you know that SB 676, just recently signed by the governor, finally allows Oregon farmers to join 27 other states in allowing farmers to grow industrial hemp?)
Jane was very pleased to find the Kettleman Bagels. She says they're the best bagels she's had since she moved back to Portland after living in Boston during the 70's. It's another local company that uses sustainably-grown, organic-when-possible ingredients and traditional methods to produce New York-style bagels in many popular flavors.
Once Jerry and Jane increase their work space by removing the central pillar in the shop, they're planning to add authentic crepes to the menu in the future. "We plan to offer both savory and sweet crepes for breakfast and lunch," says Jane.
"The shop is meeting all our expectations," says Jerry. He's particularly pleased with the way people connect when they're here. "I have 36 first cousins. Many of their kids didn't know they were related, and they're getting in touch here." And often Jerry will sit down and chat with a customer, and then turn to talk to another person, and by the time he gets up to go back to work, the two strangers have begun a conversation. And he loves it when people run into long-lost friends.
The road work along Murray has impacted their business in two different ways, says Jerry. "There have been some days when our sales plummeted because people had a hard time getting in here. But we have also heard from people who were stopped in traffic, looked over and saw our shop, and discovered us that way!" They're delighted to see the end of the roadwork, and they plan to use their new sidewalk for outdoor seating. They knew about the construction before they started the business, but they figured that by the time the world could get to their door, they'd be seasoned baristas with a great reputation. And we agree!
They're planning to have a "Post-construction Bash" in early October to mark the end of the mess, with live music and other special treats. And on Saturday,September 12, they're celebrating Jerry's ancestor, Black Sam Bellamy, an eighteenth century pirate! (see item in Member News section, page 2).
Pick up a "frequent flyer" card and get every tenth cup free. They don't have room for a drive-through, but they're considering "car hop" service that would let you phone in your order and have it delivered to the parking lot.
Poppa's Haven is located at 800a NW Murray Blvd, across from Key Bank. Their phone number is 503-626-0700. They're open from 6:30 am - 6 pm Monday through Saturday. Stop in and say hi and enjoy what they have to offer!