Community Announcements
Our "Green" Washington County
Learn more about sustainability and how you and your community can move toward it! Partners for a Sustainable Washington County Community, a coalition of 11 governments, will host lectures with sustainability experts and conduct PSWCC site tours.
Sessions will be held from 6-8 pm, Wednesdays, October 6-December 1 at the Willow Creek Center. To register, go to the PCC website and follow links to Class Schedule / Fall 2010: Non-Credit / Green Living Class number 7872. Notes: No class 11/24. For tour site locations and more information, contact instructor Douglas Tsoi by email: douglas@tvwd.org. Tuition: $35
Cedar Mill Garden Club
All interested gardeners are welcome to attend the Fall Kickoff Tea of the Cedar Mill Garden Club, a social event designed to provide a time for sharing our summer travel, gardening and nature experiences and to introduce new members to the group. The tea will be held at the usual location, the Beaverton Community Center on 5th and Hall (12350 SW 5th across from the Beaverton City Library) and will begin at 12:30 p.m. on Wednesday, September 15th. For more information about the Cedar Mill Garden Club and its activities contact Barb Cushman, president at 503-649-7741 or see our website www.thecedarmillgardenclub.org.
In addition to a yearly scholarship, donations to local botanical gardens and the John Quincy Adams Young House Foundation (for landscaping), a wildflower garden at the Young House on Cornell Rd was begun this year.
The Cedar Mill Garden Club holds a Christmas party and summer picnic as well providing excellent speakers, organizing field trips and providing a yearly hands on floral project. The 8th Annual Spring Plant Sale will again be held in early May and members work on it in both the spring and fall, dividing and potting perennials from member gardens.
"The First Oregonians" study group forming
Local amateur historian John Andersen is gathering people who are interested in participating in a semi-monthly reading and discussion group focusing on Oregon's first people. "Essentially, what I envision is a systematic study of the indigenous people of the place we call Oregon today," he says. The group will probably meet every other month on Sunday afternoons at a convenient central location. If you're interested, contact John Andersen by email at editor@unconventionalideas.com.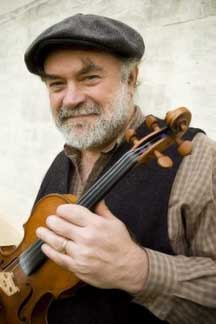 Kevin Carr will bring songs, stories and music
Spaghetti & Songs
A concert and spaghetti dinner will be held at Leedy Grange Hall on September 26 featuring legendary traditional musician and storyteller, Kevin Carr. His repertoire includes tunes played on a fiddle, bagpipes, storytelling, and "a song or two." In addition to his solo act, he often plays with the bands, "Hillbillies from Mars" and "Wake the Dead."
But wait, there's more! Enjoy a spaghetti dinner with all the trimmings featuring a sauce made with Greg Malinowski's local grass-fed organic beef! (Vegan option available.)
The dinner and concert is a benefit for Greg Malinowski's campaign for the non-partisan but vitally important position of Washington County Commissioner. Dinner will be served from 6-7 pm, and the concert will be from 7:30-9. Tickets are $15 per person, kids are free. Find out more and purchase tickets online at friendsformalinowski.com. Donations in excess of the ticket price are eligible for the Oregon tax credit.
Discover Voluntary Simplicity
Leedy Grange is presenting another discussion course developed by the Northwest Earth Institute, beginning on Thursday, September 16 and continuing through October 14, from 7-9 pm at the Grange Hall. Becky Lovejoy will lead the five-week course where participants will gain an understanding of the meaning of voluntary simplicity; explore the material and psychological distractions that prevent us from caring for the Earth; and consider how life might be enriched through the practice of simplicity.
The course is free thanks to the sponsorship of the Partners for a Sustainable Washington County Community. The workbooks, which contain provocative readings on the subject along with questions for the group to discuss, will be available at the Cedar Mill Library prior to the beginning of the first session.
NWEI programs encourage participants to explore values, attitudes, and actions through discussion with other people. The course is limited to ten people. Couples and families are encouraged to participate. To register or for more information, contact Becky Lovejoy at la-beck@juno.com.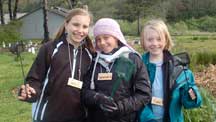 Last year's Bonny Slope fifth grade students enjoying outdoor school
Bobcat pancakes
Bonny Slope Elementary School fifth grade students will be serving up a pancake breakfast for the community on Saturday, September 11th from 8-10 am at the school, 11775 Northwest McDaniel Road. The fifth grade students will also be giving tours of the building since many in the community have not had a chance to see Cedar Mill's beautiful new school!
The breakfast is a fundraiser to raise money for the class to spend three days at Outdoor School (an Oregon tradition) and for their activities during the year. Bonny Slope 5th Grade Activities Coordinator Kristina Seale says, "Not only does it support great activities for them, but it is always fun to see the kids work hard and involve the community to earn the opportunity." For more information, contact her at kristina@wallnutz.com, or 503-867-6375.
Milltown Soccer participates in Mia Hamm fundraiser
Oregon's young soccer players have a new friend, soccer legend Mia Hamm, the only five-time recipient of the U.S. Soccer Female Athlete of the Year award. Ms. Hamm, along with Oregon Youth Soccer Association, has launched an innovative and fun fundraiser to benefit Oregon Youth Soccer Association and the Mia Hamm Foundation. Players who raise $250 will meet and have lunch, along with a guest, with the soccer legend herself at the Oregon's fundraiser's celebration, the Soccer Showcase with Mia Hamm. Hamm says, "I'm thrilled to team up with Oregon Youth Soccer Association to raise both money and awareness for their charities and my foundation. I can't wait to meet the young soccer players of Oregon on September 19th!"
Founded in 1974, the Oregon Youth Soccer Association is a non-profit youth organization that administers, supports, and grows soccer across Oregon. Their mission is "To Foster an environment that promotes the physical, mental and emotional development of Oregon's youth through the sport of soccer." For more information about the group and the fundraiser, visit www.oregonyouthsoccer.org/
Milltown teams will be participating in the fundraiser as they continue to sign up players and get ready for the fall season. For more information on Milltown, visit milltownsoccer.org or call 503-278-7227.
Meet Metro President candidate Stacey
On Saturday, September 11, 5-7 pm, Mike and Judy Edwards are hosting an informal gathering at their home to give Washington County residents an opportunity to meet and get acquainted with Bob Stacey, who is running for the non-partisan position of Metro Council President. His past experience includes running nonprofits, training as a Loeb Fellow at Harvard's Graduate School of Design and a commitment to environmental, transportation and livability issues in our region.
There is no charge to attend because they want residents to meet him, but you may want to consider making a contribution to his campaign. (The 2010 Oregon tax credit allows a $50 single or $100 joint tax credit for political donations.) For more information or to RSVP, contact Judy at 503.614.0214 or judy@mbabar.org