Featured Business


Gelato & Yogurt Lounge


When Patricia Barnett was a little girl in Scottsdale, Arizona, she and her dad loved to go to the local Gelato Classico ice cream shop to get some of their wonderful creamy dessert. It's a memory she treasures now that her dad is gone, and it gave her an idea for a new business to start in Cedar Mill.

She says, "When I moved to Portland a few years ago I was unsatisfied with the ice cream selection. So...I started my own. Isn't that what everyone does?" Her enthusiasm for the product is matched with her desire to create a wholesome place for people to hang out and meet friends and talk.

While considering the idea, she ran across a self-serve frozen yogurt bar, and, "My wheels started turning. Wouldn't it be great to have a place that had the choice of create-your-own yogurt and handmade gelato all in a place that was like a cool coffee bar-lounge feel.....A place for the adult kid to have ice cream."

It's not like she's been sitting around in the four and a half years since she moved to the area. She opened the Red Lotus Skincare Salon (on Cornell across from Sunset High) after practicing in Scottsdale. "I got the entrepreneurial spirit from my Dad, I guess," she says. "I really enjoy the challenge of having my own business." She still spends most of her work time at Red Lotus, depending on her partner Bryan Kelley for the day-to-day operation of the shop, along with their two main employees, Bryanna and Mallory. She has learned that it's important to be able to work "on the business"—planning, coming up with new ideas, and doing promotion, rather than spending all your time "in the business."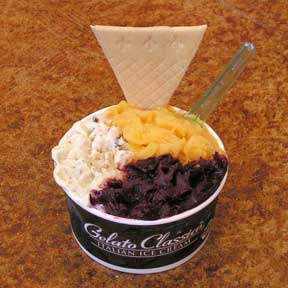 There was never any question of what kind of ice cream to sell. Gelato Classico was started by an Italian family in San Francisco. From its beginnings as a small shop, it quickly grew to a franchise. It was acquired by Baskin Robbins, but then became independent again. Now the company sells its products in retail outlets and to cafés and "scoop shops" around the country.
The Lounge offers eighteen flavors at any one time, with some favorites always on hand, like the amazingly deep flavor of Blackberry Cabernet, the fresh-fruit-meets-creamy of Mango, and the ever-popular Caffé Moca, a blend of chocolate and coffee. Gelato Classico makes over 20 flavors and is always experimenting with new ones, so you'll be sure to find something that you will crave.
It took a little more research before Patricia realized that YoCream was head and shoulders above the other frozen yogurt that is available. "It's made from real ingredients, not a bunch of powders and chemicals," she says. "And the probiotics, the live and active cultures that make yogurt so healthy, are maintained, because the product comes to us fresh-frozen and not as a mix. We just thaw it and pour it into the machines." She attended "yogurt university" at the YoCream headquarters in Portland to learn exactly how to work with the product.
Because it's self-serve, you can mix and match among the flavors they offer. You decide how much you want. Then you go to the toppings bar and choose from an array of nuts, candies and other goodies. When you have created your perfect dessert, the friendly counter folks weigh it for you and that determines the price.
They have just added a full-service coffee and espresso bar featuring local (Hillsboro) Longbottom Coffee & Tea products. One of Patricia's favorite ways to serve it is the "affogato," a scoop of gelato topped with a shot of espresso. They'll be adding pastries soon, too.
Why a "lounge?" Patricia says she wanted to create a place for people to get together and socialize that would be an alternative to places that serve alcohol. She has had personal experience with the pain that alcoholism brings to families and friends. So they stay open later in the evening than most ice-cream shops, to 9 on weekdays, and 10 pm on the weekends. She wants the shop to become a favorite dessert place for families, and a place for friends to get together and hang out and talk.

The spacious interior has several "living room" seating areas in addition to the tall lounge-style tables and stools. There's plenty of room for the kids to play on the floor without getting into anyone's way. A selection of current magazines is available for someone who just wants to read and enjoy a treat by themselves, too.
Original art on the walls is another "lounge" touch. "I wanted to add art and music to the concept because in our area we need a place to go and talk. Music and art are wonderful subjects to let our minds escape to," she says.
For their grand opening last month, they brought in musicians. They plan to continue that with live music on some weekends. They also have a big screen tv, and will occasionally offer sports and other events for their customers. They have a Facebook page where they announce special events as well as stay in touch with customers and friends.
Barnett lives in Bethany, and she loves having both of her businesses and her home so close. To support the community, she's offering to host fundraisers for school and other groups. "We'll set up a day for your group. You get everyone in here, and we'll give 10% of all the business for your event to your organization," she says. They're starting with an event for Terra Linda Elementary to raise money to replace the play structure.
One of the things she likes the best about the Lounge is the chance to meet a wide selection of people. "I love my skincare business, but you have a pretty limited clientele there. Everybody loves ice cream, so it's like a party all the time, and I love throwing parties."
Stop in at the Gelato & Yogurt Lounge, in the Safeway shopping center at 13611 NW Cornell Rd. They're open Sunday-Wednesday, noon-9 pm and Thursday-Saturday, noon-10 pm. Call them at 503-469-4500 and visit their website at gelatoandyogurtlounge.com.