Walker Garbage Service
Like many other businesses in our area, Walker Garbage Service has grown and expanded with the growth in population. In the early days of Cedar Mill, people took care of their own garbage. In a lot of cases, this meant dumping it over the nearest ridge. Of course, back then there was less packaging, and folks re-used and recycled from necessity. It was common to burn your trash in big barrels all winter, and then dump all the ashes in a big pile in the spring. That's when you'd call the hauler. "Shoveling those piles of wet ashes was really hard work," recalls John Walker III (known as Buz), who started working in his father's business in the mid-50's after getting out of the army.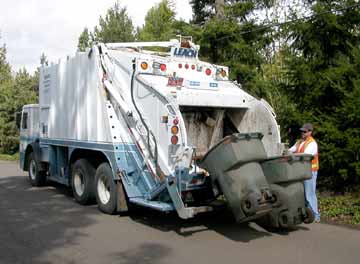 In 1948 John Walker, Jr., who was already running a service in Portland, and his partner Al Miller bought the original garbage hauling business, which had been started in 1941. Using an open-bed truck, they serviced approximately two dozen customers in Cedar Mill, for one dollar per month per can. By 1978, Miller had retired and the business was taken over by Buz and his son John Jeffrey Walker. Another son, Greg, is also now active in running the business. Their office on Cornell is located in the building that used to house the Wolf Creek Water District.
In the late 70's, area cities and counties agreed on a system of territories which means that each hauler has an exclusive service area. They are subject to review by the cities and counties in which they operate. "It ensures that customers get fair prices and consistent service. They review all of us every year," says Walker.
Most folks might not think garbage hauling would be a goodcareer, but for some people it'sgreat."They like it that they can get their work done early in the day, and they like working outside," says Greg Walker. "But it's important that they be the kind of person who can get up early and go to work no matter what the weather. It's not bad in the summer, but when it's cold and raining or snowing, you have to be able to just get out there over and over and do it."
"Back in the early 60's we had a lot more snow. One time there were drifts higher than our trucks up by the big bend on Saltzman (near what's now Bauer Oaks). Over here off Cornell the grader that was clearing the road hadn't lowered his scraper enough, and it just left a big hole full of snow in the road. A VW beetle came along behind and got stuck -- it was completely buried! There were some people up in the Dogwood area that got stuck for 2 1/2 weeks during that storm," Buz remembers.
They're out early to collect garbage from customers on Cornell and Saltzman, Greg mentions. "People wouldn't appreciate having to follow our trucks on these two-lane roads during rush hour," he says. "So we get done there before folks are out."
Recycling
Recycling seems like such a normal part of life, and garbage collection, that it's surprising to note that the first recycling service of any kind in the area was when Carl Miller began picking up newspaper in the early '80s. "There was some thievery going on back then, because there was a market for newspaper. People would leave it out on their curb, but someone else would collect it," recalls Buz.
The Walkers had the first truck in Washington County that was purpose-built for recycling (see photo). "We just wanted to get it as efficiently as possible," says Buz. He notes that it's much easier since commingling began,. "The product is less salable, but more people participate, so it is better in the long run." Far West Fiber has a huge facility where the commingled recyclables are sorted -- mostly by machine but some of it by hand.
Other Services
For drop boxes, Walker refers customers to Washington County Drop Box Service, a cooperative company that was co-founded by Walker and several other haulers. Contractors used to landfill construction waste, but now companies pick up and recycle most of it.
For customers who suddenly find themselves with a lot of cardboard on hand, perhaps after a move, just call and they'll send out a special truck on Mondays or Thursdays at no additional charge. And they'll work with your business to set up or improve your recycling system. Just call Greg at 503-626-3677.