Sunset High School Band to Host 2006 Regional Championship
By Julie Lueker
On Saturday, November 4, Sunset High School will be hosting the 2006 Northwest Marching Band Circuit Championship at Hillsboro Stadium. This event usually takes place at major universities but the Sunset High School band program is honored to be chosen to host the Championship competition this year. There will be 28 bands competing and performances will take place all day.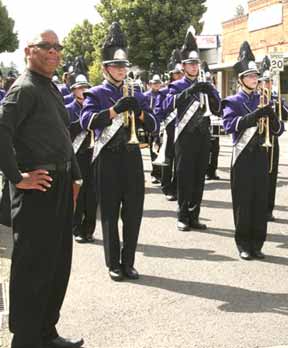 Sunset High's band director Greg Hall is a terrific band instructor and a very positive influence on the student band members.
Since the Rose Festival no longer has The Festival of the Bands, this will be a terrific opportunity to get your marching band fix. You will hear great music plus see the colorguard team perform with their colorful flags, rifles and sabres. Members of the community are most welcome to attend. Our website, www.sambanotes.org, has complete details on ticket prices and directions to the stadium. We invite you to attend and learn what makes our band program great!
We also have the opportunity for local businesses to sponsor a trophy or plaque. Sponsors will get advertising and a ticket to the event. There will also be opportunities for volunteering. There are over 200 volunteer openings, ranging from concession, ticket, and souvenir sales to assisting as hosts for the bands. Ages 14 and up are welcome to volunteer and also will be given free admission to the event. Please see the website listed above for sponsorship and volunteering opportunities.
This event is a major fundraiser for the Sunset High School band. The band and colorguard performs at athletic events; the band performs at home football games and plays "Electric band" at basketball games. The band is the music behind the high school musicals. "Fiddler on the Roof" was performed in 2005 and those in the pit practiced for weeks before the play and every night of the performance. The band also plays for graduation; think "Pomp and Circumstance" performed 253 times in a row! The Jazz Band performed at the Sunset Auction last year. Every year, the entire band and colorguard has the wonderful opportunity to travel to Seattle for a competition while the Jazz band travels to Reno to perform in the Reno Jazz Festival. Every four years there is a major trip; in 2004 it was Florida. Students must cover all travel costs for these competitions.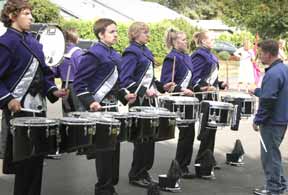 Band is a commitment and this commitment is expensive. This event at Hillsboro Stadium will be the major fundraiser for the year. We hope you're able to join us November 4 for this program of music and pageantry. Thank you for supporting the arts.