Pedestrian bridge flies in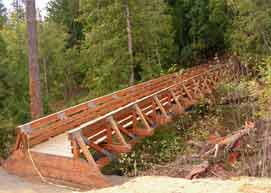 A 100-foot-long wooden bridge was hoisted into place last month by a Chinook helicopter to span a tributary of Johnson Creek as part of the new $1.6 million, 1.5 mile trail and greenspace system created by a partnership with the Tualatin Hills Park & Recreation district, property owners, a contractor and design team. The system includes an 8 ft asphalt trail, a 6 foot soft trail, and a series of boardwalks, retaining walls and the pedestrian bridge. The trail corridor became controversial last winter when Washington Street neighbors found out they had been encroaching on THPRD property (see December 2005 and January 2006 Cedar Mill News).
The trail system is being paid for by Trammell Crow Residential, developers of the Deveraux Glen Apartments; J. Peterkort and Co, which owns the 35-acre open space area in the newly developed area,; and Renaissance Homes, whose 223-unit single-family housing development sits between Valeria View and Cedar Hills Blvd.
The trail will run between Cedar Hills Boulevard and Washington Street and will hopefully connect up with further trail developments in the area. The bridge was build by Western Wood Structures of Tualatin, and will accommodate pedestrians as well as maintenance vehicles.