Urban needs, rural government

Governing the urban unincorporated areas of Washington County
Part one: how did we get here?
The question of how our area should best be governed has increasingly been on the minds of both citizens and government leaders—annexation? incorporation? stay the same? With population pressures and urban growth boundary expansions bringing large numbers of people into unincorporated areas of Washington County, and more on the way, it's time to look at this question from several aspects.
In this article, we will explore the history of growth in our area, and how "urban" services have been provided to date. We will continue the series by asking whether the current situation should continue, and if not, why not? Finally we will explore some of the various alternatives that may be proposed.
Most people realize that although Cedar Mill is an urban community we are not part of a city despite our Portland address. How did it happen that so much of Washington County, Cedar Mill included, became so highly urbanized without having been incorporated into cities?
Our area has been developing ever since the first Donation Land Claims were assigned in the mid-1800's when all of the area was forest, prairie or wetland. 320-acre tracts of originally wooded slopes were logged, then farmed. As families grew or moved on, the parcels were divided and sold. This process of "taming" the land and dividing it into smaller parcels continues today.
Population growth was slow but steady in Washington County until World War II. After the war, two patterns emerged in the U.S.: another major westward migration of the population, and the creation of suburbs, according to Brent Curtis, Manager of the County's Department of Land Use and Transportation.
At that time, the main cities in the county, Hillsboro, Beaverton and Tigard, were widely separated by large expanses of farmland, and served the mainly rural populations. None of these cities was anxious to expand.
"In the 1950s and 60s," Curtis says, "aggressive developers took the lead," in providing housing for the migrating population, turning big chunks of farmland into suburbs. Large subdivisions appeared—Cedar Hills, Terra Linda, Oak Hills–in the northeast part of the county, partly because of their proximity to Portland where most of the employment was then located. These suburbs often included schools, churches and parks in their design, and some had nearby shopping centers.
Developers created individual systems to provide each subdivision with water, some of which came from wells. Sewage disposal was handled by septic systems. While some of these small water systems were combining for greater economy of scale, an environmental crisis was brewing as groundwater became polluted by septic systems. In the 1970s the Tualatin Valley Water District was formed by the consolidation of these small water systems and the Unified Sewerage Agency (now Clean Water Services) was created and put standards in place to control pollution.
The Beaverton School District similarly absorbed smaller school districts to create the more efficient school system that currently provides education to a large portion of east County students. Tualatin Hills Park & Recreation District was created to serve the area, and the Cedar Mill Community Library was formed by volunteers in the '70s. Cities traditionally provide these services, but in the absence of a city, single-purpose service districts were formed to provide them.
The existing system of country roads was used to connect these developments. When they became inadequate to handle heavier traffic, county taxpayers paid for improvements or suffered the consequences of earlier decisions. Voters were repeatedly asked to approve special levies to pay for necessary services and infrastructure. Without a stable tax base, it was difficult for the county to properly plan,. Also, it established that improvements follow development (a pattern that is typical across the country) in which existing residents pay for improvements required by newcomers.
Without a master plan, winding country roads became suburban connectors. The lack of foresight is evidenced by the abrupt termination of NW Murray Boulevard in the Terra Linda development. When Terra Linda was built, no thought was given to the need to provide connection to future developments to the north. Such conditions continue to plague us today but few have a practical or affordable solution.
Meanwhile, the Metropolitan Service District (later renamed Metro) had emerged as a regional agency responsible for planning the growth and development of the greater metropolitan area. This included responsibility for managing the Portland metropolitan area's urban growth boundaries (UGB). The UGBs resulted from Oregon's Land Use laws passed in 1973. By the early '90s, Metro was responsible for telling counties where and by how much they should absorb growth in the region.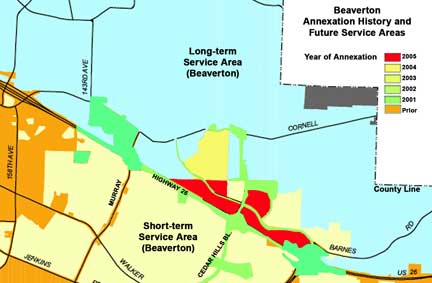 While Washington County has benefited from the contributions of several high-quality administrators, one who stands out is Charlie Cameron, who became County Administrator in the early 1980s. Realizing that growth would continue and planning was necessary, Cameron worked to create a concise business plan for the county. In 1986 the Washington County Board of Commissioners adopted the resulting strategic plan, County 2000. Among other things, the plan determined that cities are the most appropriate providers of urban services to urban unincorporated areas of the county over the long term.
To provide critical urban services to these areas in the interim—until annexation or incorporation could take place—the board established two special service districts, the Enhanced Sheriff's Patrol District and the Urban Road Maintenance District. Residents in these districts pay additional taxes over the county's base levels.
During this period, cities became more interested in expanding to take in these urbanized areas. We have a Portland address because Portland planned on annexing us. During a vote that took place in the '80s, citizens were asked whether they wanted to be annexed by Portland or Beaverton, and we chose Beaverton. But it was not clear where Portland would end and Beaverton would begin. Controversy reigned.
In response to this wrangling, in 1993 the Oregon Legislature passed Senate Bill 122 (SB 122) which was codified into law as ORS 195: Local Government Planning Coordination. This law requires local governments to work together in establishing long-term boundaries and urban services providers. During the next few years, the affected service districts, Metro, the County, and the cities worked to establish boundaries for short- and long-term expansion.
The Hillsboro/Beaverton Area Urban Services Study began in 1996. By 2003 the western border of Beaverton was set as the boundary between the Hillsboro and Beaverton School Districts with the adoption of the Hillsboro Urban Service Agreement. Finally in 2004, Beaverton identified it's ultimate service area (see map) although it has not yet approved an Urban Service Agreement with the County. The ultimate service area included most of the unincorporated areas south of Highway 26 plus some commercial and industrial land for short-term annexation (within ten years), with the residential areas of Cedar Mill and Bethany as long-term target areas (20 or more years).
In the next article in this series, we'll take a look at the subject of annexation and we will examine what cities provide that we don't get from the county or from our special service districts. To continue this discussion online, go to the Forums section on the CPO 1 website cpo1friends.org.