The Beamish Family, Community Contributors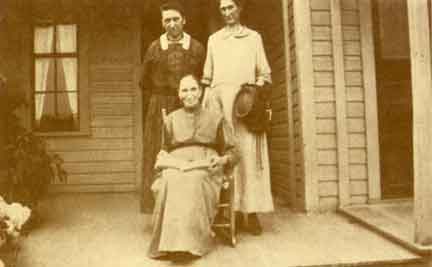 Sarah Beamish, seated; Mary, left; Jane, right around 1925
When Linda Dodds and I researched and wrote Cedar Mill History in the late 1970's we were amazed and impressed by the strong sense of community that still existed. It is still here, evidenced by the recent struggle to keep Wal-Mart out of Cedar Mill, and to restore the JQA Young house and post-office.
In our research, many long-time residents of Cedar Mill recalled the Beamish family, whose 48 acre farm on NW Barnes Road is currently occupied by a large apartment complex. Richard Beamish, a Canadian, purchased the tract for his mother, brother and sisters in 1909 when they moved here from Hillsboro. The family included the elderly widow Sarah Beamish, her 2 bachelor sons and her 3 spinster daughters.
All contributed to and made an impact on the community. Richard supervised the impressive registered Jerseys at the dairy farm, aided by his younger brother, John. John eventually contracted a crippling disease that left him permanently stooped at a 90 degree angle. Despite his handicap he performed farm duties, and was well known for his diligent work and uncomplaining nature. Local kids loved him.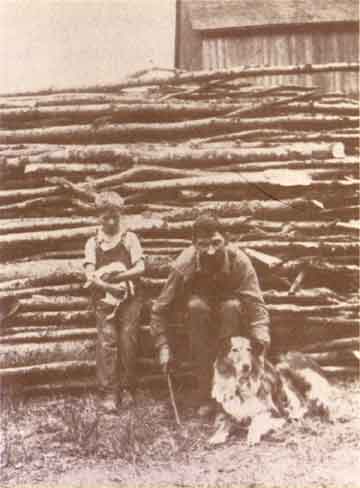 John Beamish and an unidentified young friend, around 1916
The Beamish women were remembered for their fine handwork and faultless housekeeping. Mother Sarah was an accomplished quilt maker and with her daughters did crocheting, tatting, and knitting. Mary managed household duties, and taught Sunday School at Wesley Chapel. Elisa helped with family chores. Jane taught at several schools in Washington County including Hillsboro, Swedeville and Cedar Mill.
Sarah died in 1928, and her children continued to live here for two more decades. Elisa was the first to move from the area when she found work as a domestic in Seattle. The others relocated to Tigard around 1950. John was the last to die there in 1968.