Sunset Animal Clinic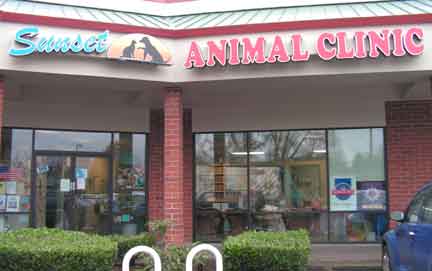 The Sunset Animal Clinic has been providing care to pets since 1972. In 1976, the Animal Cancer Clinic was added to provide care to animals who have contracted cancer. Originally located at Cornell and Murray, the clinic moved into the Oak Hills Village Center, on Cornell Road just northeast of the Sunset Highway, in 1990.
Owner Dr. Fred Labavitch decided to become a veterinarian when he was only seven years old. His local veterinarian in Cincinnatti, Ohio was able to diagnose the impending blindness of his pet Jody, a Sealyham Terrier, and this made such an impression that Fred determined to make that his career. As soon as he was old enough, he volunteered as a kennel helper and worked his way up to assisting the doctor until he went to college.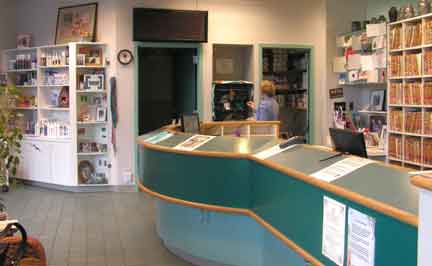 Dr. Labavitch received his degree as a Doctor of Veterinary Medicine from Ohio State University in 1966 after interning with the U.S.D.A. He was with the U.S. Air Force from 1966 to 1968 and was in the Air National Guard in Bio-environmental Health for 18 years. He has been treating cancer patients since 1976 and went to University of California at Davis for an oncology residency in 1982. He holds licenses to practice in Oregon, Washington, California and Ohio.
The clinic provides general care to pets including routine vaccinations, parasite control and treatment, spay and neuter, and dentistry. But Dr. Labavitch also has a special interest in animal cancer. "We get a lot of referrals from other vets in the area, and also many contacts for consultation," he says. "When I began practicing veterinary medicine, there was a lot of feline leukemia," he continues. "It's nearly gone now because of the very effective vaccine, but at the time it made a big impression on me. I began to study and work with cancer in animals. In the mid-seventies Dr. Barclay Sulcum was a prominent pet surgeon. He asked me if he could use our practice as a referral base in the Portland area. Eventually I went to UC Davis and completed a residency in animal oncology."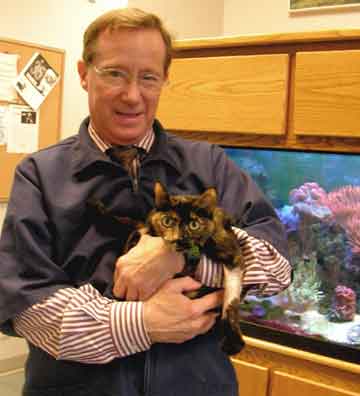 Dr. Labavitch holds Callie, the "miracle kitty"
One of the most common forms of cancer in dogs is Mast cell disease. Mast cells are found in the skin but can make their way throughout the body and contribute to health in many ways. The most common form of Mast cell disease shows up as tumors under the skin. This is very treatable when it's caught early. "It's important not to ignore lumps under your pets' skin," Dr. Labavitch warns. "One of our patients had a lump for a couple of months before his owner brought him in, and now he's very sick." Cats also get mast disease. Lymphoma and bone cancer are also fairly common in both dogs and cats.
Signs of cancer in pets include unusual lumps, bleeding, vomiting, diarrhea and urinary accidents, or a change in disposition. "People often just notice that their pet isn't as active or responsive as usual, and that it has come on fairly rapidly. That's the time to bring them in for a checkup," points out Dr. Labavitch.
Animals get cancer in about the same proportion as humans. A federally funded study in the seventies surveyed around 50,000 animals and found that about 25% of domestic animals will get some form of cancer in their life. "The mortality rate is about 20%, whether they're treated or not," says the doctor. "But treatment certainly has an impact on the length and quality of life. Comparing the lifespan of each, a year of extra survival of an animal is about the same as five years for a human."
The cat that Dr. Labavitch is holding in the photo had intestinal lymphoma with a perforated intestine and peritonitis. "She was a very sick kitty, but she's going to be okay. She's really a miracle kitty!" says the doctor.
The clinic has a well-equipped lab to do most of the routine tests. They only have to send out samples for complete blood chemistry workup. Exam and treatment rooms are furnished with comfortable armchairs to help pets and their owners relax. One of the main treatment rooms is behind a glass wall facing the entry, so people can watch as their pets undergo some kinds of procedures.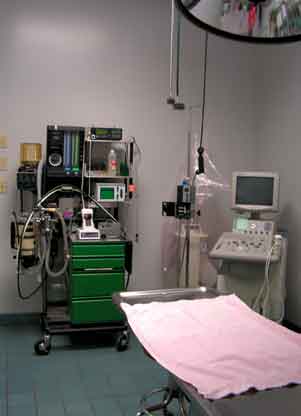 The surgery at Sunset Animal Clinic
The surgery is equipped with ultrasound, x-ray and equipment to monitor blood pressure, EKG and blood oxygen saturation during surgery. It also has a CO2 laser for laser surgery, which is often used for routine procedures such as declawing and wart removal.
"Forming a good relationship with your vet is the most important thing in keeping your pets healthy," Dr. Labavitch says. "Whether it's me or someone else, bring your animal in even if it's just to visit, get them weighed or something. That way they're not so anxious when they need treatment." Sunset Animal Clinic welcomes visitors and is glad to take pet owners for a tour of their facility.
Dr. Labavitch and his staff say that good nutrition is probably the number one preventive measure people can take for their pets. Cheaper food doesn't have a consistent formula and may contain harmful levels of ash and other contaminants. Another big threat to animals is second-hand smoke. So the health of Spot and Fluffy is another good reason to quit!
Other services offered by the clinic include grooming, boarding, pet food sales and nutritional counseling, veterinary insurance and end-of-life services such as humane euthanasia and cremation.
The 12-person staff at the Clinic includes receptionists, veterinary technicians, a groomer and kennel assistants. Dr. Labavitch's wife Krista is the office manager. She has just recently joined the board of directors of the Cedar Mill Business Association. She's interested in seeing the Association do more for home-based businesses in the area.
The Sunset Animal Clinic is located at 14740 NW Cornell in Oak Hills Village. Their phone number is 503-690-8249. They're open from 7:30 am to 7 pm Monday – Friday and from 8 am to 2 pm Saturday.